US Treasuries, yields remain low, more supply next week. Gold is struggling to stay above $1200 with the euro above its 120-month simple moving average at 1.206. Crude oil is inching up towards annual pivot at $77.05. For the Dow support is below 10,000 with my annual pivot at 10,379. Bank Failure Friday now totals 78 closed banks year to date.
US Treasury Yields have declined since the end of March with the 10-Year versus 2-Year spread flatter by 33 basis points. As this happened the 30-Year fixed rate mortgage has widened 38 basis points over the 10-Year yield to 158 over. This widening has thus occurred since the Federal Reserve stopped buying mortgage-backed securities. What's misleading is that the mortgage rate is down from 4.99 to 4.78, while the 10-Year yield is down from 3.88 to 3.29. With the yield at 3.29 the 30-Year fixed rate mortgage should be 4.39 given my "Mortgage Mulligan" program. Next week the US Treasury auctions $28 billion 3-Year notes on Tuesday, $24 billion 10-Year notes on Wednesday and $16 billion 30-Year bonds on Thursday June 10th. For the 10-Year my quarterly support is 3.467 with this week's resistance at 3.192.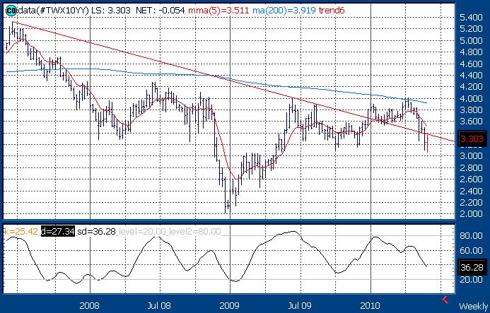 Courtesy of Thomson / Reuters
Comex Gold – has flattening weekly MOJO following its May 14th peak at $1249.7. My semiannual pivot is $1186.5 with weekly and monthly resistances at $1245.8 and $1265.9.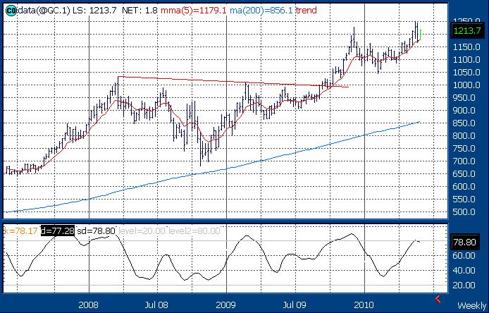 Courtesy of Thomson / Reuters
Nymex Crude Oil – shows declining MOJO on its weekly chart with oil below its 200-day simple moving average and my annual risky level at $76.75 and $77.05. This week's support is $71.64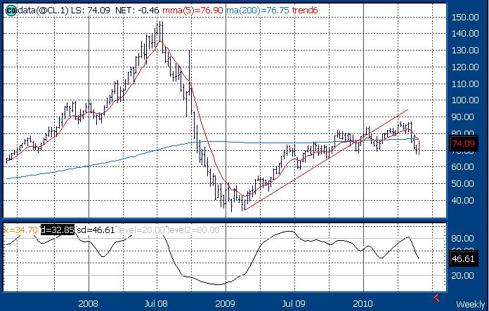 Courtesy of Thomson / Reuters
The Euro – remains oversold on its weekly chart and is above its 120-month simple moving average at 1.206 with weekly and quarterly pivots at 1.2187 and 1.2450 with monthly resistance at 1.2679.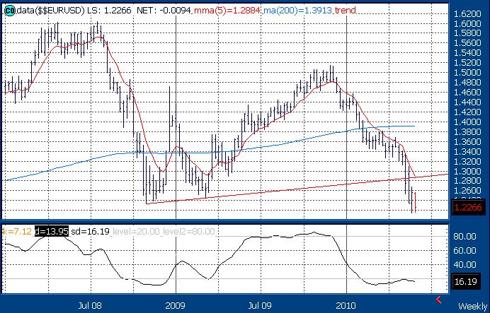 Courtesy of Thomson / Reuters
Weekly Dow: shows declining MOJO and is down 1,121 points since I picked the top on April 26th saying that the Dow was testing its 61.8% Fibonacci Retracement of the October 2007 to March 2009 low at 11,246 with the 11,258 high. The weekly chart stays negative given weekly closes below the 5-week modified moving average at 10,536. My prediction remains – "Dow 8,500 before Dow 11,500". Today's support is 9,783 with weekly and annual resistances at 10,339 and 10,379.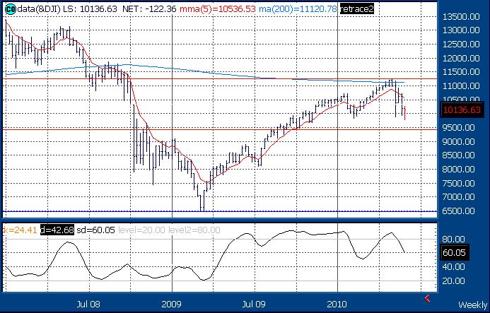 Courtesy of Thomson / Reuters
Bank Failure Friday – There were five bank failures on the last Friday of May, and three were actually one under the name Bank of Florida (BOFL), which was a long-time member of the ValuEngine List of Problem Banks. The total cost to the Deposit Insurance Fund is now $10.25 billion in the second quarter. The cumulative loss year to date is $30.95 billion.
Only 25 banks failed in 2008, as the FDIC was slow closing community and regional banks.

There were 140 bank failures in 2009 with a peak of 50 in the third quarter.

In the first quarter of 2010 there were 41 failures, and so for in Q2 the total is 37 for a year to date total of 78.

At this pace bank closures in 2010 will be at the high end of my 150 to 200 estimate.

Since the end of 2007, the FDIC has closed 242 banks on the way to my predicted 500 to 800 by the end of 2012 into 2013.
Bank of Florida in total had $1.5 billion in assets with overexposures to Construction & Development Loans and Commercial Real Estate Loans with risk ratios of 1606.7% for C&D and 7228.0% for CRE way above the 100% and 300% regulatory guidelines that were set at the end of 2006 and ignored by the US Treasury, Federal Reserve and FDIC ever since. BOFL reached an all time high of $24.50 back in December 2005, at the height of the real estate speculation that many community banks were involved in: C&D and CRE lending. BOFL was profiled as one of my domino banks back in 2006.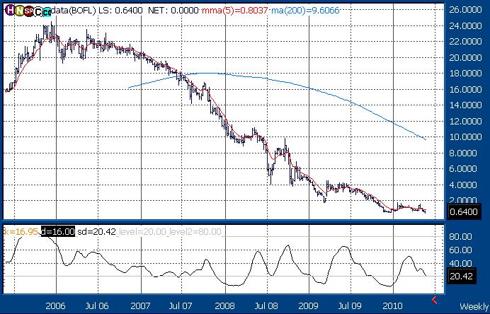 Courtesy of Thomson / Reuters
This is why TARP money should not be given to private bank ShoreBank of Chicago, a $2.28 billion community bank with extreme overexposures to C&D and CRE loans with risk ratios of 358.4% and 1839.2% respectively. They have funded 98.4% of their loan commitments. With regulatory guidelines at 100% and 300% of risk-based capital for C&D and CRE loans, it would be a travesty for this bank to be bailed out. Using taxpayer money to save this bank would be a waste of money given these overexposures.
Publicly Traded Midwest Bank & Trust was closed by the FDIC on May 14 and it was a TARP recipient. The chart shows that shares are still trading ad six to ten cents a share, as shorts have the opportunity to cover. Note the similar pattern for MBHI versus BOFL. Both BOFL and MBHI were on the ValuEngine List of Problem Banks.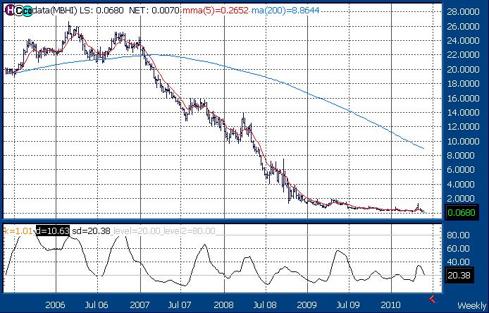 Courtesy of Thomson / Reuters
We will soon be publishing our latest ValuEngine List of Problem Banks.
Disclosure: No positions