Like Ford (NYSE:F) and General Motors (NYSE:GM), Toyota (NYSE:TM) stock has declined over the past quarter.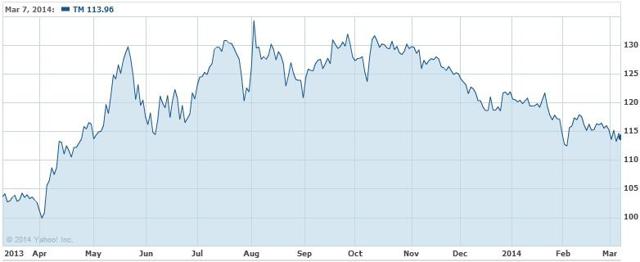 Source: Yahoo Finance
This lag has occurred despite a recently positive earnings report. However, compared to Ford and GM, Toyota's stock performance over the past year continues to lag.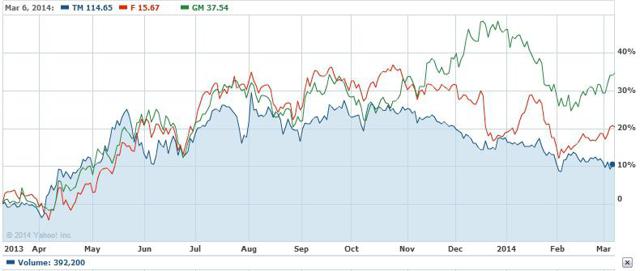 Source: Yahoo Finance
What makes Toyota's stock performance even more intriguing is that upon examination of the 52-week histories of trailing and forward P/E, we find that Toyota stock is trading at a 52-week low in both respects.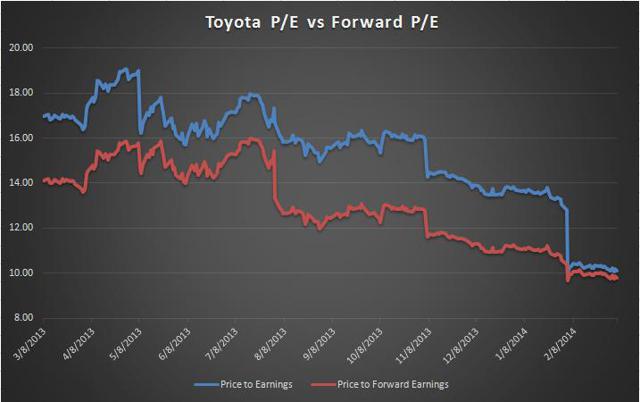 The stock's cheap valuation got the attention of Zack's Investment Research last week who named the stock their 'Bull of the Day.' In order to acquire a price target, we'll need to identify an acceptable forward P/E and apply it to expected future earnings. To find our forward P/E, we'll examine a probability distribution trade of Toyota over the past year.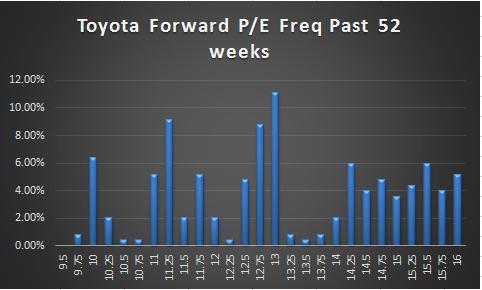 Based on the model, there is a 66.67% probability that Toyota stock will trade at 12.25 forward P/E or above. Taking the 12.25 forward multiple and combining it with Nasdaq's earnings estimates, the discount that Toyota is trading at becomes evident.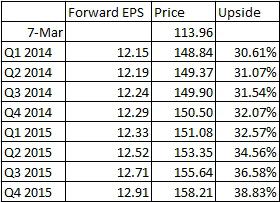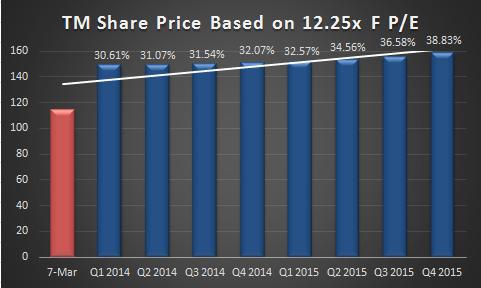 While the discount and the upside are apparent, the rationale behind Toyota's low share price is not, yet I have an idea.
Future Earnings Growth
Future earnings growth is a major factor in determining whether a stock has long-term value. Taking the estimates from above, as well as the Ford and General Motors earnings estimates from my previous probability articles, I can calculate and compare the earnings growth between the three.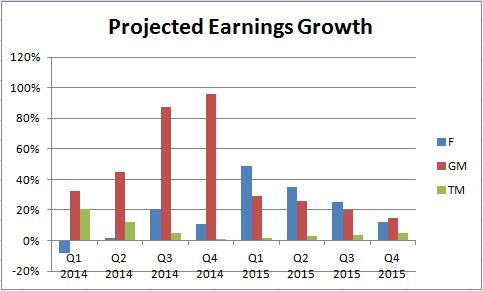 These percentages are calculated by taking the forward 4 quarters of EPS and comparing them to the prior year's forward 4 quarters.
Toyota's earnings growth beyond early 2014 is not very attractive. This is likely what is impacting the price, especially considering the company has surprised on five out of the last seven earnings releases (with one being unavailable).
With others in the industry expecting better earnings growth, Toyota is at risk of trading sideways until a forward guidance change proves otherwise. Despite this, a positive catalyst, especially one geared towards forward earnings, should break the stock out of its funk.
Disclosure: I am long F. I wrote this article myself, and it expresses my own opinions. I am not receiving compensation for it (other than from Seeking Alpha). I have no business relationship with any company whose stock is mentioned in this article.