I am always astonished as to how short-term oriented investors are. Now, investors are anxiously awaiting BlackBerry's (BBRY) quarterly results hoping to find further clues that BlackBerry's business is stabilizing (with respect to its hardware business) or even improving (enterprise).
I think it is much more important to focus on the big picture rather than on any specific near-term event such as the launch of a certain smartphone product, the participation in an industry conference or crushing a specific share price level. If something is in short supply in today's investment culture, it is definitely a long-term perspective. Wall Street, and by extension, a significant amount of retail investors are obsessed with short-term/quarterly results, prefer quick fixes instead of sustainable solutions and activity over thoughtfulness. Anybody ever wondered why there are not more Warren Buffett's out there? After all, Warren Buffett and Charlie Munger purport a very sensible set of ideas: Buying a stock when nobody else wants to, buying a business with a competitive advantage -- I think BlackBerry's corporate- and government customer base and its top-notch encryption technology fit the bill -- and, most importantly, adopting a long-term mindset. I cannot stress how important the last point is: A long-term mindset. Looking back at my investing career, I'll have to conclude that the best investments I ever made were the ones where I didn't need the market. When I just didn't care whether a stock went up or down 20% and when I usually bought more as investors panicked a little more. This attitude is why investors can oftentimes achieve multiple returns in distressed/turnaround investments such as BlackBerry.
A long-term mindset leads to total ignorance about any short-term market quotes and, quite interestingly, to better investment decision making. Investors might also consider Richard Russell's famous description of successful and unsuccessful investors titled 'Rich man, poor man.' The story recently resurfaced in Jeff Saut's weekly market commentary on February 10, 2014 and is quite illustrative in pointing out wide-spread investing flaws (you don't have to be rich to emulate the successful investor):
In the investment world wealthy investors have one major advantage over the little guy, the stock market amateur and the neophyte speculator. The advantage wealthy investors possess is they DON'T NEED THE MARKETS. I can't begin to tell you what a huge difference that makes, both in one's mental attitude and in the actual handling of one's account. The wealthy investor doesn't need the market because he already has all the income he needs. He has money coming in via bonds, T-bills, money market funds, real estate, and stocks. In other words, the wealthy investor never feels pressured to 'make money' in the market. The wealthy investor tends to be an expert on values. When bonds are cheap and bond yields are irresistibly high, he buys bonds. When stocks are on the bargain table and stock yields are attractive, he buys stocks.
I believe that a long-term mindset makes a hell of a lot of sense and investors are probably well advised not to speculate or trade before BlackBerry's earnings release or any other insignificant near-term event.
Looking at BlackBerry's long-term price chart (see below), I can't help but think that the smartphone maker has an asymmetric payoff profile -- especially if BlackBerry's turnaround gains traction and Chen reinvents the company. BlackBerry has a lot of things going for it: A treasure trove full of cash and short-term securities somewhere in the region of $3 billion, a Chief Executive Officer experienced in handling turnaround situations, a strong enterprise business and the prospects of a potential return to profitability in 2016.
(Source: Yahoo Finance)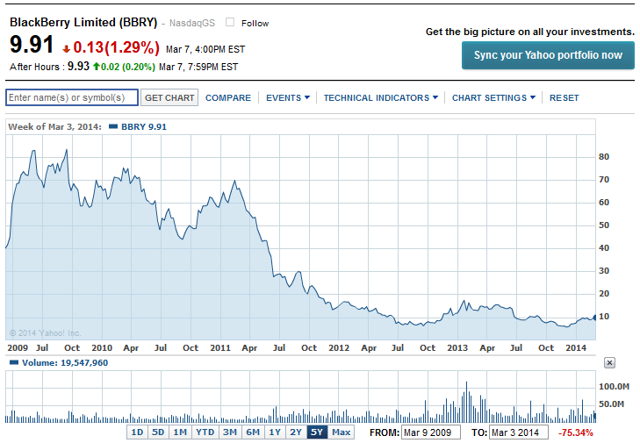 Conclusion
With new bits of information about to be released at the end of the month, investors are likely to put BlackBerry's quarterly results under the microscope. However, turnarounds don't consist of an uninterrupted sequence of positive news and a linear rise in share price. Delays and disappointments with respect to BlackBerry's structural shift toward an enterprise model will occur.
I believe Blackberry will prove to be a textbook turnaround example a few years from now and the majority of gains are likely to accrue to those who neither trade or speculate. I like to compare BlackBerry to an Alcatel-Lucent (ALU) stake in 2012 -- since then Alcatel-Lucent has gained 300% as the company worked hard to restructure its business and ultimately succeeded in changing investor perceptions.
A long-term mindset carries tremendous power: By not needing the market, investors are not giving in to short-term excitement and volatility but are staying true to their long-term turnaround thesis. While I think that BlackBerry has an intrinsic value of around $17-18, I wouldn't really be too surprised if BlackBerry becomes a favorite mainstream investment once again and achieves significantly higher prices than $17 down the road in 2016/2017. Strong contrarian BUY.
Disclosure: I am long BBRY, ALU. I wrote this article myself, and it expresses my own opinions. I am not receiving compensation for it (other than from Seeking Alpha). I have no business relationship with any company whose stock is mentioned in this article.