The Chinese RMB versus the US dollar moved from 6.0484 to 6.1457 between 24 January and 3 March. Though it looks slight in the context of currency market volatility, this 1.6% downward move in value versus the US dollar startled many market participants who had come to perceive the RMB as a dependable one-way street to appreciation. This small currency move can be viewed as further evidence of some basic trends in the Chinese economy that we have been following for some time. In our December 2011 report, "China: Slower Export Growth," we argued that the end of the infrastructure boom would lead to a more rapid deceleration of economic growth than most market analysts were anticipating, that slower economic growth would eventually curb China's appetite for US Treasuries, and that a more volatile RMB/USD exchange rate with fewer one-way bets would emerge as the normalization process proceeded.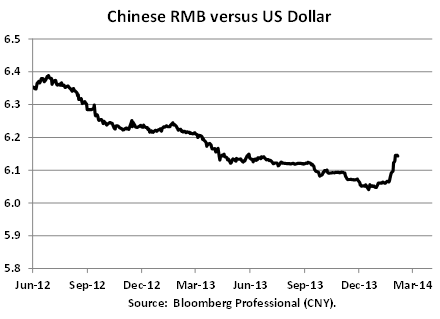 Monetary Approach to International Reserve Flows
The link between RMB movements and China's holdings of US Treasuries is especially important to understand. Central banks that attempt to limit the volatility of their currencies effectively have two tools - (1) exchange controls and (2) the purchase/sale of international reserves, which are usually US Treasuries if the target exchange rate is versus the US dollar. Even with exchange controls, rapidly growing countries will attract capital flows, which may lead to substantial foreign reserve accumulation as the offset to the currency pressures.
The relevant economic theory, sometimes known as the monetary approach to international reserve flows or balance of payments, had its origins in the University of Chicago international theory workshop in the late 1960s and early 1970s, with research led by two Canadian-born economists, Harry G. Johnson and Nobel laureate Robert Mundell, among others [1]. The controversy was whether a central bank could control the money supply if the exchange rate was fixed. If there were no exchange controls, the argument was that fixing the exchange rate implied giving control of monetary policy to the dominant central bank - the US Fed in a dollar-standard world.
Implications for Chinese Demand for US Treasuries
The theory has important market implications. First, exchange rate management is linked to the balance sheet of the central bank. Central banks that finance their own governments are likely to see outflows of international reserves. Central banks that are not major sources of government finance should see inflows, so long as economic growth is healthy enough to attract capital inflows. For China, the current transition to a slower growing economy, combined with more involvement by the central bank in domestic policy implementation, strongly suggests a sharp slowing of demand for US Treasuries, and possibly outright decline in China's Treasury's holdings.
Second, reinforcing the previous conclusion, the only ways for the central bank to retain control of monetary policy are to keep tight exchange controls or to move to a more flexible exchange rate. For China, the transition toward a growth model with greater focus on domestic consumption means that tighter domestic control of monetary policy is more likely. Yet this collides with China's parallel desire to ease exchange controls. If China wants to do both - normalize currency markets and use domestic monetary policy more directly - then it has a clear incentive to move more rapidly to a freer floating exchange rate system with more bi-directional possibilities and much more volatility. That is, as exchange rate bands are widened and the currency is normalized, China's demand for US Treasuries may diminish, and sales of US Treasury holdings are possible in the transition period whenever slower economic growth or heightened risk leads to downward currency pressures.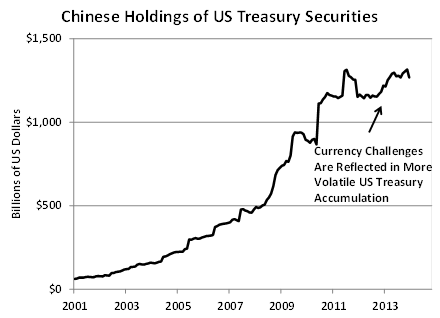 All examples in this report are hypothetical interpretations of situations and are used for explanation purposes only. The views in this report reflect solely those of the authors and not necessarily those of CME Group or its affiliated institutions. This report and the information herein should not be considered investment advice or the results of actual market experience.
1 Also see, Putnam, Bluford H., and D. Sykes Wilford. "Money, income, and causality in the United States and the United Kingdom: a theoretical explanation of different findings." The American Economic Review (1978): 423-427, as well as Putnam, Bluford H., and D. Sykes Wilford. The Monetary approach to international adjustment. Praeger Publishers, 1986.
Disclosure: I have no positions in any stocks mentioned, and no plans to initiate any positions within the next 72 hours. I wrote this article myself, and it expresses my own opinions. I am not receiving compensation for it. I have no business relationship with any company whose stock is mentioned in this article.