Editors' Note: This article covers a stock trading at less than $1 per share and/or with less than a $100 million market cap. Please be aware of the risks associated with these stocks.
Welcome to the wild, wacky and wonderful world of the EPA's Renewable Fuel Standards 2 (RFS2) economics, where everything isn't what it seems, where up is down, and in is out. I've been following the biofuels industry for a few years, and why I do is largely because the economics are so fascinating. It is a case study of everything I've been taught during my pursuits in economics. The #1 lesson in every free market text book is that if there is a way to mess up an economic system, the government will find it. The EPA's RFS2 has authors working overtime to re-write the chapters, greatly expanding the knowledge base of how completely wacky things can become when a small group of ivory tower bureaucrats get to try to take theories that don't even work on paper and apply them to the real world.
First there was the Renewable Identification Number (RIN) fraud, then there was the Cellulosic Fuel waivers, then there was the "blendwall" - and the list goes on and on. Just when you think you have the system figured out, the RFS2 delivers another kick in the crotch. The perverse incentives and design of this system always keeps me on my toes.
The most recent economic twist to the RFS2 is that higher soybean prices, whose oil is a major feedstock of "SME" biodiesel, is actually good for biodiesel producers like Renewable Energy Group (NASDAQ:REGI). Like ethanol that has its "crush spread," biodiesel has its "BO-HO" spread, or bean oil heating oil spread. The "BO-HO" spread tracks the difference between the feedstock soybean oil cost per gallon of SME and heating oil. Right now, I show NY Harbor heating oil/ULSD trading for $2.98 and soybean oil trades for $44.52/lb. It takes 7.5lbs of soybean oil to make a gallon of SME, so the gross feedstock cost is 7.5*$0.4452=$3.34/gal. Problem is, if just the feedstock costs $3.34, and the comparable product heating oil only sells for $2.98, there is a real problem. Just the feedstock alone costs $3.34-$2.98=$0.36 more than what the market will pay for the final product. Only the government would reach the conclusion that making $2.98 worth of fuel out of $3.34 worth of soybean oil, let alone burning food while people are starving in the world, is a solid business model. That, by the way, is why I always stress the importance of following politics when investing in these "green energy" stocks. Many are 100% dependent upon government support, and a single election can wipe them from the economic map.
Clearly, the above business model won't work in any real sense of the meaning, so the EPA steps in with its RFS2 "RIN" mechanism. As the unprofitability of this business model increases, the RIN, which is embedded in each gallon of biodiesel, increases in price. The RIN is designed to ensure that a very bad business model can turn a profit. The worse it gets, the more valuable the RIN becomes. Last year when ethanol hit the "blendwall" and there was no real demand for ethanol, the ethanol RINs increased to $1.50 from $0.05 to ensure that "obligated parties" kept buying ethanol that they didn't want. Essentially, "obligated parties" were buying the RINs to fulfill regulatory requirements and then substantially discounting ethanol on the market to try to get rid of the stuff through the few E85 gas pumps in existence. The EPA's RFS2 RIN mechanism literally resulted in lower prices of ethanol by design, but that lower price had nothing to do with lowering the costs involved with making ethanol that would justify the lower price. It was purely a regulatory illusion.
A "blendwallesque" phenomenon is now developing in the biodiesel industry. As I mentioned above, the SME economics are awful, with substantially negative margins. The negative margins, however, result in lower production, and in turn, higher D4 RIN prices. Each gallon of biodiesel comes with 1.5 D4 RINs embedded in it, and some renewable diesel gallons come with 1.7 D4 RINs attached. As production slows, the supply of D4 RINs shrinks, the price of D4 RINs increases and the incentive to produce biodiesel increases. That is the theory.
In theory, the RIN mechanism is intended to ensure profitability, however, that isn't happening so far in 2014... yet. The reason D4 RIN prices have been increasing is because the cost of soybean oil has been increasing, and the price of heating oil has been falling. The increase in D4 RIN prices hasn't resulted in a greater margin for SME biodiesel. The increase in D4 RIN prices has simply prevented an already bad margin from getting worse. I currently show negative net margins for SME biodiesel, as does Iowa State University.
However, this is good for "flex-feedstock" companies like Renewable Energy Group that have deliberately built a business model designed to capitalize on this flaw in the system. To meet the EPA's renewable volume obligation or RVO, high cost soybean-based biodiesel must effectively be made profitable. The RIN mechanism theoretically ensures that the high cost producers will survive, and if the high cost producers will survive, the low cost producers should thrive. REGI is a low cost producer.
As the price of soybean oil goes higher, the price of D4 RINs should follow, which they have. Soybean oil has had a very sharp rise over the past month.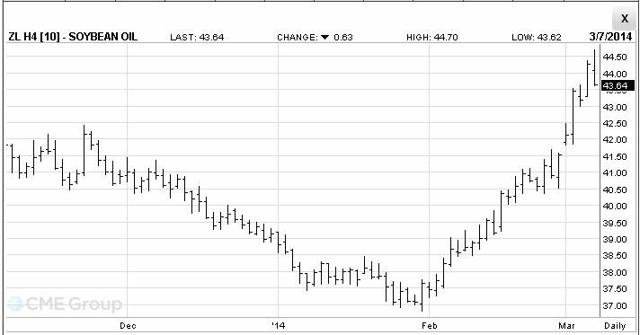 As soybean oil went higher, so did D4 RIN prices. D4 RINs started the year near $0.30, and are now trading around $0.70.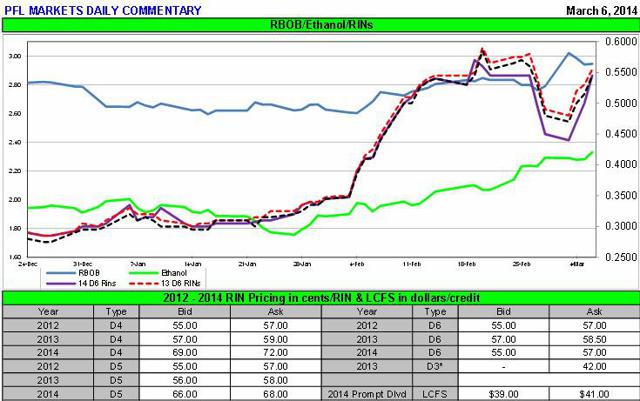 Because REGI uses feedstocks like yellow grease, choice white grease and inedible corn oil, my calculation is that it is making sizable net margins using yellow grease, and breakeven to positive net margins for choice white grease and inedible corn oil. If the acquisition of Syntroleum (NASDAQ:SYNM) goes through, REGI should be able to improve margins even more. I stress the following are estimated margins.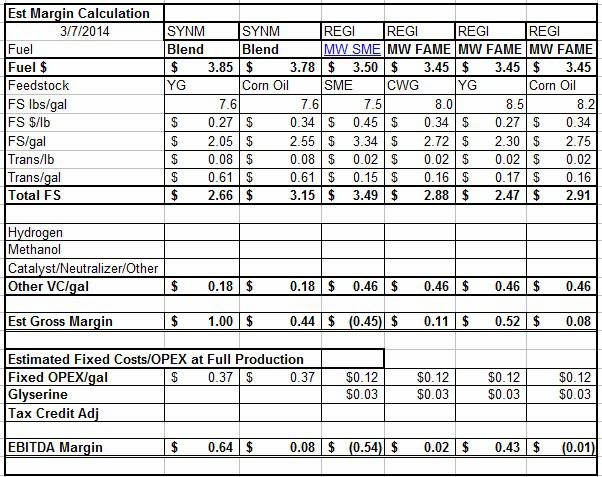 Yellow grease, choice white grease and inedible corn oil have all been relatively stable since the start of the year, whereas soybean oil has increased dramatically. As long as the non-soybean oil feedstocks lag soybean oil, the profit margins for REGI should continue to improve. With high ethanol production and low corn prices likely to keep a lid on the price of inedible corn oil, and lower corn prices likely resulting in greater beef processing, choice white grease should also remain relatively low. Yellow grease has remained stable all year, and being a waste product, it is unlikely to increase faster than soybean oil. In fact, yellow grease is more closely tied to the price of corn than soybean oil.
Investors interested in this industry should follow the feedstock prices, D4 RIN prices, the BO-HO spread and biodiesel prices to develop expectations as to whether or not REGI will beat earnings estimates for Q1 2014. Biodiesel prices, the BO-HO spread and feed stock prices for yellow grease, choice white grease and soybean oil can be found here.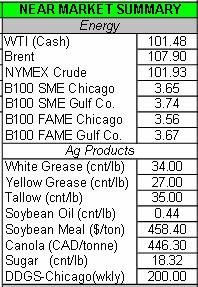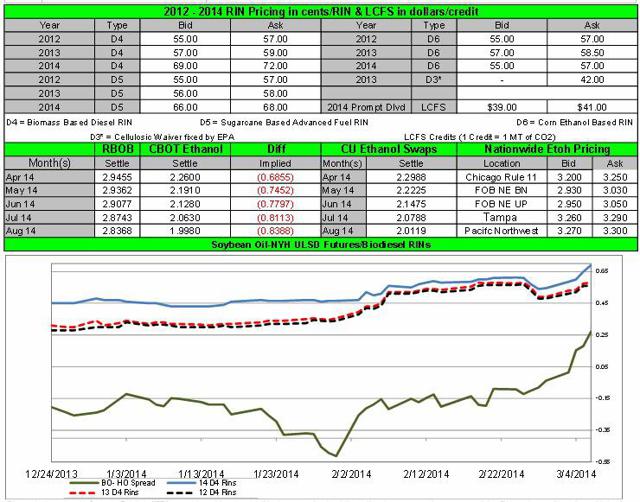 The price of inedible corn oil, or "distillers corn oil," can be found here.

Lastly, the 2014 estimates for REGI are for an $0.87 EPS. However, that number doesn't account for possible changes in the EPA's biodiesel RVO and/or reinstatement of the biodiesel blenders or producers tax credit. The final resolution of both those pending issues may have a significant impact on those estimates. Even if the tax credit isn't reinstated in 2014, it has been reinstated in the past and made retroactive, so even if 2014 does only reach an $0.87 EPS, it doesn't mean that $0.87 EPS will be the final number. Also, the EPA is showing that biodiesel production is substantially below the level required to meet the 2014 RVO. If things work as planned, D4 RINs should continue to increase until SME profit margins turn positive. If that happens, it should add another $0.50+ to REGI's margins.
Disclaimer: This article is not an investment recommendation or solicitation. Any analysis presented in this article is illustrative in nature, is based on an incomplete set of information and has limitations to its accuracy, and is not meant to be relied upon for investment decisions. Please consult a qualified investment advisor. The information upon which this material is based was obtained from sources believed to be reliable, but has not been independently verified. Therefore, the author cannot guarantee its accuracy. Any opinions or estimates constitute the author's best judgment as of the date of publication, and are subject to change without notice. Past performance is no guarantee of future results. For my full disclaimer and disclosure, click here.
Disclosure: I am long SYNM. I wrote this article myself, and it expresses my own opinions. I am not receiving compensation for it (other than from Seeking Alpha). I have no business relationship with any company whose stock is mentioned in this article.
Additional disclosure: I own calls on REGI