The explosion of tension between Russia and Ukraine, with participation from the EU and the USA, has split the world into two camps - those who are confident that Russia wants to extend its empire to the richest Ukrainian regions and those who claim the West to be at the root of all troubles.
The truth is out there, but if we look at the issue from economical perspective, the picture becomes clearer.
Any political move is not just politics alone; it has financial interests, protectionist intentions, and only at last image building considerations. It is claimed that Russia wants to profit from the civil war developing between the Eastern and Western parts of Ukraine, so we need to analyze the two issues:
Is it Russia to blame in Ukraine's split, or are there some other reasons as well?
Is there any profit for Russia if it annexes the southeast of

Ukraine?
Sure enough there may be some propaganda going on in the Ukrainian territories, but there are plenty of reasons for the country to split even without anybody's help.
According to the latest available data on Gross Regional Product from the Ukrainian Treasury, the divergence between 'pro-Russian' and 'pro-Western' parts of Ukraine is more evident and understandable.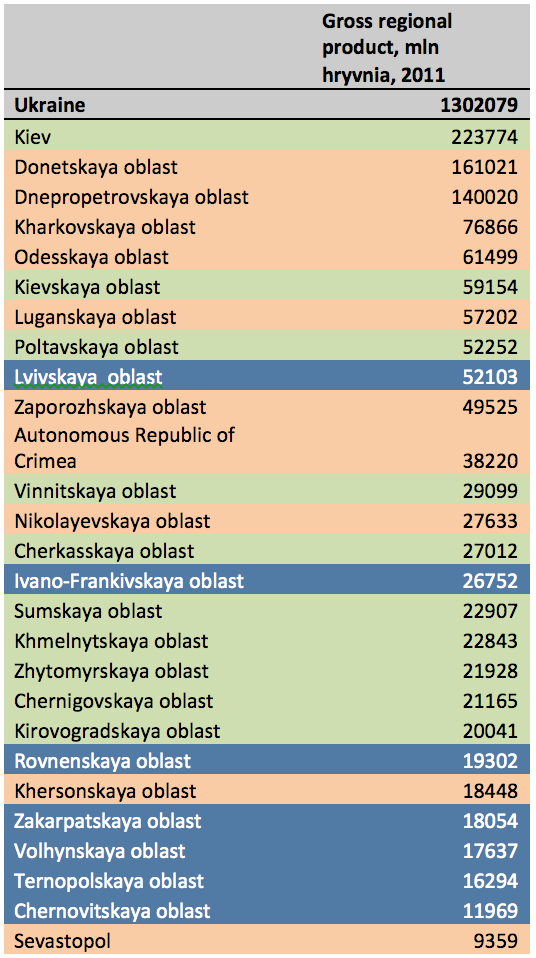 In the Table 1, in green we see the neutral regions, orange are 'pro-Russian' (East and South), and blue are 'pro-Western'.
Of course, the division of the regions is relative, and it's only one of several versions, but the numbers speak for themselves. The south-eastern region is definitely more prosperous than the west, and it partly supports the wide-spread opinion in Ukraine, that 'hard-working East feeds lazy and rebellious West'.
Besides, there is a factor of self-identity. According to the KIEV INTERNATIONAL INSTITUTE of SOCIOLOGY, research conducted in 2004 shows that almost half of the Ukrainian population use the Russian language to communicate at home (43-46%), and south-eastern regions use the Russian language as their main, as shown in Table 2:

Now we came closer to financial side, the rumored Russian profits.
Those prosperous parts of Ukraine feeding poor western rebels is another myth supported by those who don't know the data, or by some reason doesn't want to know. According to the latest State Treasury data of Ukraine available for 3Q of 2013, only 29 cities out of 117 mentioned in Inter-Budget Transfers Report sent the money to federal budget, and all the rest received subsidies.
Most parts of the Ukraine, even those claimed to be rich and attractive for Russia, are highly dependent on the government money, and it's easily confirmed by the regional budget drafts for 2014. For instance, the much talked-of Crimea already allowed for almost 3 bln hryvnias of transfers from state budget of Ukraine in its key financial statement for the year ahead. And if Crimea decides to join Russia, these amounts become Russian burden.
Additionally, the burden will be even more since the social security numbers of the Crimeans is four times higher than those included in the regional budget, according to Russian laws. Further, Moscow should also take care of new infrastructure, and utilities, and much more even not on the agenda right now.
It's billions of dollars, and for Russian budget exhausted by the Olympics, depressed by slowing growth, rising unemployment and increasing inflation, it will be actually a death sentence.
So, is Russia so suicidal, or is it somebody else so paranoid?
Disclosure: I have no positions in any stocks mentioned, and no plans to initiate any positions within the next 72 hours. I wrote this article myself, and it expresses my own opinions. I am not receiving compensation for it. I have no business relationship with any company whose stock is mentioned in this article.