I published an article over the weekend highlighting some of the high-yielding real estate investment trusts that Barron's profiled in this weekend's widely followed industry magazine.
In the same article, Barron's took a look at some energy partnerships with high yields. The magazine is negative on most of the upstream master limited partnerships (MLPs) and Kinder Morgan Energy Partners, L.P. (NYSE:KMP) continues to be derided as overvalued.
Barron's does like a few of the high-yielding refinery partnerships and points out they look undervalued from a two to three year perspective and provide substantial payouts as well. They should both benefit if economy activity accelerates to a 3% GDP growth level which is the current consensus as this would increase demand for refined products. I concur with this prognosis and own one of the two plays highlighted.
Northern Tier Energy LP (NYSE:NTI) is a downstream energy company with refining, retail, and pipeline operations in the United States. Northern provides refined products, such as gasoline, diesel, jet fuel, and asphalt. The company also owns various storage and transportation assets, including a light products terminal, a heavy products terminal, storage tanks, rail loading/unloading facilities and a 455,000 barrel per day crude oil pipeline system that transports crude oil. Finally, the entity also runs a complex of almost 250 convenience stores.
The company recently hired the former COO and president of much bigger refiner HollyFrontier (NYSE:HFC) to take over as president and CEO for its retiring leader. The stock trades at just under $27 a share and posted a strong run since bottoming around $18 a share in late summer. That being said, the shares still trade down more than $5 a share from where they were a year ago.
Northern Tier pays a variable distribution payout. Based on the past four quarterly distributions, the stock yields right at 10%. After posting just over $2 a share in earnings during 2013, analysts project Northern Tier will post profits of over $4 a share in 2014. The shares are cheap at just over 6x forward earnings projections.
CVR Refining, LP (NYSE:CVRR) engages in the refining of petroleum in the United States. It owns one oil refinery located near Cushing, Oklahoma; and the Wynnewood crude oil refinery located approximately 65 miles south of Oklahoma City, Oklahoma. The company also owns and operates approximately 350 miles of feeder and trunk pipelines; 125 crude oil transports; 6.0 million barrels of owned and leased crude oil storage capacity storage tanks.
The company had a tough 2013 as it experienced significant downtime with its Coffeyville facility over the summer. On the bright side, comparisons should be favorable this year due to last year's outage on operations.
Based on variable quarterly payouts in 2013, the shares yield just under 15%. Consensus earnings estimates have crept up over the last month for FY2014 projections which now stand at ~$3.60 a share.
At its current price of just under $22 a share, CVRR goes for right at 6x forward and trailing earnings. The median price target of the six analysts that cover the shares is $25 a share.
Finally, the shares are trading near the lows since the entity came public early in 2013. The stock looks like it is forming a base right under current levels (See Chart).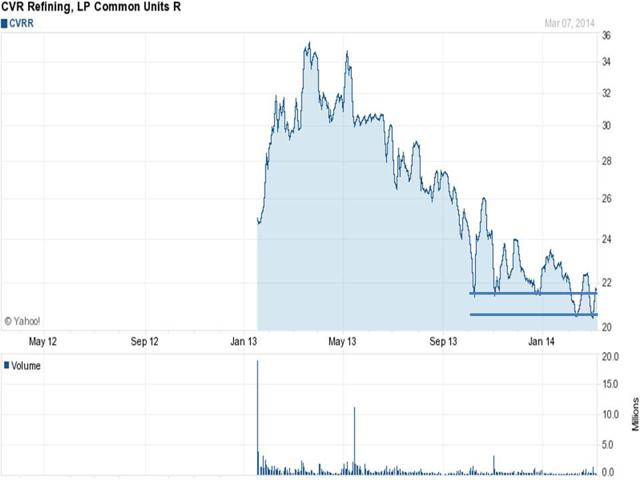 Disclosure: I am long CVRR. I wrote this article myself, and it expresses my own opinions. I am not receiving compensation for it (other than from Seeking Alpha). I have no business relationship with any company whose stock is mentioned in this article.