If you had asked me back in 2011, 2012, or even the first half of 2013 how I felt about Intel (NASDAQ:INTC) as an investment, I'd have - without a doubt - been quite unashamedly bullish on the name. Here you have a world-class chip company that generates a ton of free-cash-flow, is investing heavily in ultra-mobile computing (which represents roughly a $25B opportunity today and is growing), and is the world leader in PC chips and server chips. It also has the world's best semiconductor manufacturing technology.
Seems like a no-brainer at just over 13 times earnings, right, especially with peers trading at meaningfully higher multiples... right?
Well, Not So Fast
Right now, Intel's biggest business by far is in the manufacture and sale of processors and related chipsets for the notebook and desktop computer markets. Indeed, this business alone was worth $32.7 billion on the top line during 2013 and carried very healthy operating margins of 35%. Seems like a fantastic business, right?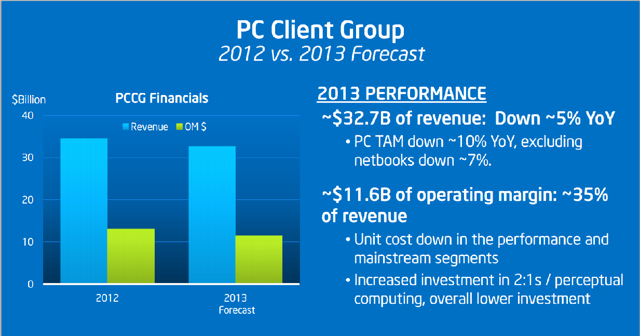 The problem here is precisely the fact that Intel's PC business is such a large portion of its revenue and profit base. This business, unfortunately, appears to be in secular decline. While I don't subscribe to the notion that PC revenues eventually go to $0, I do think that until there are clear, multi-quarter signs that the business has stabilized and returned to growth, the general perception will be that Intel's biggest and most profitable (in terms of raw gross margin dollars) is on the decline - and nobody's going to pay a premium multiple for negative growth.
What About Those Servers?
Now, you could pretty easily argue that the company's data-center group is the real star of this show and that if you just value the business at some reasonable multiple of the long-term earnings power of this business alone, you don't even have to worry about the PC business.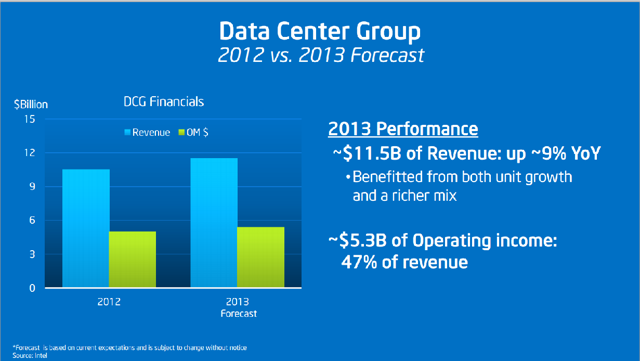 Indeed, if Intel can get this business to grow at about 10-15% (as promised for 2014), then there's seemingly no problem with slapping a 20x multiple on this business alone (given how defensible Intel's position is and the positive secular trends) and saying that the PC business is essentially worthless long term.
Unfortunately, it's really not so simple. First of all, the gross margins in the data center group are so high because Intel's "Core" processors (i.e., those 300 million PC chips) essentially pay off the manufacturing plants that they're built at, meaning from an accounting perspective, DCG's gross margins are stratospheric. Further, since those server chips reuse a ton of the IP developed for those PC chips, once again from an accounting perspective, much of that R&D is already paid for by the PC processors.
In short, without the PC group essentially doing a lot of the heavy lifting for DCG, DCG wouldn't be anywhere near as profitable. More to the point, the success of PC Client Group and its ability to keep utilization high and to fund much of the IP development is the secret sauce to Intel's DCG profitability. If those PC volumes go away, DCG suddenly becomes a lot less attractive of a business.
How About Mobile?
Today, Intel has about 0.2% of the smartphone market and maybe 5% of the tablet market. By the end of the year, Intel expects to ship over 40 million tablet chips which, if IDC is right about its 2014 shipment forecast, means that Intel will grab about 15% of the tablet market. In smartphones, Intel has not given explicit guidance, but I would expect share to be fairly minimal until 2015.
That being said, according to Strategy Analytics, the tablet apps processor market was about $3.6 billion in 2013, and the smartphone apps processor market worth $18 billion in 2013. The combined TAM is, then, about $22 billion, and is probably going to grow at about 15-20% over the next couple of years. The rub, unfortunately, is that a lot of this market is held captive by Samsung (OTC:SSNLF)/Apple (NASDAQ:AAPL) (although I do believe Samsung is penetrable, I believe Apple is not).
If Intel can grab, perhaps, 25% of the total tablet and phone apps processor market long term, then Intel can be doing $8-10 billion in sales here over the next couple of years. At 30% operating margin (once the business is to scale), this should add back another $2.4-$3 billion to the operating income line... eventually (and that's only if Intel can demonstrate leadership across the product stack top to bottom. There is also an incremental opportunity in connectivity combos, discrete modems/transceivers, and the like, although it is difficult to quantify this at this time.
So, What's This Thing Actually Worth?
At the end of the day, nobody really knows what Intel is "actually" worth - it's all about taking an educated guess. Why? Because there are just so many unknowns in play at this time, including:
What is the ultimate fate of the PC Client Group? Is the market in terminal decline, or will it eventually recover?
What kind of mobile apps processor share will Intel have over the next 3-5 years?
How successful can Intel be in hitting that 15% DCG CAGR it keeps promising (it hasn't hit it in years...)
What's the Intel Custom Foundry opportunity worth?
What other portion of the ~$300 billion semiconductor market can Intel reasonably hope to capture other than mobile apps processors?
These are the questions that keep Intel trading in a tight range - nobody really knows, and depending on your opinion of what the future looks like, Intel could either be a $200 billion+ ($40/share) company or it could eventually shrivel into a sub-$100 billion company ($20/share). At $24.50/share, the probabilities are weighted towards being long, but do keep in mind that the opportunity cost of holding a stock stuck in a range like this in a raging bull market can be quite high.
All I want to see is some progress in mobile so that if the PC market really will continue to be in decline for several more years to come, I know the growth in mobile and the data-center can more than offset it, bringing Intel back to profitable growth. I'm willing to hold through 2015 barring another guidance bomb at the upcoming investor meeting in November, but if Intel still doesn't have its revenue growth story together by the end of 2015, I will probably throw in the towel.
Disclosure: I am long INTC. I wrote this article myself, and it expresses my own opinions. I am not receiving compensation for it (other than from Seeking Alpha). I have no business relationship with any company whose stock is mentioned in this article.