When shopping, I'm going to guess that we all like to get as much as we can for our money. On occasion, we may overpay for items that we really deem necessary or pay full price for that once a year 'treat.' But the reality is that we all prefer to buy things on sale. And I'm talking about men too. Men prefer to buy things on sale as much as women do, but men just don't like to do the work, so to speak. Most men see something they like and will buy it even if it's not on sale. Women, on the other hand, will identify an item they want and keep an eye on it until the price is reduced. It could be days or weeks, but the only time that item will be bought is when it goes on sale. Unfortunately, oftentimes a store will sell out of those items without ever having to mark them down. That is the opportunity cost that good shoppers are willing to pay.
When investing in stocks, intelligent shoppers should also look for companies on sale. The problem is that sometimes it's difficult to determine a fair price and if you can't determine a fair price, it's impossible to know if a stock is on sale. One example of a company I like is Kimco Realty (NYSE:KIM). Kimco is well-positioned within an economic backdrop that continues to show slow but moderate growth, and a consumer that is willing to spend. And in general, I think REITs are well priced, as I wrote in a previous article (Read Article). But at today's price and the low growth forecasts for FFO, I would suggest investors wait until Kimco goes on sale.
Consumer Spending is Rising
Consumer spending makes up about 2/3rds of GDP in the U.S. And we could argue that consumer spending is typically preceded by consumer confidence. After all, a confident consumer is one whose job is secure, who has the opportunity to make more money, and who has the ability to find a better paying job. If a consumer is confident, therefore, a consumer tends to be happy. And a happy consumer goes shopping.
While GDP is a backward looking metric, consumer confidence is a leading indicator that shows predictive links to future consumer spending. Consumer confidence isn't required for spending to occur, but psychologically, and historically, a confident consumer spends.
The chart below shows the University of Michigan Consumer Sentiment index. The chart shows a downward trend since 2000, which included some ups and downs between 2001 and 2008. But the drop from 2008 to late 2009 hadn't been seen in the history of the index. The good news is that since hitting bottom in 2009, consumer sentiment is on the rise and consumer spending has followed suit.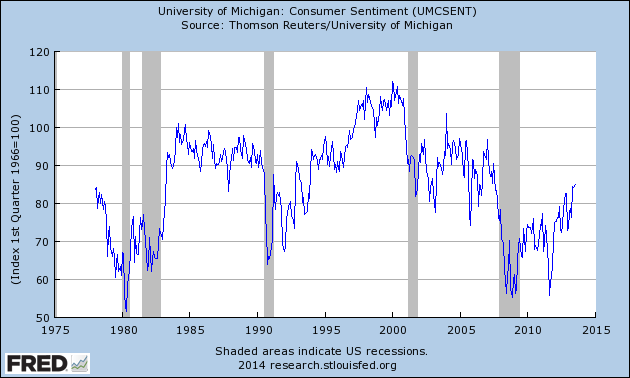 Spending as measured by Real Personal Consumption Expenditures has recovered and has now passed its previous high set in early 2008. It is interesting to note that consumer confidence began to rise just before consumer spending started to increase again.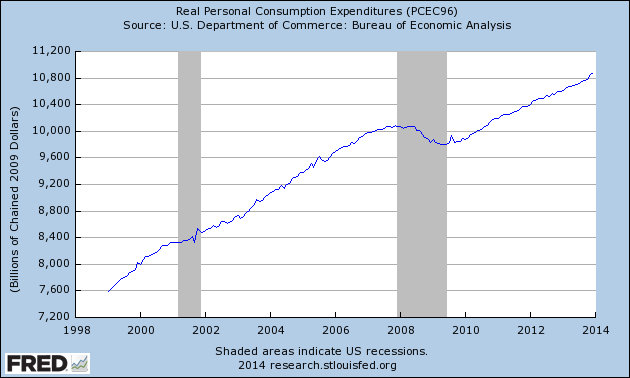 Furthermore, the labor market has been improving ever so slightly, which is also a harbinger of consumer spending in the future. Just last week, the unemployment rate ticked up slightly to 6.7%, but is still in a downward trend. Furthermore, the U-6 measure of unemployment decreased slightly, which measures those job seekers working part-time but looking for full-time work and employees working in jobs that are not at the level they would like to be.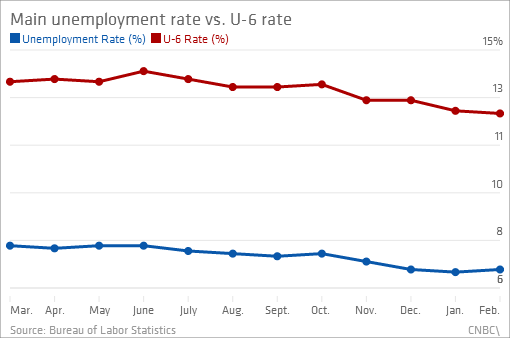 An improving labor market and expected increases in consumer spending should bode well for the owner of strip shopping centers that are located close to the consumer and provide a place where folks can pick up their basic necessities. A company like Kimco Realty for example.
Kimco Realty
Kimco owns over 800 retail properties with over 120 million square feet of retail space. It is well diversified geographically with locations across 40+ states, Puerto Rico, Canada, and Latin America. Most of its properties are premier strip shopping centers like those you see in high density urban areas where most people go for everyday items.
Over the last few years, Kimco has been focused on shifting its strategy to owning only retail assets. For a few years, it had deviated slightly from its traditional strategy by buying non-retail assets. It is not devoted to returning to a 100% retail real estate REIT, with the intention of reaching that goal by 2014. It currently owns about 4% of Non-retail assets, which has been reduced from 17% in 2008.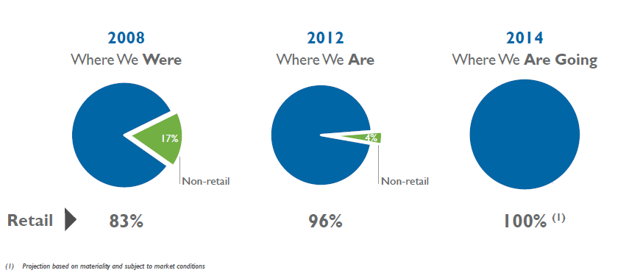 The strategic change is an intelligent one but can be risky in the short term as assets are divested and investments are made in core properties. In this type of strategic change, there is always execution risk. For example, divested properties can be sold for less than expected and conversely, new acquisitions may turn out to be more costly. With most of the shift completed, however, this risk has certainly been reduced.
So far, the number of properties owned has been reduced from 810 to 737, but the characteristics of the remaining portfolio are more attractive on several metrics. For example, the gross occupancy on the remaining portfolio is a full 2% higher than the portfolio that existed in 2010. The portfolio is also more positioned in areas with high household income and a greater level of population density.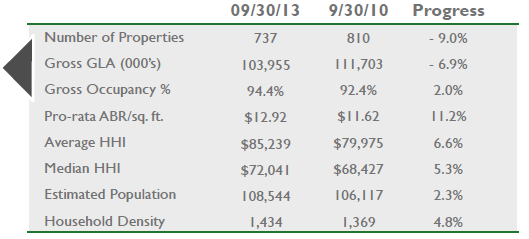 And despite the favorable trends in consumer confidence and spending, supply of new strip malls are still low. The inventory under construction has remained under 40 million square feet since 2009, which gives landlords the ability to increase rents as demand increases and leases come up for renewal.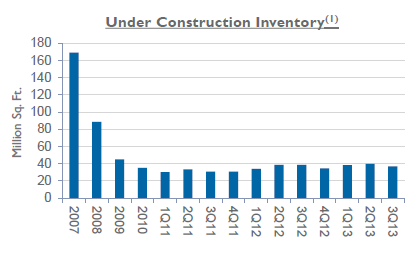 As mentioned earlier, occupancy of the remaining Kimco portfolio is a full 2% higher than its portfolio in 2010. It is also over 2% higher than the industry average and at least 3% higher than the sector average.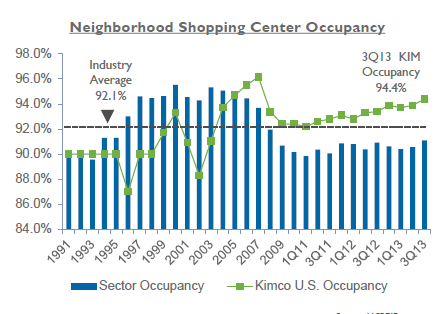 With retailers expected to expand further in 2014, with an expected 81,000 store openings, occupancy rates should remain high and rents should rise.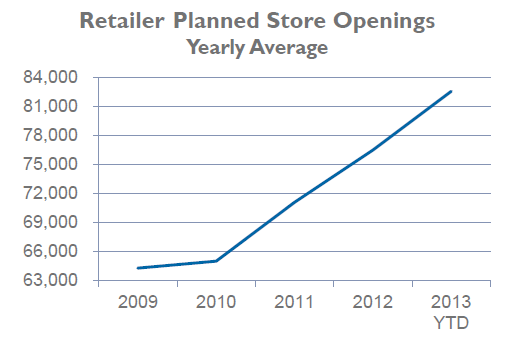 Kimco's core property is a strip mall in a suburban neighborhood with one or two large anchors, and a number of retailers that include your local mom & pop shops, national chain restaurants, and mid-size consumer goods stores ranging from furniture to convenience stores.
Anchor tenants in Kimco properties typically make up about 60% of the gross leasable area of a property and include TJ Maxx (NYSE:TJX), Home Depot (NYSE:HD), Wal-Mart (NYSE:WMT), Bed Bath & Beyond (NASDAQ:BBBY), Sears (NASDAQ:SHLD), Kohl's (NYSE:KSS), Best Buy (NYSE:BBY), PetSmart (NASDAQ:PETM), Safeway (NYSE:SWY), Ross (NASDAQ:ROST), Michaels, Costco (NASDAQ:COST), Dollar Tree (NASDAQ:DLTR), and Sports Authority, to name a few. The rest of the space is taken up by smaller national chain stores and mom and pop shops that usually pay the highest rents.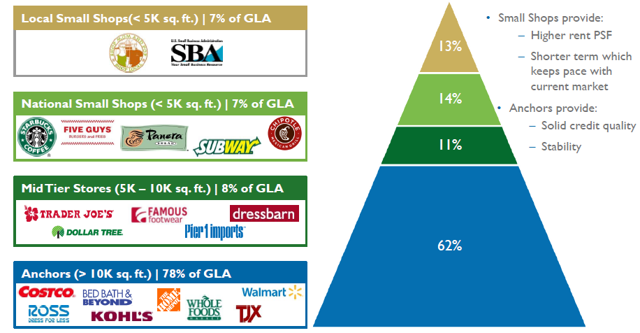 A quick glance at the top tenants indicates a relatively defensively positioned retail sector that performs well during times of economic hardship. Most of Kimco's tenants sell basic necessities whose demand fluctuates very little even during tough economic times.
What concerns me a bit is the mixed results from some of its tenants. Costco's latest performance missed analyst estimates, Ross Stores reported a fall in profits and lowered its outlook, Home Depot and Lowe's were downgraded by analysts, Wal-Mart lowered its outlook after reporting weak sales, and Whole Foods stock took a beating in February. Only TJX reported positive results. Despite that, Kimco still offers a very rosy outlook so let's give them the benefit of the doubt.
Rent increase potential
Many of Kimco leases are inflation-linked so that as inflation picks up, the lease payments required of tenants will increase accordingly. Despite there being no indication that inflation is picking up soon, the massive amount of liquidity in the system will eventually flow through to the rest of the economy to create inflation.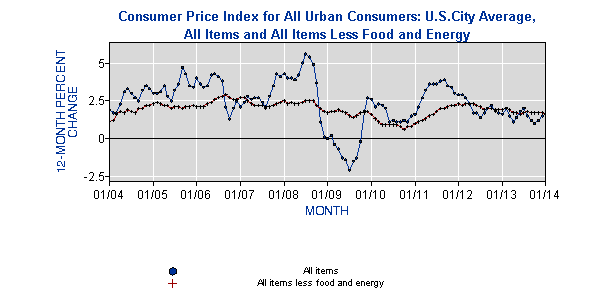 Re-leasing spreads should improve as leases are renewed. U.S. same store spreads have been positive for 11 straight quarters, but the sharp drop in 3Q 2013 could be worrisome.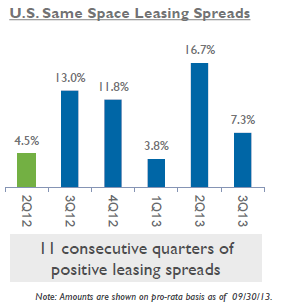 Risks
The risks to Kimco's model is the lack of considerable wage growth that would lead to retail sales growth. The chart below provides a good indication of the correlation of retail sales to wages & salaries. As the blue line below indicates, wages and salaries have been hovering between 2.5% and 5% with no apparent shift to an upward trend.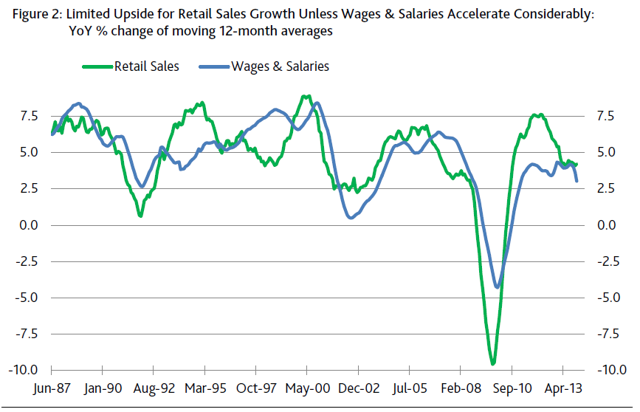 In fact, the retail sales data released on February 13th was below the consensus forecast and was a considerable drop from the previous month. Even though it was 2.6% above the same period last year, the numbers were disappointing.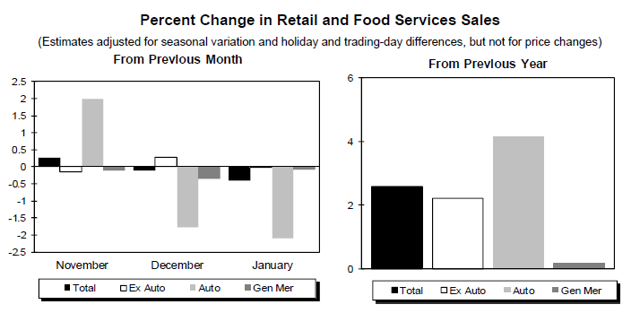 Looking further at the table of retail sales growth below, we can observe that while total retail sales had a 4.2% year-over-year growth, only apparel stores, drug stores, furniture stores and restaurants showed any growth from the prior quarter. This may be good for some of Kimco's tenants, such as Bed Bath and Beyond, but not so well for Home Depot, Wal-Mart, Sears, etc.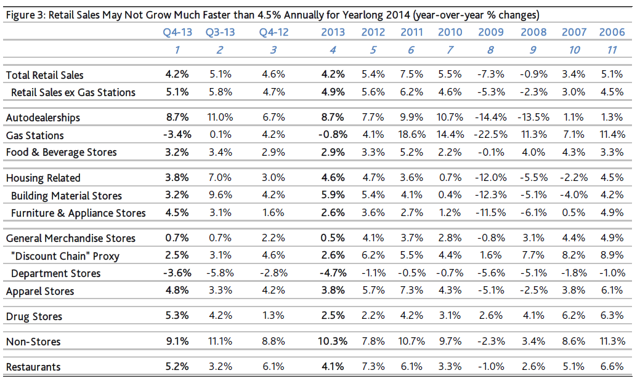 Finally, Moody's points out several retailers whose credit ratings may not accurately reflect their ability to pay debt. The table below shows the largest bond-implied rating gaps for retailers as of January 2014. A bond implied rating is an indication of what the market perceives that bond to be rated based on the current price of the bond, yield to maturity, and duration, relative to other bonds in each credit rating category. Companies with large negative bond implied rating gaps have tended to have a much higher probability of default. Specifically, according to Moody's, companies with a rating of Caa1 and a bond implied rating of -3 or lower have gone into default within the next three years 80% of the time.
Other notable Kimco tenants on the list with negative implied ratings are Best Buy, Sears Holding Corp., and Kohl's.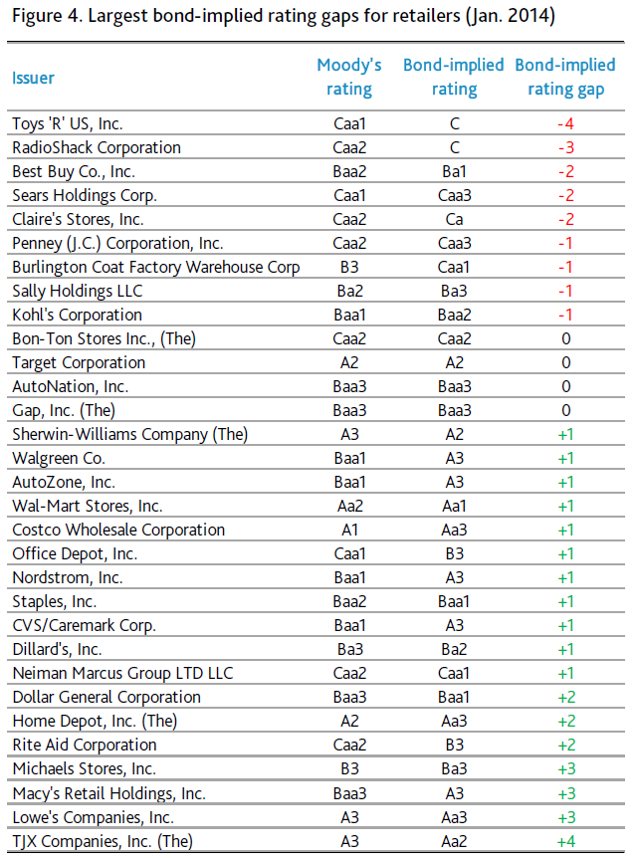 Unfortunately, the very reason why Kimco states its ABR is lower than peers is Credit quality of top 20 tenants. If these credit ratings turn out to be too optimistic (it wouldn't be the first time the credit agencies make a mistake), it would indicate that Kimco's ABR should be much higher.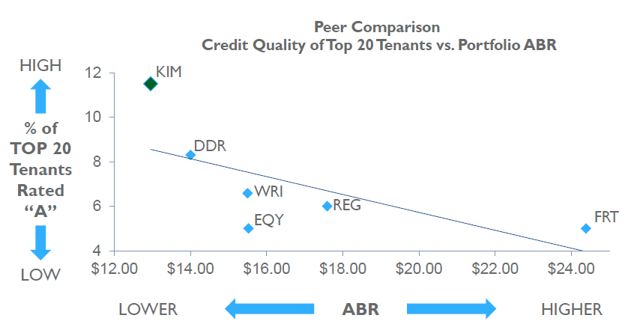 Financial Stability
Kimco's balance sheet has remained relatively consistent over time. Debt/equity ratios had reached as high as 1.15 in 2008 but have since remained in the 0.8 to 0.95 range. Adding back depreciation to operating income results in an interest coverage ratio of 2 times, well above the reported ratio of 0.87 times. But one data point jumps out at us as a potential risk. While the debt maturity schedule looks well diversified, 2016 is looming for Kimco's joint venture partners. It may be nothing, and even if it becomes a challenge for partners to roll over their debt, there is still a risk of an operational hiccup or a discontinuity in some of the partnerships.

FFO Growth
So far, I've painted a very rosy picture of Kimco Realty's prospects and although I have pointed out some risks, I finally get to the first reason why I don't think Kimco is ready to be added to my sales bought REIT wardrobe.
Basically, my cautiousness comes directly from Kimco management. As the table below shows, there certainly is some growth expected in FFO in 2014. But when I look at the forecast for 2014, I'm unimpressed with the numbers. The 2014 forecast for FFO is $1.36 to $1.40, which is 0.7% to 3.7% growth over 2013's $1.35. Perhaps this is a low-ball forecast and management is setting itself up for a positive surprise, but it remains a very conservative forecast and if many of its retailers are struggling, is it possible they could fall short?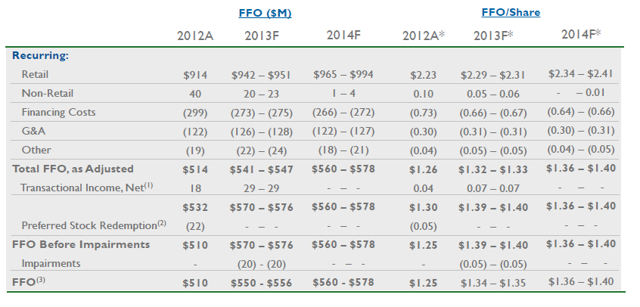 Valuation
The second main reason why I would wait a bit to invest is that Kimco is certainly not on sale. The current price/FFO multiple is at around 16, which is slightly above its long-term average of 13.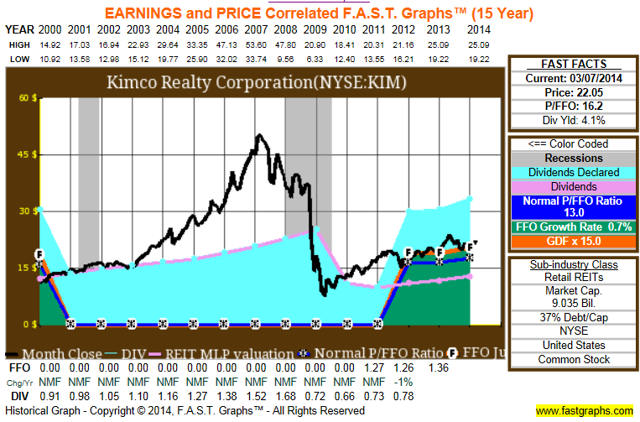 Even with a growth rate on the high end of the range (4%), the price for Kimco still looks fair. Not on sale. For those of you who are claimed disciples of the Graham Dodd philosophy of investing, there just isn't enough of a safety cushion there.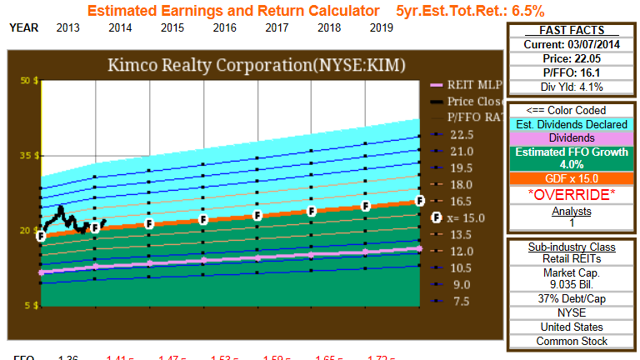 Conclusion
Kimco is the market leader in the premier shopping center space. I have no doubt that it will be successful at refocusing its strategy to become a pure retail real estate REIT. It also operates in an environment with very positive fundamentals that are sure to further improve. Unfortunately, I think all of the positive expectations are embedded in the price already. If you're an investor that is content with receiving a 4% dividend yield, then perhaps you should be invested today. Personally, I like to invest with a bit more cushion and when the upside potential is substantially more than the downside risks.
For Kimco, the forecasts just aren't compelling enough and there are lingering risks not so directly related to Kimco, but to its tenants and JV partners that could make even the smallest safety cushion disappear. For now, I choose to wait until I get a better entry point. What that entry point is or when I might see it depends on how the economic environment unfolds and how Kimco implements its strategic plans. If I miss some upside, so be it, it wouldn't be the first time and it certainly won't be the last.
Sources: Thomson Reuters, US Department of Commerce, Bureau of Labor Statistics, Kimco Investor Presentation, Moody's, Fastgraphs.com
Disclosure: I have no positions in any stocks mentioned, and no plans to initiate any positions within the next 72 hours. I wrote this article myself, and it expresses my own opinions. I am not receiving compensation for it (other than from Seeking Alpha). I have no business relationship with any company whose stock is mentioned in this article.