If you asked most U.S. investors to identify regions of the world where geopolitical tensions were running high, an overwhelming majority would probably point either to Korea, where a rapidly deteriorating relationship between the North and South threatens to escalate into a destabilizing conflict, or to Thailand, where months of clashes between the "Red Shirts" and the army-backed government have left dozens dead, disrupted trading, and brought the tourism-dependent corner of the economy to a halt. But recent events in Israel have sent stocks plummeting, as fears that the country is isolating itself from both enemies and allies and increasing the risk of investments in Israeli securities (see Three Country ETFs Full Of Risk).
The Israeli military has reported that at least nine activists were killed on Monday when commandos boarding a flotilla bound for the Gaza Strip encountered resistance and opened fire. The six-ship flotilla was heading towards the blockaded Gaza Strip before being intercepted by three Israeli navy vessels. According to the Israeli government, soldiers boarded the ships after the flotilla ignored requests to change course. Five of the boardings proceeded peacefully, but upon boarding the Marmara, which was carrying about 600 passengers, soldiers reportedly encountered violence.
Organizers of the flotilla argued that they were peaceful activists seeking to deliver 10,000 tons of construction materials, medicine, and school supplies to the Gaza Strip. The flow of goods into the region has been restricted since 2007, when Hamas gained control. The recent effort represented the most significant attempt to breach the blockade since it went into effect; Israel had warned last week that it wouldn't let the flotilla through.
Israel ETF in Focus
Predictably, the incident brought on criticism from Arab and Palestinian officials. But it also sparked tough words from leaders of western nations that have historically been strong Israeli allies. French President Nicolas Sarkozy said in a statement that he "condemns a disproportionate use of force." A statement released by British Foreign Secretary William Hague requested information about British citizens aboard the flotilla and said that "there is a clear need for Israel to act with restraint and in line with international obligations."
The incident presents Israeli Prime Minister Benjamin Netanyahu with a diplomatic nightmare, and threatens to complicate a strained relationship with the U.S. that seemed to be on the mend; Netanyahu canceled a meeting scheduled for Tuesday with President Obama to "be home to deal with this." Disagreements between Israel and its strongest international ally had popped up with increasing frequency in recent months, highlighted by a standoff over Israeli's reluctance to abandon construction of Jewish settlements in the West Bank and East Jerusalem.
These should be celebratory times for Israeli markets. Major index provider MSCI Barra recently completed a previously announced reshuffling that moved Israel from "emerging" to "developed" status, a recognition of the significant strides made in both quality of life and market efficiency and transparency over the last several decades (see Israel & Taiwan: Emerging Or Developed?). But instead Israeli stocks plummeted to start the week, as expectations for retaliation cast a shadow over markets. U.S. markets were closed on Monday, but the iShares MSCI Israel Capped Investable Market Index Fund should open trading on Tuesday sharply lower.
EIS tracks the performance of the MSCI Israel Capped Investable Market Index, a benchmark consisting of about 80 of the largest and most liquid Israeli stocks (see EIS holdings).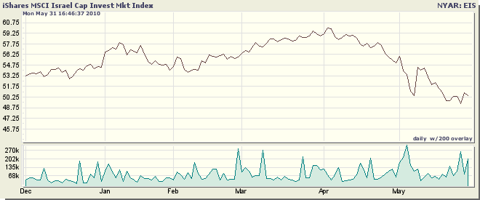 Regional ETFs in Focus
EIS isn't the only ETF that stands to be impacted by an escalation in Middle East tensions. Anti-Israel protests raged through the streets of Istanbul on Monday, as relations between Israel and Turkey took yet another blow. Turkey had publicly supported the flotilla, which was organized by Turkish nonprofit Humanitarian Relief Organization (IHH) and included Turkish ships.Turkey's foreign ministry lashed out at Israel in a statement, demanding an explanation for the event. "This regrettable incident, which took place in the international waters and in serious violation of international law could have irreparable consequences for our relations," read the statement.
The iShares MSCI Turkey Investable Market Index Fund (NYSEARCA:TUR) also figures to be in focus in trading on Tuesday after relations between the regional powers took a turn for the worse. TUR, which tracks the MSCI Turkey Investable Market Index, has been one of the best performing international ETFs on the year but has slumped in recent weeks.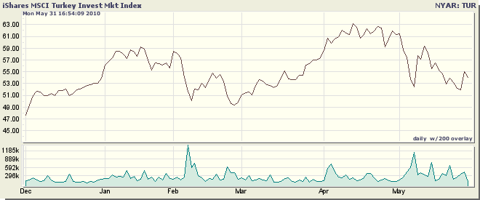 Disclosure: No positions at time of writing