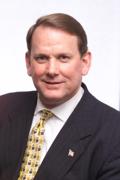 Sam Stovall is chief equity strategist at S & P Capital IQ as well as the author of The Seven Rules of Wall Street and the column Stovall's Sector Watch, a page on www.getmarketscope.com.
Harlan Levy: Does the February jobs number - 175,000 new jobs and the drop in initial jobless claim by 26,000 - change your outlook for labor and the economy?
Sam Stovall: No. the better than expected employment report for February confirms our belief that the economy will likely post a 3 percent gain this year and record a continuing improvement in the jobs picture. Granted, the economy is not growing like gangbusters, to use a very old phrase, but I think investors are becoming more convinced that the early weakness was indeed the result of challenging winter weather.
S&P Economics had predicted a 160,000 increase in February payrolls. While below the actual number of 175,000 it was still higher than Wall Street consensus estimates of 140,000. Also S&P Economics has an average unemployment rate of 6.4 percent for 2014, dropping to 5.7 percent in 2015.
Q: What kind of factor is the lousy weather?
A: I think weather has been a big factor and will likely whittle down our first-quarter Gross Domestic Product growth estimate from 2.2 percent to something as low as 1.5 percent. However, we believe that much of the slack from the first quarter will be recovered in the remaining quarters of the year.
Q: What do you think of manufacturing?
A: The ISM manufacturing PMI index climbed to 53.2 in February from 51.3 in January with a reading above 50, indicating growth in the manufacturing sector. We saw an increase in new orders, which in total paints a positive picture for manufacturing.
Q: What's your outlook on housing?
A: The outlook on housing continues to be fairly positive. We see residential construction increasing by 13.7 percent this year and 18.9 percent next year, following a 12.1 percent increase last year. Because we see the yield on the 10-year note averaging around 3 percent this year and 3.3 percent next year, we don't see the average 30-year conventional mortgage rate going much above 5 percent through the end of 2015, which we believe will continue to be supportive of those looking to buy new homes.
We see housing starts at 1.2 million on average this year and 1.5 million on average next year versus an average of less than a million in 2013.
Remember that it is estimated that between two and three new jobs are created for each new home that is built, so the continuing recovery in the housing market will likely benefit not only those in the housing sector but also the economy as a whole and consumer confidence in general..
Q: What's your take on the Ukraine situation?
A: It seems as if Russia wants to rebolster its cushion between itself and NATO countries by aligning with like-minded governments in Belarus and in Ukraine. I think that not much will be made of sanctions against Russia, because Europe will be reluctant to anger its chief supplier of oil and natural gas. In the end, however, I don't see an increase in Russian influence over the Crimea and Ukraine as being detrimental to global economic growth.
Q: Does Europe look positive now?
A: Our economic growth expectations for Europe do appear to be on the mend, with real GDP growth projected at 1.1 percent for 2014 and 1.5 percent for 2015 versus a decline of 0.4 percent recorded in 2013.
So, yes I'm positive with a lower-case "p" based on our projected recovery, with a lower case "r."
Q: The bull market was five years old on Sunday. Will it make it to six?
A: The S&P 500 has a good chance but not a great chance to making it to its sixth birthday in my opinion. If this were simply Year One of the bull market I'd say it has a very poor chance of celebrating its sixth birthday, because only 27 percent of bull markets since World War II reached the end of Year Six.
However, since we did celebrate the fifth birthday, history reminds us that 60 percent of bull markets that reach their fifth year went on to celebrate their sixth year. Even more encouraging is the 26 percent average price increase for the S&P 500 in a six-year bull market.
Q: What would let it make it to six?
A: We believe that while the S&P has a good chance of celebrating its sixth birthday, we think that the price increase will be in the mid-to-high single-digit range, driven mainly by earnings-per-share growth.
One thing that needs to accompany this 5 to 6 percent increase in earnings is a rise in revenues, currently estimated by Capital IQ at 3.7 percent. Driving this earnings and revenue growth is an improvement in U.S. GDP growth, which currently stands at 3 percent. Should this growth estimate improve it will increase the likelihood of reaching Year Six.
Next, we see valuations remaining supportive. The trailing operating P/E ratio is currently at a 2 percent discount to its median over the past quarter century, while the Generally Accepted Accounting Principles' P/E of 18.7 is still below the average of 19.5 during low inflationary periods since 1938.
Finally, while we would not expect Congress to accomplish more in 2014 than just trying to get reelected, we would look for an indication that they are working toward meaningful tax reform legislation to be passed in 2015 that would be supportive of an increase in capital expenditures and repatriation of foreign earnings.
Disclosure: I have no positions in any stocks mentioned, and no plans to initiate any positions within the next 72 hours. I wrote this article myself, and it expresses my own opinions. I am not receiving compensation for it (other than from Seeking Alpha). I have no business relationship with any company whose stock is mentioned in this article.