A lot of stock prices crashed in the aftermath of the financial crisis. But a loss of more than 95% of the market capitalization was even considered to be special then. When the then CEO Karl Petrikovic was forced to leave Immofinanz, an Austrian real-estate company, and a funding gap of more than € 500 million was discovered just one month after the crash of Lehman Brothers, it seemed that it were only a matter of weeks till the company would go bankrupt. Petrikovic, who was responsible for the company's bad situation, was later convicted to a 6 years prison sentence because of breach of trust. But things went better for Immofinanz. Eduard Zehenter, who has earned himself a reputation as restructuring specialist, was hired and he accomplished the turnaround. Although Immofinanz' stock price rose more than 1,000% within two years, the company is still far away from its pre-crisis high.
Overview
Immofinanz AG (OTCPK:IMMZF) is Austria's biggest real-estate company with a rentable space of more than 6.4 million square meters. It is mainly active in Austria and Germany, but has also a large number of assets in Eastern Europe (especially Poland and Russia). The company has divided its business into three divisions (Asset Management, Development and Trade) and concentrates on four asset classes (office, retail, logistics and residential). At the moment Immofinanz has a market capitalization of slightly more that €4 billion (Bloomberg).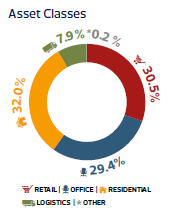 (source: Annual Report 2012/13)
Spin-off of Buwog
The most far-reaching event for Immofinanz in 2014 is definitely the spin-off of its daughter, Buwog. Up to now, Immofinanz combines two completely different classes of assets: on one hand there are residential buildings with relatively low return and low risk (bundled in Buwog) and on the other hand there are the much riskier, but also more lucrative commercial real estate assets. Of course, this diametric spectrum attracts different kinds of investors and its combination in one stock does not get the market validation it would earn as two different stocks. The separation shall be implemented by a partial spin-off of 51% of Buwog share capital to Immofinanz shareholders. Instead of a dividend for 2013 each shareholder should receive 1 share in Buwog for every 20 Immofinanz shares. A stake of 49% in Buwog will remain at Immofinanz, but the company contemplates to reduce its share in the mid-term. There will also be a de-domination agreement to ensure independent operations of the new company. This plan should be approved at an extraordinary shareholders meeting on 14 March. Not much resistance is expected. All this information are taken from the IR presentation the company provides.
Within the last years Immofinanz has put a lot of effort into preparing this spin-off. Initially it should have taken place as an IPO in the summer of 2013, but due to bad market conditions resulting in similar deals not meeting expectations of the sellers, it was postponed. In February 2014 Immofinanz was able to closure a deal about buying 18,000 German homes and had then reached its target for the spin-off: the assets of Buwog are now divided equally between Germany and Austria. The biggest part of the portfolio is bundled in the federal and regional capitals.
Financial situation
With a debt-equity-ratio of 1.27 Immofinanz is a financially sound company. Its share is trading at the moment at a price of €3.6, but has a NAV (net asset value = equity per share) of €5.48, which means a P/B of 0.69. Thereby Immofinanz is quite inexpensive compared to its main competitors on the German market. (Deutsche Wohnen AG: 1.35, Deutsche Annington: 1.15, both are mainly active in residential properties; data according to Bloomberg). It is reasonable to assume, that the P/B value of at least Buwog will also move in this direction after the spin-off.
Over the last years Immofinanz has earned itself a reputation as constant dividend payer. The payment both in 2013 and 2012 was €0.15. With an average price of €3 per share during this period this gives a dividend yield of 5%. As mentioned above, this year's dividend will only consist of Buwog shares, but I am sure is worth much more.
Immofinanz makes most of its revenues and profits with asset management. In business year 2012/13 (Immofinanz' business year ends at 30 April) profit from this section amounted to more than €500 million. The year before this number was €445 million, whereupon the increase can be linked to purchase of additional objects. Profit from asset management is heavily linked to occupancy rates (estates not rented won't earn money). On 30 October (the day of the last available interim report) occupancy rate was 88.6%.
The other possible incomes sources of Immofinanz are the ones related to trade and development of real estate. Due to its nature earnings for those segments are not as easily predictable, but were also positive in the last two business years (€92 million and €83 million, respectively). It should be mentioned that most of the sales of Immofinanz' assets in the last years have been above book value.
In 2012/13 Immofinanz become victim of its own success. On 21 March Immofinanz announced the acquisition of the remaining stakes of Golden Babylon Rostokino, a shopping center in Moscow. According to some conditions in the contract the actual price depended on the Net Operating Income in 2013. Due to increased occupancy rate and higher rental revenues, Immofinanz had earn-out expenses of more than €100 million in the income statement of 2012/13, but this number was also partially reflected in positive revaluation results.
Within the last years Immofinanz made a huge share of its profit with revaluations of its properties. This basically means, that the temporary fair value of an asset (as defined in IAS 40) is higher than the price Immofinanz paid. When the company bought most of the assets that now compose Buwog in 2004, it did so for a price of only €600 per square meter (own calculations). Today it is hardly possible to buy apartments below €1100 per square meter in Austria.
Total net profit after tax was €110 million in 2012/13 and €270 million in 2011/12. It should be mentioned that the relatively bad result of the last financial year can be partially attributed to one-time impairment.
In the last years Immofinanz had a strong operational cash flow of more than €400 million.
All numbers in this section (if not indicated otherwise) are taken from the Annual Report 2012/13.
Risks
One of Immofinanz' risks was seen just recently. When situation in Ukraine started to escalate, the stock price of the company lost more than 5% within just some hours due to Immofinanz' strong involvement in Eastern Europe. Although price recovered quickly, political situation in Eastern Europe has a certain potential to cause distress.
Another classical risk for companies in the real estate business is a sudden lack of funds, e.g. because of a financial crisis. An increase in interest rate level, could also harm the company's operations, on one hand because the financial result will be affected in a negative way, on the other hand because people could allocate their financial reassures to other asset classes, meaning a price drop in real estate market. Immofinanz could also get problems with its workforce: although the company has more than 1000 employees, the number of them involved in asset transaction/deal making is much smaller: a high fluctuation here could cause immense troubles.
Conclusion
Real estate business done in a conservative way is normally not a very thrilling business, but delivers constant and safe returns. Hence every investor should have some part of his money in real estate, be it in the form of owning own buildings, owning shares in a fund or of a real estate company. Immofinanz is a very good deal for the last possibility. When the spin-off is finally accomplished, both companies will attract the kind of investors prone to their risk-profile. Immofinanz has delivered a constant, high dividend yield over the last year and I am sure that investors will finally realize what a bargain they can make buying this company trading at a P/B of only 0.7. An increase of 20% in its stock price within the next months is more than realistic.
Disclosure: I am long IMMZF. I wrote this article myself, and it expresses my own opinions. I am not receiving compensation for it (other than from Seeking Alpha). I have no business relationship with any company whose stock is mentioned in this article.