With the bull market celebrating its 5th anniversary this weekend, investors must turn over more rocks than ever before to unearth increasingly elusive nuggets of opportunity. Thanks to the REIT-wide sell-off in the 2nd half of 2013 and the fallout surrounding its change in CEO in October, healthcare giant HCP, Inc. (NYSE:HCP) provides investors a chance to partner with a quality company at a reasonable valuation. One of the largest and most diversified healthcare REITs in the U.S., with $22 billion in assets under management, HCP is attractive for a dividend growth portfolio, having increased distributions every year since 1985.
Corporate Profile
HCP, Inc. is a fully integrated real estate investment trust ("REIT") that invests primarily in real estate serving the healthcare industry in the United States. The Company's portfolio of assets is diversified among five distinct sectors: senior housing, post-acute/skilled nursing, life science, medical office, and hospitals. (Source: HCP website)
Healthcare is the Largest Sector of the U.S. Economy
The healthcare industry was expanding long before Obamacare was coined, and will continue long after the term disappears into trivia history. Healthcare is expected to account for 18.3% of GDP in 2014, according to a government report published by Centers for Medicare and Medicaid Services. The report also estimates an average 6.2% annual growth rate in national health expenditures through 2022.
America's senior population is growing at unprecedented proportions, requiring a broad spectrum of healthcare services for decades to come. With its tenant base operating in five key areas of healthcare services, HCP is well positioned to prosper from the rising demand that continues into the mid-century.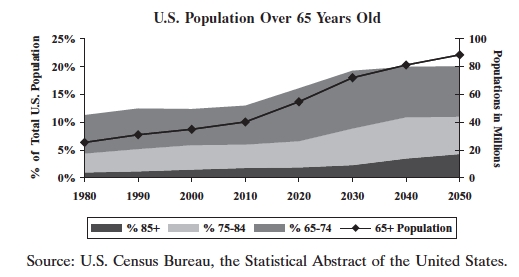 Diversified Revenue Sources
HCP benefits from one of the most diversified revenue streams in the healthcare REIT industry. Unlike many competitors, reliant primarily on senior housing or skilled nursing, HCP generates more than a third of its revenue from other key sectors: Life science centers, medical offices, and hospitals.
Percentage of revenues by operating segment (from 10-K filing of 2013 Annual Report)
| | | | |
| --- | --- | --- | --- |
| | 2011 | 2012 | 2013 |
| Senior Housing | 30% | 33% | 36% |
| Post-Acute/Skilled Nursing | 29% | 29% | 29% |
| Life Science | 17% | 15% | 14% |
| Medical Office | 19% | 18% | 17% |
| Hospitals | 5% | 5% | 4% |
Growth in net operating income ("NOI") is occurring in all five sectors. The graphic below displays the percentage increases since 2009, with HCP's estimates for 2014. (Source; Citi's Global Property CEO Conference, March 2014)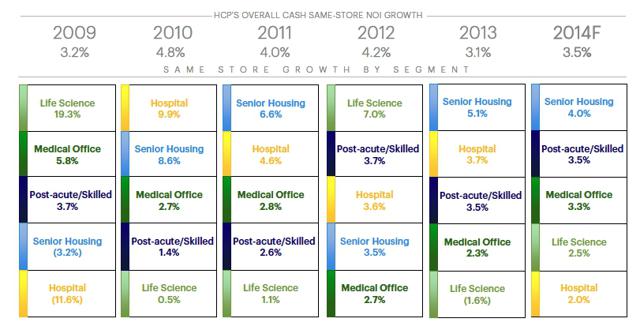 Laddered Triple Net Lease Structure Provides Predictable Revenue
Of the three largest healthcare REITs in the industry, HCP by far and away has the largest percentage of senior housing properties structured under triple net lease pricing. As of December 31, 2013, HCP had interests in 444 senior housing facilities. Among those, 424 are triple-net leased to single tenants, with only 20 in a RIDEA structure. The triple-net lease requires the tenant to pay all real estate taxes, insurance, and maintenance, with annual base rent usually indexed to the consumer price index ("CPI"). Leases typically run 15 to 20 years.
Lease expirations are well laddered to minimize disruption in rental income in any one year. The table below shows the percentage of total base rent expiring each year through 2023. Lease expirations exceed 5% in only 2 of the upcoming 10 years, which bodes well for steady and reliable cash flows.
Year of Lease Expiration & Percentage of Base Rent affected
| | | | | | | | | | | | |
| --- | --- | --- | --- | --- | --- | --- | --- | --- | --- | --- | --- |
| | 2014 | 2015 | 2016 | 2017 | 2018 | 2019 | 2020 | 2021 | 2022 | 2023 | Thereafter |
| Pct of total base rent | 4% | 4% | 4% | 5% | 9% | 4% | 9% | 4% | 2% | 4% | 51% |
Some healthcare REITs have incorporated the RIDEA structure to diversify a portion of their senior housing portfolios. In the Merrill Lynch REIT primer, I found the simplest explanation of the RIDEA structure:
The RIDEA structure allows healthcare REITs to benefit from the operating margins of senior housing communities but also exposes them to the risks of operations. Healthcare REITs pay a fee to a healthcare operator to run the community. If margins improve, health care REITs benefit. On the flip side, this structure adds risk to healthcare REITs' cash flows because if margins shrink, the healthcare REITs' cash flows decline as the fee to the operator does not change.
By way of comparison, Ventas, Inc. (NYSE:VTR) and Health Care REIT, Inc. (NYSE:HCN), similar in market cap and portfolio size to HCP, have far greater exposure to RIDEA structured arrangements. According to analysts at BMO Capital Markets, HCN has 33% of its portfolio revenue tied to RIDEA, VTR has 28%, and HCP just 3%.
Within the healthcare REIT industry, there remains debate over the advantages and disadvantages of RIDEA versus traditional triple-net leasing, though RIDEA appears to be an increasing trend that is here to stay.
Revenue, Free Cash Flow, and FFO All Trending North
Regardless of what price structure is pursued by a REIT, most important are the bottom line results. Over the past 5 years, HCP's revenue, funds from operations ("FFO"), and free cash flow are steadily increasing.
Compiled from Annual Reports (in millions)
| | | | | | |
| --- | --- | --- | --- | --- | --- |
| | 2009 | 2010 | 2011 | 2012 | 2013 |
| Total Revenue | $1,118,513 | $1,224,717 | $1,694,418 | $1,879,970 | $2,099,878 |
| Free Cash Flow | $419.1 | $389.7 | $586.2 | $653.4 | $889.4 |
| FFO applicable to common shares | $420,582 | $690,637 | $877,907 | $1,166,508 | $1,349,264 |
Geographic Footprint and Tenant Distribution
The 1153 properties currently in HCP's portfolio are spread across 46 states and Mexico. Nearly 60% of the properties are focused in six states, because of the significant senior population residing in those states. The single largest tenant remains HCR ManorCare, responsible for nearly one-third of HCP's overall revenue and 83% of the post-acute/skilled nursing segment revenue. While greater diversity in the tenant base would be welcomed, the reality remains- the healthcare industry is comprised of a very fragmented landscape, with only a handful of large operators.
| | |
| --- | --- |
| Pct of Properties by State | Pct of Revenue by Tenant |
| California 23% | HCR ManorCare 32% |
| Texas 10% | Emeritus 14% |
| Florida 8% | Sunrise 7% |
| Pennsylvania 7% | Brookdale 4% |
| Illinois 6% | |
| Ohio 5% | |
| Remaining 40 states and Mexico, are all 4% or less | |
Dividends Increased for 29 Consecutive Years
There is no greater testament to the financial strength and sustainability of a business than a long record of dividend growth. HCP has raised its dividend every year since its 1985 IPO. It is the only REIT to be a member of the exclusive S&P 500 Dividend Aristocrats®.
Dividend growth has averaged 4.3% annually over the past 20 years. In the last 10 years, it has slowed to 2.9%. On January 30th, HCP announced a 3.8% increase for 2014. Current yield is a robust 5.8%, with a low 73% FFO payout ratio.
As a dividend growth investor, I sleep more peacefully when I enjoy complete confidence in the business I'm a part-owner of will continue to generate a growing revenue stream, regardless of the economic climate.
HCP was one of only eleven REITs financially fit to raise its dividend during the recent Great Recession. It was also able to increase the dividend through two Gulf wars, 1989's savings and loan crisis, 1997's Asian financial crisis, the 2000 dot.com bubble, and the recession following 9/11.
The View from F.A.S.T. Graphs™ 2008 - 2014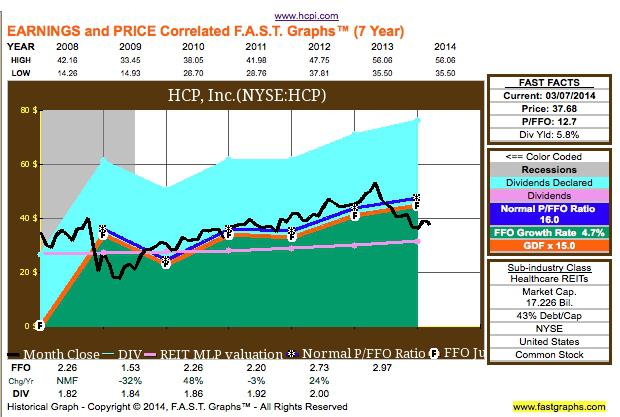 The 2008 - 2014 time frame spotlights HCP's performance and valuation since the Great Recession, (shown in the gray area on the left side of the graph). This shorter period offers less clutter and greater clarity, than a 15 or 20-year view, though it can skew historic valuations.
Since last May, HCP's stock price (black line) has slid well below the earnings justified valuation (orange line), and its normal 16.0 P/FFO (blue line). From the Fast Facts section to the right of the chart we can see the $37.68 closing price on March 7th equates to a multiple of only 12.7x FFO, a 14% discount from its historic P/FFO valuation (since 2008).
Prior to the precipitous drop off, the stock price hugged both the earnings justified valuation and the normal P/FFO ratio quite closely. The decline that began in May accelerated in October with the sudden change in CEO.
I won't bore readers with a 2nd chart, but just state the numbers. Looking at a longer time frame, 1994 to present, HCP's normal P/FFO is a more modest 13.3 ratio. Friday's price does not appear nearly as compelling in this 20-year context, but still represents a favorable 5% discount from the 13.3 P/FFO.
Regardless of the referenced time frame, since 2008 or 1994, the market is presenting an opportunity to own HCP at a reasonable valuation. Not a rock bottom price, but by any objective measure, a very fair value.
2014 Guidance
From the 4th quarter conference call (transcript courtesy of SA) the guidance ranges from flat to a slight decline for 2014 because of a favorable one-time gain in 2013, and additional CapEx this year to "ramp up the occupancy in the life science and medical office portfolios." This company historically plots a conservative fiscal course, especially with respect to maintaining a strong balance sheet, sustainable payout ratio, and adequate cash on hand. For 2014, it projects the payout ratio to be about only 73% of FFO, and to retain $160 million in cash (after dividends and capital expenditures), to facilitate additional acquisitions to grow the portfolio.
I like that disciplined approach to expanding the assets, even if it requires a modest reduction in funds available for distribution ("FAD") this year. My investment horizon is focused on the next couple of decades, not 2014. Setting aside a few pennies of FAD in the near term to invest in the future growth of the portfolio is a trademark of a well-managed, sustainable, business that will continue to generate income during the next crisis.
Of all the commentary in the conference call, new CEO, Lauralee Martin, offered the most interesting, in my view, on the topic of tapering by the Fed:
I would say the biggest thing that has changed is that the marketplace has adjusted that whatever the Fed's actions are, it will be readily absorbed. And therefore, there is not a concern that they need to stop their activity to determine what to do in that period of uncertainty. So I think the marketplace is getting on with what they do quite well, and that is trade assets and grow assets and we're in the middle of that. So we feel comfortable with our cost of capital relative to what's going on in the marketplace. It still is a competitive marketplace, but we feel comfortable in the middle of it.
I'm impressed with Ms. Martin's confidence in moving forward with the business at hand, regardless of what the Fed does or does not do, in the next month or six months. Since its 1985 IPO, HCP has delivered a compounded average annual return of 15.4% to shareholders. There's no guarantee that will continue, but Ms. Martin appears ready to roll up her sleeves and lead HCP into its next chapter, with or without the Fed's cooperation.
Closing Thoughts
REITs in general have been pummeled the past 10 months over tapering hysteria. One of my core beliefs is REITs as an asset class will fare well in any environment, once market equilibrium sets in with respect to pricing and interest rates. Last May's stratospheric valuations were not sustainable, just as the wholesale selling afterwards taking the group down 25-30% was classic overkill.
In the healthcare sector, there are REITs offering higher yields or greater stock appreciation, and currently some even both. However, none match the reliability of dividend growth HCP offers investors seeking a safe, sustainable, revenue stream.
"It's far better to buy a wonderful company at a fair price, than a fair company at a wonderful price." - Warren Buffett
Dividend Aristocrats® almost always carry a premium price tag. As a member of that exclusive club, HCP is the undeniable best of breed with respect to dividend growth among all healthcare REITs. Whether the current price is viewed as a 14% discount, or a 5% discount, just depends on which historical perspective is applied. Either way, it seems to be a very fair valuation.
I don't envision HCP being a stand-alone core holding, but rather one of the core components comprising my overall investment in healthcare. Its enduring dividend growth supplements the large pharmaceuticals I own and complements my growth-oriented healthcare REITs, Omega Healthcare Investors (OHI) and National Health Investors (NHI). Collectively, they occupy a core healthcare position in my retirement portfolio, by virtue of being in the largest sector of the U.S. economy with the prospect for continued long-term growth.
Disclaimer: Always perform your own due diligence and respect that my enthusiasm for a dividend growth investment may not be suitable with your tolerance for risk, or your portfolio.
Disclosure: I am long HCP, NHI, OHI. I wrote this article myself, and it expresses my own opinions. I am not receiving compensation for it (other than from Seeking Alpha). I have no business relationship with any company whose stock is mentioned in this article.