Mediatek and Allwinner are rapidly advancing as serious players in applications processors for low cost smartphones. Digtimes reported on Friday, December 13, 2013, that it expected Mediatek's share of smartphone applications processors to surpass Qualcomm (NASDAQ:QCOM) in 2014, with Mediatek's share growing to 26.2% while Qualcomm's is estimated at 25.6%.
Mediatek's late 2013 introduction of a 64-bit CPU with LTE embedded puts it into the mainstream of high powered smartphone and tablet processors providing a meaningful rival to the Apple (NASDAQ:AAPL) A7 processors and the Qualcomm Snapdragon series while matching Qualcomm's integrated LTE capability.
In the tablet market, Allwinner's low-cost high-performance solutions may have outsold Qualcomm and Intel combined in 2013 according to one report.
While Allwinner is reportedly selling its chips for less than $10 the specifications of these components suggest they are fully fledged and truly competitive with the best in the industry, illustrated by the February 24, 2014 release by Allwinner of its Ultra Octa A80 processor.
Along with Mediatek and Allwinner, Intel is gearing up for a serious run at the mobile markets as I have described in earlier articles.
Qualcomm is the undisputed leader in the baseband market with a 64% share but Mediatek is making gains there as well and now has 12% market share followed by Intel with 8%. Broadcom (BRCM) has a decent shot at taking a piece of this market from Qualcomm in 2014. Broadcom is targeting LTE for smartphones selling for $300 or less, the fastest growing market segment by all accounts.
At the same time, the smartphone market growth is slowing dramatically and the brisk pace of tablet market growth is showing signs of abating.
IDC sees smartphone growth in 2014 slowing to the 20% range after growing closer to 40% in 2013. The enormous pace of growth of China's smartphone market is falling off a cliff.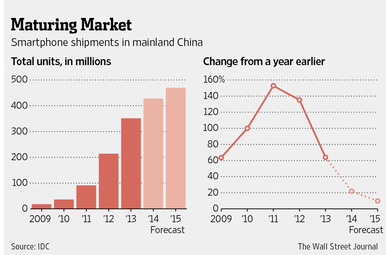 In the case of tablets, IDC sees 2014 growth at less than 20% versus more than 50% in 2013.
Compounding the slower growth, average selling prices (ASPs) for devices seem destined to head lower according to IDC and Gartner, reducing the royalty payments Qualcomm will receive for each device that uses its intellectual property. Smartphone ASPs are expected to fall 5% annually from 2014 to 2018 2014 while tablet ASPs are seen declining by 3.6% this year.
Lower growth, declining average selling prices and intense competition from low cost Asian suppliers in addition to the massive thrust Intel (NASDAQ:INTC) is mounting spell trouble for Qualcomm.
At more than $75 a share Qualcomm is trading at about fifteen times this year's non-GAAP earnings average earnings forecast (as published by Yahoo.com Finance) of $5.11 a share. That earnings forecast is very likely to be ratcheted down as the year progresses if the rate of growth in served markets falls further than current forecasts or Qualcomm starts to lose material amounts of its market share to any or all of Mediatek, Allwinner, Intel or Broadcom.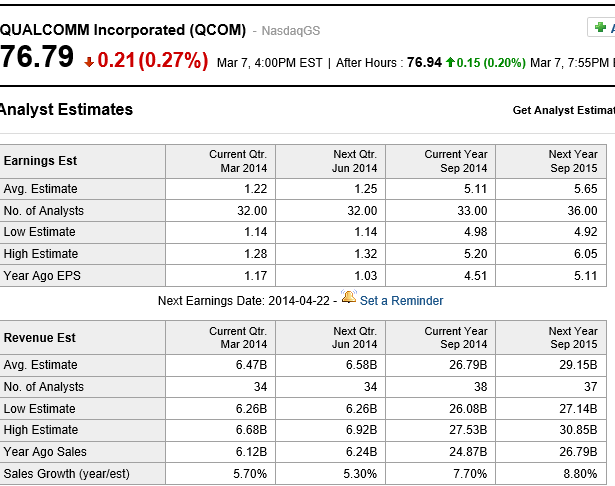 Caught in the crossfire of slowing markets, declining ASP's and growing competition, the stage is set for Qualcomm to disappoint this year. As a result, I am short the stock.
Disclosure: I am short QCOM. I wrote this article myself, and it expresses my own opinions. I am not receiving compensation for it (other than from Seeking Alpha). I have no business relationship with any company whose stock is mentioned in this article.
Additional disclosure: Short 500 shares at $76