Andrew Makrides, CEO of Bovie Medical (NYSEMKT:BVX), is relaxed these days when someone calls him at his Melville, New York offices. Mr. Makrides needs to be extra bubbly now that his share price has been cut in half since March 16th in what looks like a school-ruler, linear drop (more on this below). In these calls, Makrides tells investors not to sell their shares and calmly goes over the issues of a poor revenue quarter ($5.6M vs. $7.2M YOY vs. $6.7M in 2008) in a firm that normally has clock-like $20 to $28 million in annual revenues going back five years .

Administered by a distributor and manufacturer representative sales list of 41 people across the country at the Aaron side of the electro-surgery generator and coagulation cauterie business, the generator line of products is normally reliable. Last quarter they were down by 22%.
Makrides calmly says an OEM contract was the culprit. Callers ask about the Private Placement recently entered for $3 million and he points out they are spending funds on projects and the total share universe is now just a bit over 18 million including the PP and new warrants ($6 strikes).
He has plenty of cash from the PP and already had enough before the PP plus he's cash flow positive. All in all, he gives his callers to whom I've spoken (as I've been following BVX for some time now) a pretty plain vanilla jovial talk. My July 2008 Seeking Alpha article focused on complex BVX potential acquisition maneuvers and odd receipt of intellectual property (As if in compensation for a corporate "goom" getting cold feet). Today, Andrew is charming and calm; not reacting at all like a man who just lost half his net worth.
Officers: All In?
Indeed, all the officers at BVX have 95% of their net worth in BVX shares (according to IR) and they seem remarkably relaxed given the share price, including advanced degreed engineers from Israel and Eastern Europe.
For example, Director Steve Livneh, the former executive vice president and operator of the Bovie Canada operation (now being scaled back), was a leading ordnance engineer in the Israeli Defense Force and has perfected intellectual property (IP) for several advanced energy-based laparoscopic and anti-wrinkle dermatology devices, including the MEG, for which BVX now has FDA 510K and CE Mark clearance to market.
The problem is that there's practically no one to sell the new products to, and yet officers are apparently unconcerned. Callers get no sense of urgency. Meanwhile, big shareholders like RENN CAPITAL (3.3M shares) aren't unloading a share. RENN CEO Russell Cleveland thinks he's "found Midas" in Mr. Makrides. It's this odd mystery that I'll focus on today.
Critics
To listen to the conventional medical analyst apparatchiks, BVX is a Stagnant Florida Swamp. They look at weak quarterly financials, see little to no growth in revenues and mostly can't wrap their heads around the mysteriously un-promoted new Energy/Saline-based products, none of which has a named anchor medical user advocate. Other than Dr. Peter Pardoll, noted Florida Gastroenterologist on the BVX Board of Directors, there isn't a noticeable new product medical user, prominent or otherwise. The firm says they will market new products, yet can't show a sales team of any size.
Take Down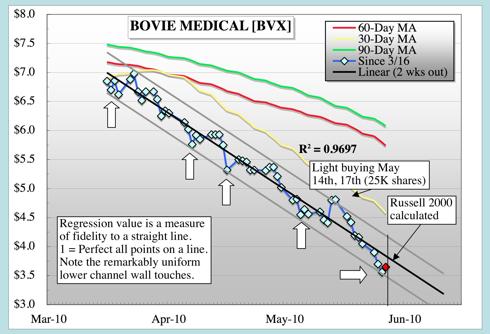 Let's have a closer peek at the ramp-straight drop of 50% since March 16th and the remarkable coincidence of an intersection ON the Russell 2000 calculation day of May 28th 2010. Without getting into deep controversy here, the share price fall is sensibly a straight line. The yellow 30-day moving average is perfectly parallel to the regression centerline. Note also that after touching the lower channel wall, four consecutive bounces up followed, but the latest touch stayed down.
Whether the slope angle was controlled or not, this pattern change effectively set the BVX market capitalization at a level that will probably trigger an exit from the Russell 2000 Index. Any lurking BVX acquisition entity will enjoy a very nice discount. What a coincidence! Have we stumbled on to something here?
Indeed, we can ask why BVX was inserted into the Russell 2000 in the first place. With $27 million in revenues, BVX was essentially 10X under its R-2000 peers. Recall that back then (June 2009) the large short was created (currently 1.36 million shares). Was it a naked short? If so, we don't expect the short will be covered–just converted in a possible future BVX acquisition.
Given the calm nature of top BVX management, what we have here is an old-fashioned mystery. Like you, I LOVE them.
New Products
Since my last review on BVX in 2008, the nascent intellectual property accumulated over time has fully matured and is all but completed with full FDA 510K clearances to market (only Seal N Cut lacks 510K clearance), complete engineering freezes and division leaders hired and trained (Uffer, Massie, Rioux). These people are top-notch players, two from Boston Scientific (NYSE:BSX) and the third with deep experience at Smith and Nephew). Note: 2009 presentations images mention FDA pending while today they are completed).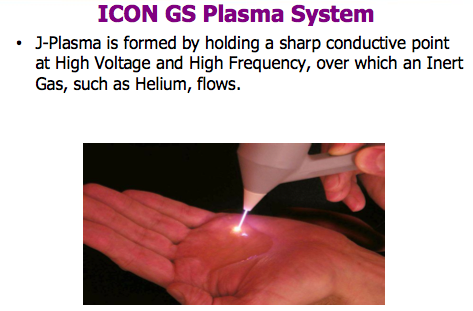 The unique characteristics of JPlasma are pretty cool (no pun intended since Helium carries less tissue damage risks with a more tunable delivery than ARGON). New cars have distal spark plug coils to deliver hotter sparks with less current. This is exactly what Board member Greg Konesky's patent information on JPlasma outlines in the Helium Plasma Ignition process.
The benefit is much less current through the patient and a fully tunable energy-based system of coagulation that also works laparoscopically. It has always had dermatology potential and is now FDA cleared for general use.
A look back in 2008 at how OMRIX/EVICIL and an expensive tunable CO2 Laser in Israel are being utilized will reveal a fair attempt at scar free surgery (embedded in my general Commentary for that day). We know anecdotally that a JPlasma system was shipped to Israel during this period and that fits with the BVX engineering DNA. (Images from a 2009 BVX presentation.)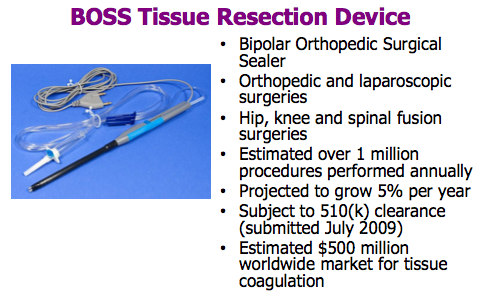 From the company's March 2010 press release:
The BOSS™ delivers RF energy simultaneously with saline to perform coagulation of soft tissue and bone resulting in reduced blood loss while minimizing charring and sticking of tissue. Saline enhanced surgeries reduce operating time while improving post-operative outcomes leading to shortened recovery time.

The BOSS™ will primarily be targeted to orthopedic surgeons performing hip and knee arthroplasty; a market comprised of approximately 1.1 million procedures performed annually in the United States. These orthopedic procedures represent large and growing markets due to a more active and aging population. Additional markets for the BOSS™ include spine, endoscopic, abdominal and thoracic surgeries. The worldwide market is expected to exceed $500 million in 2010.
By contrast, the older technology from Medtronic's (large ownership) Salient Surgical Technologies is a much larger instrument and lacks intricate orthopedic manipulation capacities. The AQUAMANTYS System is cumbersome and very expensive but currently leads the saline market (growing over 20%) as SST reports about $100M in revenues with 60 or so sales persons. All the leading medical centers now regard saline surgery as state of the art.

The SEER is a smaller version of the BOSS for liver applications and offers an impressive cost structure on the order of $40 according to Mr. Makrides in late 2008 when we spoke about the extraordinary high margins for BOSS & SEER. In fact Makrides seemed at the time obsessed with high margin design. Large multi-national firms like high margin "Market disruptive" products.
Laparoscopic SEER extends SEER to Lap applications where bleeding can become a serious problem, especially in renal and liver parenchyma applications. Cutting and sealing laparoscopic SEER is a big theoretical advantage but results are not discussed. Another mystery.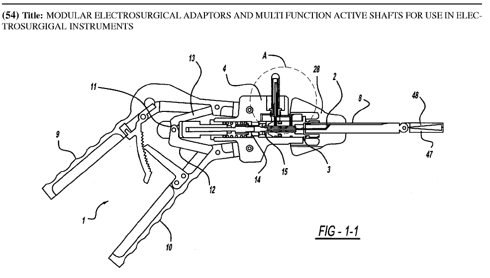 MEG (Modular Ergonomic Grip) is an advanced laparoscopic system built in size at Bovie Canada with extremely advanced 11-axis lathe equipment by Mr. Livneh's crack team of CNC machinists. The firm doesn't admit the MEG was built in quantity. More mysteries. However we can deduce the build effort by looking at the equipment.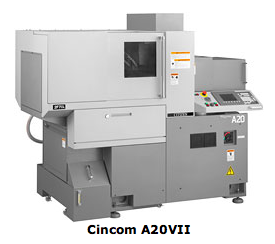 BVX officers don't dispute that two advanced automatic production capacity lathes were utilized and suggested at the December 29, 2009 Annual Shareholder's Meeting that were of the A20-A32 class. These systems are very expensive at $300,000 and up each. To have two of them in continuous operation is by definition a big project. It's been hush-hush for some time.
A reader sent me, unsolicited, a lawfully obtained (Canada) recording of Livneh's comments in the fall of 2008 which goes a long way in explaining the mysteries of Bovie Canada. Livneh mentions "High Value, OEM work with leading corporations"–plural. I wonder who they are? How many MEG units were built? The MEG is a complex product that one can estimate sells for $500 wholesale to medical distributors.
While BVX does make electrode components under OEM for Medtronic and others, the Citizen CINCOM SWISS lathes are clearly, from an engineering standpoint, employed to produce the MEG laparoscopic system and not a less complex product such as electrodes or subassemblies for say, a conventional generator based cutting device. Mr. Makrides is right not to disclose any of the movements up there (he won't and shouldn't if you call), especially in light of ongoing "discussions".
Recently, Ontario plant operations have been shifted to the new Clearwater, Florida facilities to consolidate operations.
Seal N Cut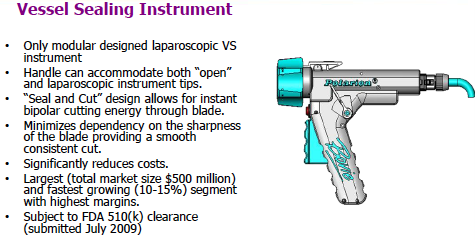 The last of the BVX intellectual property "eggs" is about to hatch. FDA clearance is expected very soon after a lengthy residence in Washington. Taken as a whole, the saline, plasma and laparoscopic surgical capacities of the above IP basket of advanced, FDA approved products would disrupt their various markets in a big way. The central question remains: has a big player (s) already made its move?
Lack of Sales Force –– "In Discussions"
Ordinarily this is a showstopper for a go-it-alone strategy–but at BVX, management has assiduously maintained for months that they are in "intensified discussions" with potential strategic partners, acquisition entities or multiple intellectual property buyers. It's not difficult to see why Andrew hesitates to hire an expensive sales force for a diverse product line that addresses nearly $4 billion in market value. If investing is about skilled price discovery, then M&A is about skilled IP "discovery".
Bottom Line
If one looks for convention at BVX these days, you won't find it. Callers will get a plain vanilla milk shake response. Given the rude share price, one could certainly be excused for turning away--especially using standard corporate metrics. Offsetting the surface appearances, BVX is cash flow positive and debt-free–that immunizes them from any real trouble.
Door number one looks dark with a dreadful share price…or is the strange price drop actually a bargain?
Door number two, on the other hand, has an enigma: Why is management so relaxed? No debt helps a lot. Are their "discussions" advanced? Who are the players? BVX products certainly reside at their launch points: save for the big one – Seal N Cut – and that has been at the FDA for an age and is mature. They have new facilities, a full product line of 510K approved devices addressing about $4 billion––needing only an entity(s) to consummate. I think I know why Andrew is jovial––but you'll have to make the call.
Disclosure: The author maintains a position in BVX and has no positions in BSX, JNJ or COV.