I have seen a lot of things since I first joined the investment industry after graduating from university 35 years ago. But I don't think I have seen anything that can surpass what I saw in the fuel cell space in the past week. These guys make the 3D printing mania look calm by comparison.
While there are others in this bubble, the Fab Four are PLUG Power (NASDAQ:PLUG), Fuel Cell Energy (NASDAQ:FCEL), Ballard Power (NASDAQ:BLDP) and Quantum Fuel Systems Technologies Worldwide (NASDAQ:QTWW). Each is involved in some aspect of the fuel cell business, focusing on design and manufacture. What is astonishing about each of these companies is the unbelievable movement in their share prices. Pictures tell the story better than words, so let me provide you with their stock charts: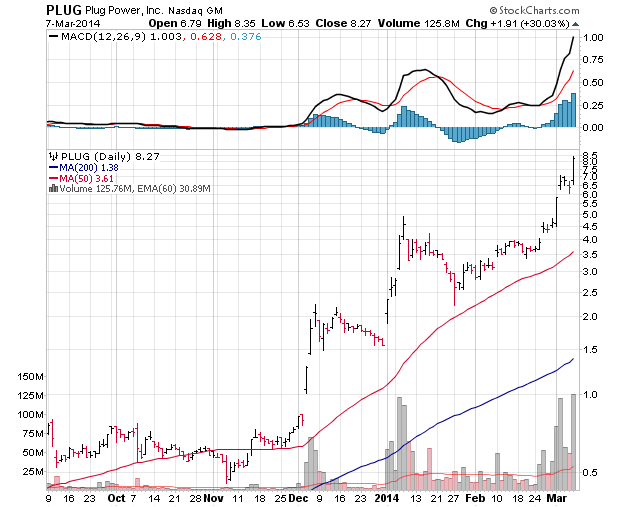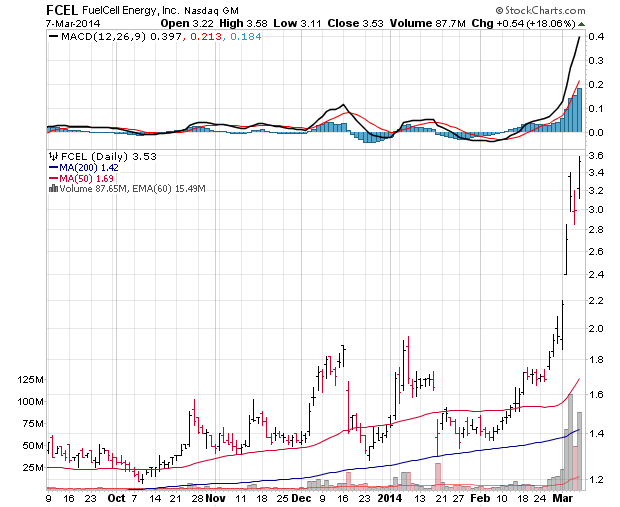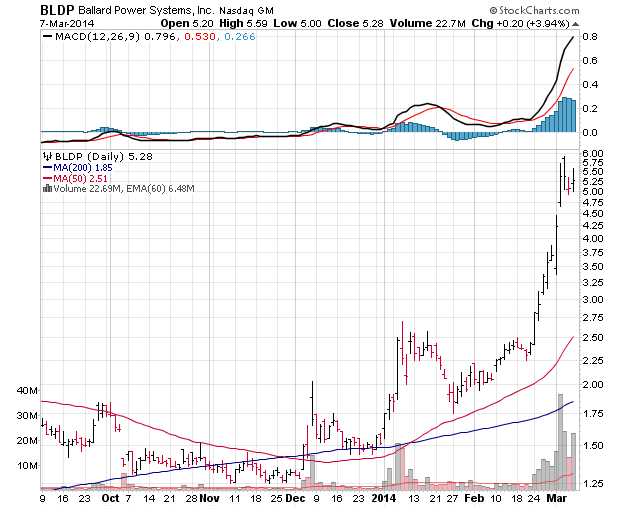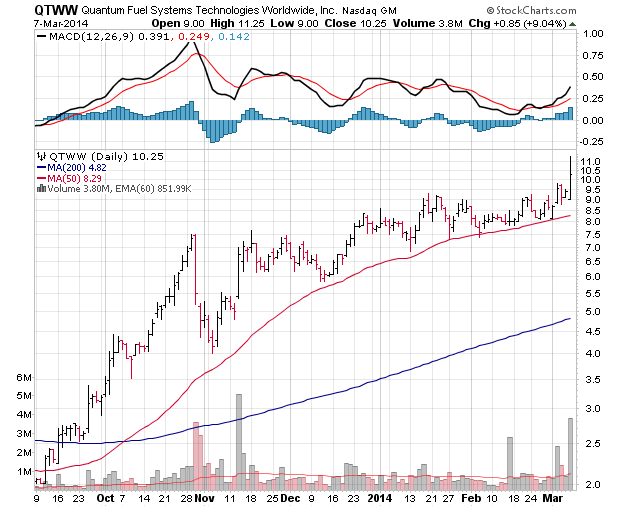 This is how each of these stocks performed in the past week, the past month, year-to-date and the past six months:
| | | | | |
| --- | --- | --- | --- | --- |
| | Past week | Past month | Year-to-date | Past 6 months |
| PLUG | 77% | 160% | 434% | 1064% |
| FCEL | 81% | 150% | 150% | 185% |
| BLDP | 43% | 156% | 247% | 285% |
| QTWW | 19% | 27% | 31% | 139% |
While each has shown enormous price appreciation, PLUG truly stands out from the pack. It rose 30% on Friday alone. By the way, not one of the Fab Four made a profit in the past year.
Why have the stocks been on such a tear then? The answer is that investors are looking forward to eventual growth they see indicated by recent positives, such as PLUG announcing a partnership with Wal-Mart to supply fuel cells to forklifts in 16 Wal-Mart warehouses, as well as making inroads with other large companies such as Kroger (NYSE:KR) and FedEx (NYSE:FDX). Fuel cells have all of a sudden become the "next big thing," and investors are piling on in droves.
The purpose of this article is not to analyze the business fundamentals but to point out the reaction of the marketplace to these companies. That reaction can best be described as an over-reaction. The fact is that these companies have moved too far, too fast. This can be seen not just in their parabolic price charts, it can be seen in their trading volume as well. One might be tempted to ask me "how can you say the price has moved too far, too fast without analyzing the business fundamentals?" That would be a fair question. Perhaps the business fundamentals do justify the price moves; I cannot say with certainty they do not.
What I can say is that it takes time to grow a business. I know, as I have done it. It takes time, it takes hard work, it takes careful planning and sharp execution. And it simply does not happen overnight. These four companies added a combined $898 million of market cap last week. That is the equivalent of creating a brand new PLUG in just a week. Some of you may buy that as a reasonable prospect; I do not.
Valuation measures for these Fab Four have hit bubble proportions. Traditional earnings-based measures are not applicable because none of these companies has made a profit. But one can glean something of their value by looking at their value relative to their revenues and to their book value.
| | | |
| --- | --- | --- |
| | Price/Sales | Price/Book Value |
| PLUG | 26.6 | 289 |
| FCEL | 3.3 | NA (negative equity) |
| BLDP | 9.1 | 7.8 |
| QTWW | 6.9 | 14.4 |
It is very difficult, if not impossible to predict when these bubbles will come to an end. But two common occurrences at the end of a bubble are: 1) a parabolic rise on the chart of the stock in question and 2) a surge in volume that cannot be sustained. The charts first presented speak to the parabolic rise generally found within the group, QTWW being the possible exception. The table below looks at trading volume statistics (source: Yahoo Finance)
Avg vol, 10 days (million shares traded)

Avg vol, 3 months

(million shares traded)

Float

(million shares)

Days to turn over float

PLUG

68.4

28.3

88.4

1.29

FCEL

47.2

11.6

174.7

3.70

BLDP

18.2

5.1

109.3

5.98

QTWW

1.3

.75

18.7

14.38
Average daily volume for the group during the last 10 days is triple the average daily volume over the past three months. The float is turning over at ridiculously high rates. It is simply not sustainable for PLUG to turnover its shareholder float every 1.3 days or 3.8 times per week. Clearly the people owning these stocks are high turnover traders, not stable long-term investors. When they take their profits and move on, what will sustain the current prices?
Congratulations to all of those investors who bought into this group sometime last week. Or sometime last month. Or at the beginning of the year. Or for those really prescient investors, congratulations to those of you who bought back in October and held. I was not one of you. I wish that I was. But I will not join you today. The combination of parabolic stock charts, unreasonable additions to market cap, and unsustainable turnover of shares leads this observer to be very skeptical about the potential for upside from here. I now own some in-the-money puts on PLUG with a May expiry.
Some reading this article may think it contains a recommendation to short some or all of these stocks. That conclusion may be bolstered by my disclosure that I own a small number of puts. Let me be absolutely clear: I make no recommendation whatsoever. These stocks have demonstrated extreme volatility recently. Investment in these shares, long or short, is inherently very risky. Keep in mind that this article's sole purpose was to describe investor behavior in a bubble-like scenario. I have made no attempt to analyze the company's business prospects, but merely reported the action in their stock prices.
A final note: both FCEL and PLUG are scheduled to report earnings next week. I expect plenty of volatility. Good luck to all.
Disclosure: I am short PLUG. I wrote this article myself, and it expresses my own opinions. I am not receiving compensation for it (other than from Seeking Alpha). I have no business relationship with any company whose stock is mentioned in this article.