Given the recent bias of articles, specifically the long camp and short camp, and their gift to the market of short-term volatility, I decided to begin an initiative toward the old-fashioned, think-it-through strategy, by which a given investor can begin to address the many lens through which a security may be seen (and thus found tangible) and subsequently valued. These profiles will seek to address the big-ticket issues, and will result in a dominance hypothesis. My personal belief is that if you can't, or rather haven't, addressed why a security is dominant, both literally and with regard to the basis considered in modern portfolio theory, to its alternatives, i.e. other securities to which you could allocate your portfolio's cash, it shouldn't be in your portfolio in the first place. To attain this level of certainty, my belief is that it will take exponentially more analysis than any one article can produce; however, what I do believe a single article can provide, is a starting point or set of parameters from which true due diligence can begin. These profiles will provide a glimpse into the major pros and cons, while letting the reader decide, through their own research, how each will impact their perceived value of the security. I have no stake in these first four companies, which will consist of Amazon.com, Inc. (NASDAQ:AMZN), 21Vianet Group (NASDAQ:VNET), AES Corporation (NYSE:AES), and Amgen Inc. (NASDAQ:AMGN).
Amazon.com Inc.
Industry: Retail Discretionary
Sector: Consumer Discretionary
Market Cap: $170.4 Billion
52-week Range: $245.75-408.06
Next Earnings Release: 4/25/14
Business Description: Amazon.com, Inc. is an online retailer that offers a wide range of products. The Company's products include music, videotapes, computers, electronics, home and garden, and numerous other products. Amazon offers personalized shopping services, Web-based credit card payment, and direct shipping to customers. (Source: Bloomberg)
Contingent Drivers of Upside (premium):
Declining consumer discretionary spending shaking out traditional retailers, driving market share toward e-commerce
Diversification through feedback - strong corporate policies with regard to customer satisfaction has the potential to provide sustainable earnings growth going forward
Jeff Bezos and Company - when you have an industry leader driving the future direction and capital outlays, historical evidence would suggest prolonged market outperformance
Contingent Drivers of Downside (discount):
While their revenue from operations remains robust and growing at a rapid clip, the company ends up with a narrow bottom line - this reflects their strategy of earnings redeployment on a continuing basis toward the development of operations. While the market would gladly reward success in these endeavors, recent trends would suggest substantial, short-term market price risk should an extraordinary charge coupled with stagnant success/commercialization of R&D on a per-dollar basis cause the company to miss guidance/forecasts at, i.e. a quarterly earnings release.
Price Target: $450
Dominance Hypothesis (reason to keep): Amazon clearly controls the US e-commerce distribution channel to the extent that their success is beginning to bleed over into challenging video-service providers, like Netflix, for subscribers. Given consumers shifting preference toward the convenience of mobile shopping, and the recent collapse of department-store consumer discretionary (rent exceeded revenue far beyond the point of zero profitability), Amazon seems perfectly positioned to capture displacement market share as the fragmented retail industry begins to consolidate and/or enter bankruptcy. I'd expect earnings from continuing operations to see a prolonged period of high-growth in the range of at least 15-20%; additionally, I'd recommend looking toward the expansion of earnings from equity/minority interests to continue to grow, especially as Jeff Bezos pushes SpaceX Corp toward increased relationships, and thus mutually providing the potential for through-flow of contracts to Amazon, with the US Government.
Historical Price Chart: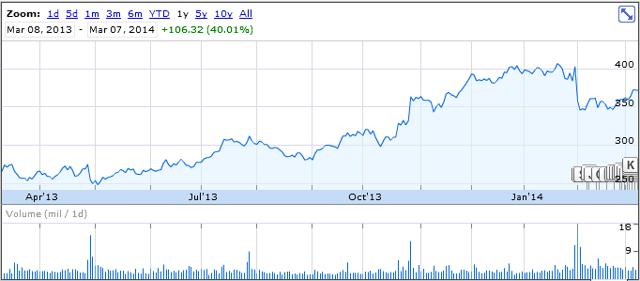 Source: Google Finance
| | | | | |
| --- | --- | --- | --- | --- |
| | 1M | 3M | 6M | 12M |
| Trailing Return | + 1% | - 8.00 % | + 28.87% | + 37.02% |
21Vianet Group Inc.
Industry: Technology
Sector: Data Management (Cloud Services)
Market Cap: 1.637 billion
52-week Range: $8.52-29.79
Next Earnings Release: 3/6/14
Business Description: 21Vianet provides cloud-related data management services with particular exposure to China.
Contingent Drivers of Upside (premium):
Continued growth in cloud services market
China GDP growth/stability of capital markets
International political stability between China and the US
Contingent Drivers of Downside (discount):
Global liquidity crisis affecting customers' ability to make continued subscription payments
NSA / Data Security related negative publicity toward the industry
Potential for the growth of security-related or security-boosting expenses to exceed cost reductions and scale-related expansion of margin.
Price Target: $36
Dominance Hypothesis (reason to keep): Data markets have been expanding at a rate at or exceeding that of the traditional technology industry. Continued evidence of this trend should lead to VNET outperforming both its industry and the market as a whole.
Historical Price Chart:

Source: Google Finance
| | | | | |
| --- | --- | --- | --- | --- |
| 02/28/14 | 1M | 3M | 6M | 12M |
| Trailing Return | + 15.15% | + 45.60% | + 91.81% | + 168.21% |
AES Corporation - ($.05 dividend payout)
Industry: Utilities
Sector: Integrated Utilities
Market Cap: $10.13 Billion
52-week Range: $11.17-15.54
Next Earnings Release: 3/6/14
Business Description: The AES Corporation acquires, develops, owns, and operates generation plants and distribution businesses in several countries. The company sells electricity under long term contracts and serves customers under its regulated utility businesses. AES also mines coal, turns seawater into drinking water, and develops alternative sources of energy. (Source: Bloomberg)
Contingent Drivers of Upside (premium):
Profit margin expansion through continued integration downstream with regard to distribution
Tangibility of long term contracts providing measurable predictability of future cash flows
Exposure to disruptive/burgeoning technology (alternative energy and salt water -> freshwater), especially with regard to battery manufacturing.
Contingent Drivers of Downside (discount):
Broad credit exposure inherent to long-term contracts and associated payments
Deflationary global environment coupled with forecasted rise in interest rates driving an increase in the real cost of debt, especially to a company in a highly-leveraged industry
With Y-o-Y revenue contracting and net income entering negative territory as of 12/2013, management's response, or lack thereof, has the potential to disappoint investors and thus lead to market under-performance.
Price Target: $17
Dominance Hypothesis (reason to keep): Acquisitive nature of the company provides a measure of flexibility toward the sustainability of profit margin as the utility industry shifts to accommodate advances in innovation. As management addresses declining revenue, I believe the market will react positively toward the highly and or historically probable return to net profit.
Historical Price Chart:
Source: Google Finance
| | | | | |
| --- | --- | --- | --- | --- |
| 02/28/14 | 1M | 3M | 6M | 12M |
| Trailing Return | - 2.92% | - 6.31% | + 7.40% | + 17.47% |
Amgen Inc. (Cash Dividend: $.61)
Sector: Health Care
Industry: Biotech & Pharmaceuticals
Market Cap: $92.21 Billion
52-week Range: $90.35-127.42
Next Earnings Release: 4/23/14
Business Description: Amgen Inc. is an independent biotechnology medicines company that discovers, develops, manufactures, and markets medicines for grievous illnesses. The Company focuses solely on human therapeutics and concentrates on innovating novel medicines based on advances in cellular and molecular biology. (Source: Bloomberg)
Contingent Drivers of Upside (premium):
Successful commercialization of new cholesterol product (positive trial results January 2014)
Increased dividend declared December 2013 (ex: 02/11/14 ; payable 03-07-14) was +30% from prior, increasing attractiveness to dividend and/or income-oriented investment strategies; important to note that 83% of the outstanding shares are under institutional management.
Earnings reported Jan 28, 2014 for the fourth quarter up ~30% Y-o-Y: should the trend continue, especially given their non-seasonally affected sales revenue providing strong evidence that it will, should lead to continued market outperformance.
Contingent Drivers of Downside (discount):
Recent oversight and/or regulatory changes enacted by the FDA to curtail "pharmaceutical sweatshops" in India have the potential to generate negative publicity in addition to negative pressure with regard to regulatory & compliance fees on the income statement going forward.
Both Amgen and the Health Care Industry as a whole have benefited from the Affordable Care Act driving investor focus, resulting in momentous cash-inflows toward related ETFs, in addition to specific securities, like Amgen. The potential for downside thus becomes fundamentally the chance of mean-reversion, in which "profit taken off the table" can trend the market price negatively toward, i.e., a longer-term moving average.
Price Target: $140
Dominance Hypothesis (reason to keep): Amgen is a "blue-chip stock" in an industry benefiting from increased attention on a national level. High growth in cash flow (earnings) from existing products provide ample funding for what are proving to be successful in trial pipeline candidates.
Historical Price Chart: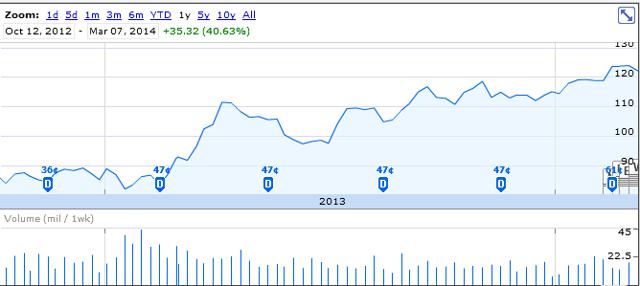 Source: Google Finance
| | | | | |
| --- | --- | --- | --- | --- |
| | 1M | 3M | 6M | 12M |
| Trailing Return | + 4.26% | + 8.71% | + 13.84% | + 35.47% |
Hopefully these will provide a basis by which prudent investors may seek to become believers, or stakeholders, in corporations whose competitive strength carries over into value for equity holders in the secondary market. Good luck, and remember that while it is easy to consider whether you should buy or sell, it is often difficult to remember the third choice: to do nothing at all. If Mr. Market is suffering manic depression, nothing is forcing you to sell on a given day other than your own needs or desires. Watch out for pump-and-dumps, and always establish, first, what a given author is trying to tell you, convince you, or have you conclude - if you can do that, due diligence becomes a breeze.
Disclosure: I have no positions in any stocks mentioned, and no plans to initiate any positions within the next 72 hours. I wrote this article myself, and it expresses my own opinions. I am not receiving compensation for it (other than from Seeking Alpha). I have no business relationship with any company whose stock is mentioned in this article.