More and more of the momentum traders we talk to are leaving the real commodity and energy markets to "dabble" as they say in new energy sources. At first it was a few who bought shares in Tesla, but now many have moved entirely into the solar and fuel cell manufacturers. It is a pure momentum trade in each case and not something that many of them see continuing, at least profitably, for any length of time. They are searching for news flow and while being honest with ourselves, the truth of the matter is that there is far more bullish news in that realm of the stock universe than the commodity space right now.
Chart of the Day:
This chart is very impressive, after today's movement is factored into the chart it will be even more so. The question is how much longer this run can last before we see a retracement, and with the parabolic movement on the tail end it stands to reason that we are due for a pullback of some magnitude.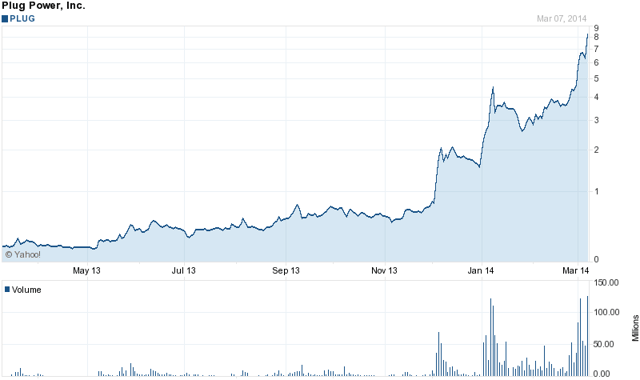 Source: Yahoo Finance
Commodity prices this morning are as follows:
Gold: $1,341.20/ounce, up by $3.00/ounce
Silver: $20.89/ounce, down by $0.038/ounce
Oil: $101.16/barrel, down by $1.42/barrel
RBOB Gas: $2.946/gallon, down by $0.0278/gallon
Natural Gas: $4.618/MMbtu, down by $0.00/MMbtu
Copper: $3.033/pound, down by $0.0495/pound
Platinum: $1,479.20/ounce, down by $4.40/ounce
Fuel Cells
The fuel cell names are once again moving higher and very strongly so. A lot of the people who we talk to who are momentum traders have moved from some of the commodity names into the fuel cell manufacturers in recent days and the trend for the time being remains up. We still believe it would be prudent to be taking money off of the table in names such as Plug Power (NASDAQ:PLUG), FuelCell Energy (NASDAQ:FCEL) and Ballard Power Systems (NASDAQ:BLDP) while the going is good. Even if one is in the camp that believes that this is the beginning of the fuel cell revolution, it never hurts to book profits just in case this is another instance of euphoria which Capstone Turbine (NASDAQ:CPST) investors know all too well.
The big moves have not only been attributable to Plug, but other names in the industry as well.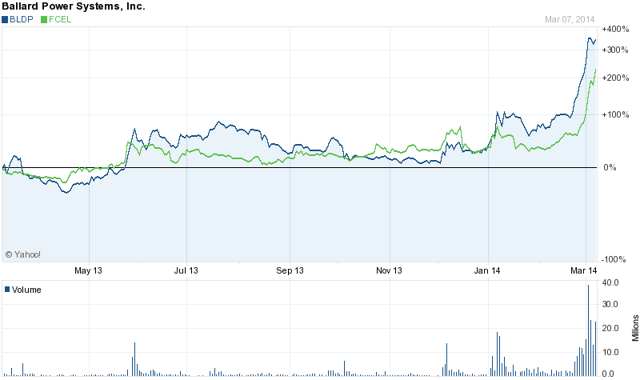 Source: Yahoo Finance
This move could continue on through 2014, but with the large moves over the past week it stands to reason that a retracement from the highs will have to occur sooner rather than later and that could be an event which sees equity prices in the industry fall between 30-60%. Something else to keep in mind is that professional speculators generally feel that they have to ride their winners to gains of 300% to pay for their losers and book a reasonable return. At this point in the game few professional speculators are moving in for long-term trades so one has to question at which point that class of investor begins to exit their holdings.
The good news for those wanting to hold long-term is that the CEO was on CNBC late Friday and gave a good interview. In it he stated that the company would turn its first profit this year.
Copper
Just as copper was beginning to look good and Freeport-McMoRan (NYSE:FCX) shares were showing fresh strength bad news out of China torpedoed both copper prices and copper related equity prices. The economic data out of China remains troublesome, with the export market remaining a question mark and many worried about the ability and willingness of domestic investors to shoulder defaults on corporate debt. It seems like an obvious risk to investors around the world, but in China the country has always bailed out debt holders until now. Although China's leaders maintain that they will meet their current growth expectations, if credit markets do tighten, as they should, then the fears surrounding copper and other base metals could materialize and another year of underperformance for commodities might occur.
As it stands right now, we think that this might just be a message and China's leadership is hoping that markets will better self-regulate. We are still bullish Freeport-McMoRan and at this time still think that it is a $40/share stock. Further issues in China could lead us to become less optimistic, but right now we are sticking to our guns.
Disclosure: I have no positions in any stocks mentioned, and no plans to initiate any positions within the next 72 hours. I wrote this article myself, and it expresses my own opinions. I am not receiving compensation for it (other than from Seeking Alpha). I have no business relationship with any company whose stock is mentioned in this article. FCX was previously recommended.