Oh, Canada. Looks like those natural resources and less risky finances are paying off.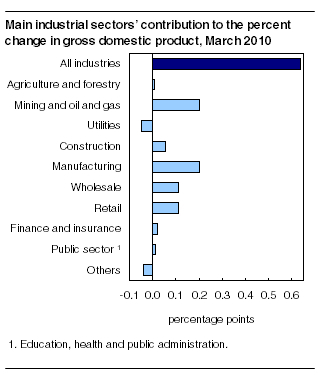 This morning, Statistics Canada announced "real GDP grew 6.1% [annualized] in the first quarter after advancing 4.9% in the fourth quarter of 2009. This compared with a 3.0% first quarter rate of increase in the US economy."
As you can see in the chart above, Mining and Oil and Gas as well as Manufacturing are booming in Canada (NYSE: EWC). A key driver for the emerging North American powerhouse is Asian demand for natural resources — particularly oil sands assets.
A few other noteworthy stats include:
Consumer spending increased 1.1%
Government spending slowed
Housing demand grew
Producer prices rose 1.1%
Wages and salaries increased 2.7% in the goods-producing industries and were up 0.7% in the service-producing industries
Current transfers from government to the household sector declined for the first time since the second quarter of 2008, as Employment Insurance payments fell 9.5%.
Unlike the US which is mired in a $13 trillion debt hole, Canada may need to raise its interest rates amidst this type of outsized economic growth relative to most other nations. The Loonie, or Canadian dollar, has already gained 16% against the U.S. dollar in 2009 and still remains a preferential currency safe-haven.
US citizens have long made fun of their less financially savvy cousins in the north. But for the time being, Canada seems to be shaking off the laughs in favor of the old Mel Brooks line, "It's good to be King."