Resolute Energy (NYSE:REN) delivered the Q4 earnings surprise I anticipated in my first article on the company, but it was not exactly what I had in mind (more on the $188 million impairment charge below). However, the anticipated Q4 production growth did come in as expected at 12,709 boe/day, up 26% over the prior year and 10% sequentially. Adjusted revenue was up 42%. Production from the REN's Permian Basin properties increased by a whopping 300% year-over-year to 423,000 boe for the quarter. Drilling operations are in general delivering very strong results. Unfortunately, the huge impairment charges took the shine off an otherwise excellent quarter. As I write this, the stock is down to $8.80. This is an irrational response to the "impairment" charge, which is simply an accounting issue. Yet it presents investors with an excellent entry point or to add to an existing position.
Huge Impairment Charge
As can be seen below, REN's Q4 and full-year 2013 earnings were negatively and significantly affected by a $188 million impairment charge (shown under "Operating expenses") as required by the SEC's "five-year rule" regarding proved undeveloped properties: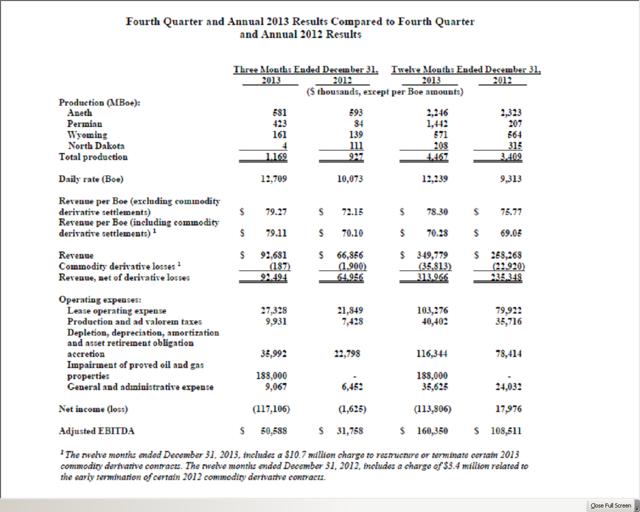 The SEC rule requires that undeveloped reserves be developed within five years from when they were first "put on the books" or taken out of the proved reserve base. The company explained further in the earnings release:
Several high value, high rate of return projects in Aneth Field, such as the membrane plant, further expansion of Aneth Unit Phase 4, and certain aspects of the Desert Creek IIC expansion, while excellent projects, must compete for capital with our horizontal drilling program. As a result, management cannot in good faith certify that they will be developed within the requisite time frame. Removing these projects from our proved reserve base required us to write down the proved asset pool, resulting in the reported non-cash impairment charge to earnings. It is important to note that those projects and assets have not disappeared, and are no more and no less viable and valuable today than they were a month ago. It's just that under this relatively new SEC rule the associated reserves are now categorized as probable rather than proved.
While I apologize for not anticipating this charge in the previous article, I would point out that this is simply an accounting issue. As management said, these assets have not disappeared. While investors never like to see proved reserves taken off the books, they were not taken off the planet. I would encourage investors to look beyond the headlines (a yearly loss of $1.67/share), and realize that the primary reasons for the yearly loss had to do with this impairment charge and the derivatives loss discussed in my previous article. Both are short-term issues and in the past.
The consolidated statement of operations for full-year 2013 is shown below: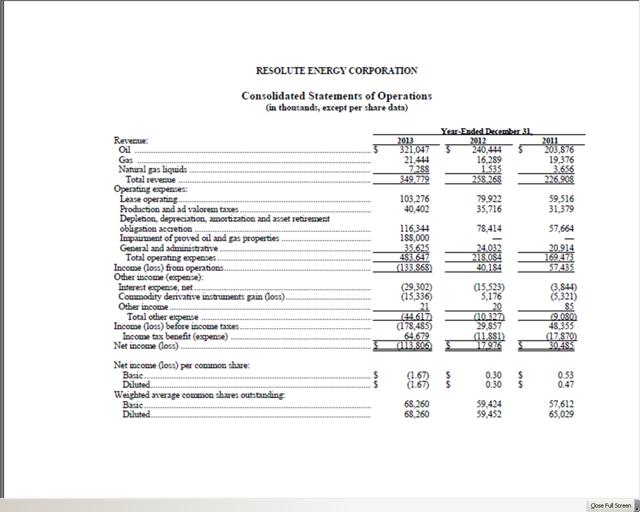 Operations Are Very Strong
A closer look at the Q4 and full-year 2013 consolidated statement of operations shows some very bullish trends:
Production of 12,709 boe/day was up 26% over the prior year and 10% sequentially.
Adjusted revenue was up 42%.
Q4 adjusted EBITDA was $50.6 million ($43.27/boe), up 59% from the prior year Q4 ($34.27/boe).
Total lease operating expenses increased 29% compared to 2012 but decreased on a Boe basis from $23.45 per boe in 2012 to $23.12 per Boe in 2013.
The large derivatives related loss in Q3 has largely abated.
So despite the significant impairment charge related to SEC accounting rules, the rest of the earnings report was actually very bullish and bodes very well for excellent 2014 results.
Drill-Bit Updates
in the Permian Basin, production was up ~300% year-over-year. Since the operations update given last December, a well spudded last October to Reeves County (the Delaware Basin) was completed on January 15 and is still flowing naturally at a high surface pressure. To date production has achieved a peak IP24 rate of 1,403 boe/day and an 30-day rate of 1,074 boe/day, of which 49% was oil. Excellent.
Resolute also participated with an 11% working interest in another Reeves County horizontal well: the Red Rock 6-6 #1H operated by Energen Resources Corporation (NYSE:EGN). Energen reported an 24-hr IP rate of 1,471 boe/day and a 30-day IP rate of 1,137 boe/day (64 percent oil). Again, excellent results are being obtained via the drill bit.
Meanwhile, REN partnered with two other operators on our Big Spring acreage block where three vertical wells were drilled and completed. Resolute has an average 49% working interest in those three wells and said production on average exceeded pre-drill expectations.
In the Powder River Basin, the Castle 3-21TH well (REN's first Turner/Frontier horizontal well) has been on production for more
than a quarter. REN reports that it averaged 723 boe/day during the first 90 days of production with an 81% oil split. Interestingly enough the company reports the production profile has been relatively flat
during that period. The company had infrastructure in place so the well went into production very quickly. REN estimates it has as many as 48 Turner/Frontier drilling locations on its Hilight Field acreage. Near term, horizontal wells in the Turner/Frontier formation will drive Hilight production growth and REN is building a permit inventory to enable the transition to a full time drilling program.
2014 Guidance
Resolute expects to invest $136-153 million in 2014 for its base development activities, including drilling and completions, facilities
construction and upgrades, leasing and other corporate capital expenses. REN intends to fund 2014 capital expenditures substantially from internally generated cash flow.
Production: Resolute estimates that full-year production for 2014 will be in a range of 4.5-4.9 million boe. The midpoint of 2014 production guidance represents a 5% increase over full-year 2013 production. On a revenue-weighted basis, ~93% of REN's production is expected to come from sales of oil and NGLs, while on a volume-weighted basis approximately 82% is expected to be attributed to oil and NGL.
The company expects a slight reduction in LOE/barrel in 2014. Resolute anticipates that its depletion, depreciation and amortization rate for full year 2014 will be between $29-$31.00/boe of production. The increase over 2013 is substantially a result of the write down of Proved Undeveloped reserve quantities necessitated by the SEC "five-year rule" impairment discussed earlier.
Summary & Conclusion
Despite the earnings headline of a -$1.67/share loss for full year 2013, the underlying fundamentals of Resolute Energy's strategy to shift more of its capital expenditures to the Permian is on track and working very well. Drill-bit results are very good to excellent. Due to the very large SEC mandated impairment charge, the company's stock has sold off this morning and presents investors with an even better entry point. In fact, just as I have been writing this article the stock has moved from $8.80 to $9.14, down only two cents. I would also note the stock opened trading today at $9.65. I increased my share holdings in REN this morning on the dip. You should consider doing the same. Based on Q4's performance and the company's 2014 guidance, REN could comfortably earn $0.80-$0.90/share. A PE of 15 would give us a stock range of $12-13.50/share for a midpoint estimate of $12.75/share (up 40% from current price). I saw nothing in the Q4 report change my mind on Resolute Energy. As a result, I am reiterating the prediction given in my first article: a 25% gain in the shares over the next 6 months. REN is a STRONG BUY.
NOTE: Resolute will host an investor call on March 10 at 4:30 PM ET. To participate in the call please dial (877) 418-5260 from the United States, or (866) 605-3852 from Canada or (412) 717-9589 from outside the U.S. and Canada. The conference call I.D. number is 1004 0984. Participants should dial in five to ten minutes before the scheduled time and must be on a touchtone telephone to ask questions.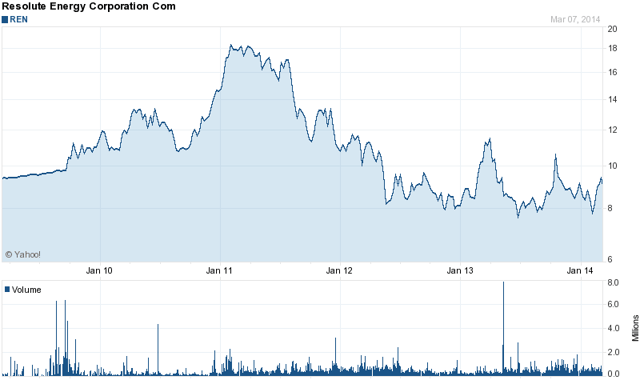 Disclosure: I am long REN. I wrote this article myself, and it expresses my own opinions. I am not receiving compensation for it (other than from Seeking Alpha). I have no business relationship with any company whose stock is mentioned in this article.
Additional disclosure: I am an engineer, not a CFA. The information and data presented in this article was obtained from company documents and/or sources believed to be reliable, but has not been independently verified. Therefore, the author cannot guarantee its accuracy. Please do your own research and contact a qualified investment advisor. I am not responsible for investment decisions you make. Thanks for reading and good luck!