Crimea's regional parliament voted unanimously last week to secede from Ukraine and become part of Russia - virtually guaranteeing a prolonged confrontation between Russia and the West. The current standoff is the biggest escalation between Russia and the West since at least the 1990s Balkan Wars and perhaps since the Cold War.
And yet a funny thing happened: Emerging markets across the board had a spectacular rally on Thursday. They gave back most of those gains Friday but, as an asset class, emerging markets have been keeping pace with the S&P 500 since early February.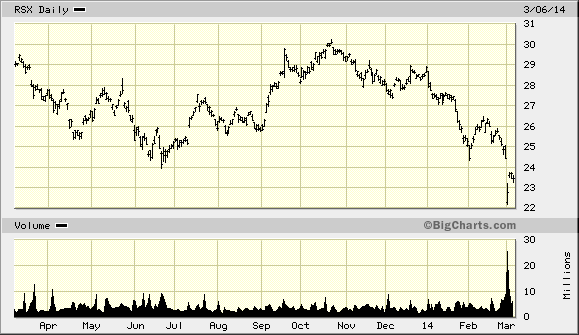 Has Mr. Market gone mad? Not necessarily. It would appear that the market has weighed the probabilities and decided that the chances of the Ukraine crisis truly escalating are rare. As Vitaliy Katsenelson recently wrote in Institutional Investor, the West might show its outrage, but its options are limited to "unfriending Russia on Facebook or-worst case, if things really escalate - unfollowing Russia on Twitter."
Though they have been mostly down for the past three years, emerging market stocks have been quietly rallying for the past month. You can never know until after the fact whether a move like this is the start of a new bull market or merely the latest in a string of bear market rallies. But given the record outflows in emerging markets, the massive discounts seen relative to developed markets, the general sense of negativity towards the sector, and the fact that emerging market stocks have largely stopped reacting to bad news, I would say that the odds favor buying.
For the contrarians out there, I would recommend picking up shares of the Market Vectors Russia ETF (NYSEARCA:RSX). Russia has not participated in the broad-based emerging market rally due in no small part to the fallout from the Ukraine crisis. But when the crisis passes - and it will - I expect Russian stocks to make up lost ground quickly.
Last month, I commented on how cheap Russian stocks were but also noted that there was a catalyst missing to send the stocks higher. The climax and denouement of the Ukraine crisis should provide that catalyst.
Start with a small initial position and average in over the course of the next several weeks. I expect returns of 30%-50% over the next 12 months. Use an initial stop loss near $22.00.
Disclaimer: This site is for informational purposes only and should not be considered specific investment advice or as a solicitation to buy or sell any securities. Sizemore Capital personnel and clients will often have an interest in the securities mentioned. There is risk in any investment in traded securities, and all Sizemore Capital investment strategies have the possibility of loss. Past performance is no guarantee of future results.