Recently, I got involved in an initiative to start a mutual fund that focuses on the interests of young professionals. The idea is to execute a long-term investment strategy for investors with both growth and income stocks. We find young professionals' interest perfect to execute this strategy, because young professionals generally like new technology (growth), new brands (growth) and well established brands (income). Overall, we believe that our approach delivers a well balanced portfolio and a successful long-term investment strategy.
Our first initiative was to compose a test portfolio to see whether there is enough interest in such a mutual fund. Further, the test portfolio is a nice trigger to start the discussion which stocks should be in such a portfolio. Therefore, I would like to introduce the $100k Young Professionals Portfolio (hereafter: YP Portfolio). We selected 25 stocks in 8 different categories: Sports, Apparel, Technology, Cars, Games, Media, Beverages and Other stocks. Our YP Portfolio represents a global investment strategy, since we selected our 25 stocks in 5 different currencies and 11 different countries.
In this article, I will discuss the general YPP allocations, both by category and by currency. Next, I will provide information regarding our stock picks by category and explain why we think that these stocks should be in our YP Portfolio. Obviously, there are more potential stocks that qualify for our YP Portfolio. Therefore, we encourage the readers to post a comment with an alternative stock for our YP Portfolio and argument why this stock should be in our YP Portfolio.
General portfolio allocations
Allocation by category
As I mentioned, we selected 25 stocks in 8 different categories. We find that these 8 categories represent the interests of young professionals. We accomplished a balanced allocation between the 8 categories (see graph below): Sports (10.62%), Apparel (13.76%), Technology (14.94%), Cars (9.60%), Games (13.19%), Media (10.25%), Beverages (15.48%), Other (11.78%) and cash (0.39%). Within the portfolio we focused on Technology and Beverages (alcoholic and non-alcoholic), because we believe that this in line with our focus group's most important interests.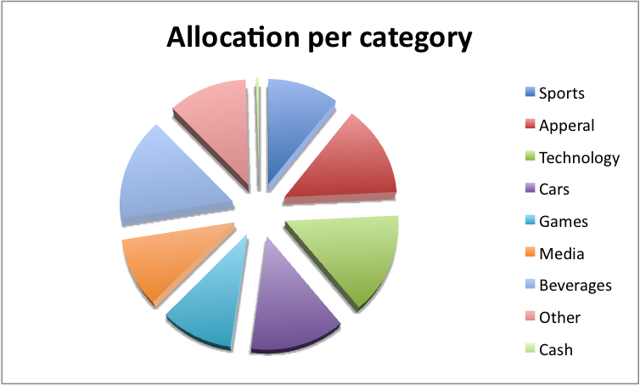 Allocation by currency
Our YP Portfolio has a worldwide range to optimize our global spread and reduce potential currency risks. We do not want to be fully exposed to the USD. Therefore, we did not select only U.S. listed stocks. Besides the U.S. listed stocks, we picked stocks listed at stock exchanges in Great-Britain, Germany, the Netherlands, Sweden, Denmark, Spain and France. However, the majority of the stocks in our YP Portfolio is still listed in the United States (see graph below): USD (59.77%), EUR (20.53%), GBP (12,42%), SKK (4.47%) and DKK (2.81%).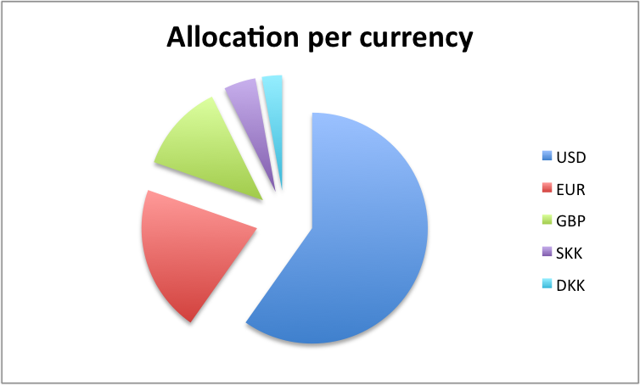 Individual portfolio allocations
Sports
Young professionals generally like to be active and sport. Therefore, sports was one of the first categories we identified. Several large players dominate this industry. However, we tried to focus on growth and selected the following 3 stocks: Nike (NYSE:NKE), Under Armour (NYSE:UA) and Amer Sports (OTCPK:AGPDY). Despite Nike's size, the company is still growing, especially in the emerging markets and in Western Europe. Under Amour is a very popular brand in the United States and has the potential to grow very fast in markets outside the United States. Finally, Amer Sports' brands cover sports like tennis, baseball, cycling and the popular winter sports. Some familiar brands are Wilson, Atomic and Mavic.
Apparel
Next, we identified apparel as a category, because clothes are important for young people. However, Retail is a hard business and the landscape of shopping changes fast. E-commerce becomes more and more important. Therefore, we focused on companies with strong e-commerce activities. We selected the following 3 stocks: Asos (OTCPK:ASOMY), Hennes & Mauritz (OTCPK:HNNMY) and Inditex (OTCPK:IDEXY). Asos is a true e-commerce play. The company operates an international website that sells all kinds of apparel. Hennes & Mauritz, better known to consumers as H&M, is a Swedish company with 3,100 stores all around the world. H&M also has an online store in 10 countries and more will follow. Inditex, based in Spain, is one of the world's largest retailers. The company operates 6,249 stores and its most familiar brand is Zara.
Technology
One of the most important categories is technology. We believe that young professionals are trendsetters when it comes to technology and innovative products and that they are willing to spend a lot of money on these products. Therefore, we picked companies that proved to be innovative and deliver high quality products. Our technology category contains the following 4 stocks: Apple (NASDAQ:AAPL), LinkedIn (LNKD), Lenovo (OTCPK:LNVGY) and Bang Olufsen (OTC:BGOUY). Apple and Lenovo were easy picks, because both company's proved that they are innovators within the sector.
LinkedIn fits perfect in this category as well, because the platform is important for young professionals who are just at the beginning of their careers. It is likely that most of them use this platform in order to look for a job or to connect with other professionals. Building a strong network is important. Bang Olufsen is the least familiar name among the four stocks. This Danish company manufactures high-end audio devices, video solutions and phones. The design of the company's products is impressive and very innovative. Therefore, we picked this stock for our YP Portfolio.
Cars
Cars are a favorite topic for conversations between young professionals. Especially in their work environment and among friends. In this category we picked the following 3 stocks: BMW (BAMXY), Tesla (NASDAQ:TSLA) and Volkswagen (OTCPK:VLKAY). BMW and Volkswagen are two strong and famous German brands. Both companies sell cars all around the world. In addition, we picked Tesla for its innovation. We expect that electric cars are the future and Tesla is in the best position to grow very fast in the upcoming years.
Games
The fifth category is games, because this is a favorite activity to spend evenings and/or nights from time to time. This category has a strong connection with the technology category. However, these companies are less innovative than our technology companies. Our games category contains the following stocks: Sony (NYSE:SNE), Microsoft (NASDAQ:MSFT) and Activision Blizzard (OTCPK:AVTI). We picked Microsoft and Sony for their respective consoles, the Xbox and Playstation. Both companies launched a new console by the end of 2013 and both consoles are successful. Activision Blizzard is complementary to Microsoft and Sony's gaming consoles. The company develops top selling games, for example Call of Duty and World of Warcraft.
Media
Media is a broad concept, including television channels, films, magazines and news papers. We selected the following 3 stocks: Lionsgate Entertainment (LGF), Netflix (NASDAQ:NFLX) and British Sky Broadcasting (BSYBY). Lionsgate Entertainment produces popular franchise films like Saw and The Hunger Games. Netflix provides online on demand television services. This market will probably grow very fast in the upcoming years. Netflix does also produce its own shows, for example House of Cards and Orange is the new Black. British Sky Broadcasting is the leading pay-TV companies in the United Kingdom and the company dominates the popular sport channels.
Beverages
Young professionals and beverages are a natural fit. Many young people are sensitive for strong brand names. Therefore, we selected three companies with very strong brand names. We selected the following 3 stocks: The Coca-Cola Company (NYSE:KO), Heineken (OTCQX:HEINY) and Diageo (NYSE:DEO). Coca-Cola is third most valuable brand in the world, according to Forbes. Further, the company holds a portfolio of other strong brands, including Fanta and Vitaminwater. We could not select the YP Portfolio without a strong beer brand. Therefore, we picked Dutch brewer Heineken, because of its international presence and brand awareness. Finally, we selected Diageo. This company owns several very strong brands, including Johnny Walker, Ketel One Vodka, Captain Morgan and Baileys.
Others
Last we picked three very strong brands that we did not attach to one of the other categories. These three companies are McDonald's (NYSE:MCD), Starbucks (NASDAQ:SBUX) and L'Oreal (OTCPK:LRLCY). McDonald's is a fast food company with restaurants all around the world. The company is very stable and we picked this stock for its dividend. Starbucks operates special coffee shops. However, the company is more than just a seller of coffee. Starbucks diversifies into food as well. Finally, L'Oreal manufactures personal products. We picked this stock for its connection with young people, through its popular brands like L'Oreal Paris, Garnier and Maybelline New York.
The YP Portfolio
We will monitor the performance of our portfolio against the S&P500 and provide updates. As I already mentioned, we would like to encourage the readers to comment on our picks in order to gain ideas for the portfolio. We would like to receive comments regarding the idea of a Young Professionals Portfolio as well.
Currently, our YP Portfolio contains the following stocks:
| | | | | |
| --- | --- | --- | --- | --- |
| Company | Ticker | Category | Amount | % |
| Nike | NKE | Sports | $5,562 | 5.56% |
| Under Armour | UA | Sports | $2,910 | 2.91% |
| Amer Sports | AGPDY | Sports | $2,144 | 2.14% |
| Asos | ASOMY | Apparel | $5,619 | 5.62% |
| Hennes & Mauritz | HNNMY | Apparel | $4,466 | 4.47% |
| Inditex | IDEXY | Apparel | $3,671 | 3.67% |
| Apple | AAPL | Technology | $5,304 | 5.30% |
| LinkedIn | LNKD | Technology | $3,102 | 3.10% |
| Lenovo | LNVGY | Technology | $3,719 | 3.72% |
| Bang Olufsen | BGOUY | Technology | $2,816 | 2.82% |
| BMW | BAMXY | Cars | $4,488 | 3.41% |
| Tesla | TSLA | Cars | $3,693 | 3.69% |
| Volkswagen | VLKAY | Cars | $2,497 | 2.50% |
| Sony | SNE | Games | $4,488 | 4.49% |
| Microsoft | MSFT | Games | $5,685 | 5.68% |
| Activision Blizzard | ATVI | Games | $3,017 | 3.02% |
| Lionsgate | LGF | Media | $3,198 | 3.20% |
| Netflix | NFLX | Media | $4,884 | 4.88% |
| British Sky | BSYBY | Media | $2,167 | 2.17% |
| Coca-Cola | KO | Beverages | $5,783 | 5.78% |
| Heineken | HEINY | Beverages | $5,062 | 5.06% |
| Diageo | DEO | Beverages | $4,633 | 4.63% |
| McDonald's | MCD | Others | $4,775 | 4.77% |
| Starbucks | SBUX | Others | $3,654 | 3.65% |
| L'Oreal | LRLCY | Others | $3,348 | 3.35% |
| Cash | n/a | n/a | $ 392 | 0.39% |
Disclosure: I am long AAPL, KO, HEINY, MSFT, TSLA. I wrote this article myself, and it expresses my own opinions. I am not receiving compensation for it (other than from Seeking Alpha). I have no business relationship with any company whose stock is mentioned in this article.
Additional disclosure: My long positions represent my own long positions and are not related to the portfolio I discussed in the article.