I have been bullish on all things gold for several months now, but not particularly gold itself. As I see it, gold "derivatives", such as gold stocks had more to gain than gold itself and they have done just that (so far).
However, before we continue, I want to remind everyone of the long term picture for gold. And the long term picture that I want to show you is none other than the Dow/Gold ratio.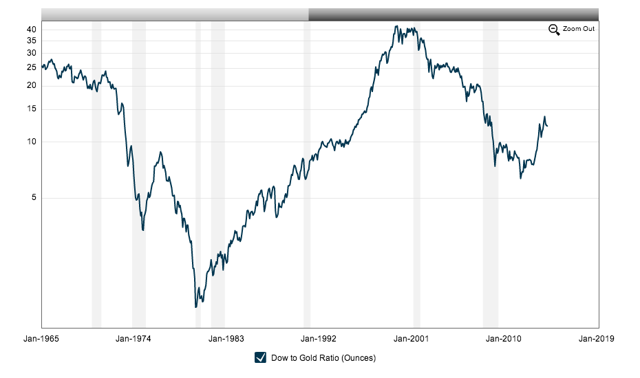 source: macrotrends.net
As I have said before, stocks are the place to be for the next several years as opposed to gold itself. However, this does not mean that gold will not give a rally here and there, or that gold stocks will not rally for different reasons. I claim that gold and gold stocks are two different animals.
So while gold (NYSEARCA:GLD) itself has risen by 11.5% YTD, gold stocks have risen by a lot more. If we look at some of the large cap gold stocks, YTD they have performed rather well. Randgold Resources (NASDAQ:GOLD) has returned 29%, Barrick (NYSE:ABX) 12%, Newmont Mining (NYSE:NEM) 5%, Silver Wheaton (SLW) 25% and Yamana (NYSE:AUY) 16%.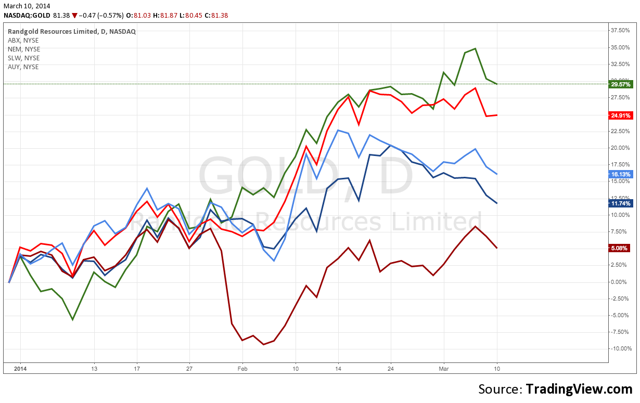 And if we look at the ETF level, YTD the Gold Miners ETF Market Vectors (NYSEARCA:GDX) 23%, the Junior Gold Miners ETF (NYSEARCA:GDXJ) 41%, and my favorite speculation play the Gold Miners Bull 3V Direxion ETF (NYSEARCA:NUGT) about 74%.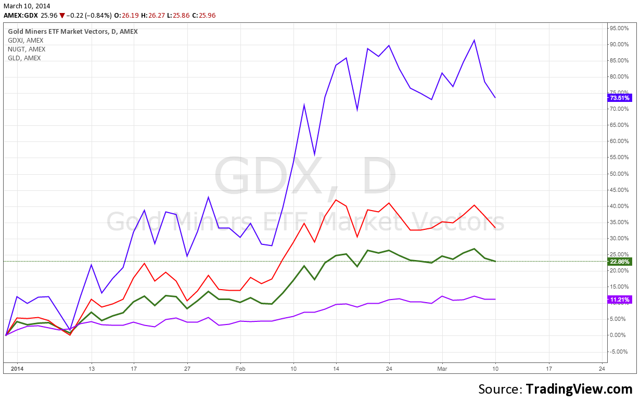 One reason why gold might fall over the next several weeks and months, has to do with China. China's exports unexpectedly tumbled in February, swinging the trade balance into a deficit and adding to fears of a slowdown in the world's second-largest economy. In fact China's trade deficit was the second largest on record.
And while China's leaders claim that the country's economy is guaranteed to grow at 7.5%, if export data does not return back to normal levels over the next reporting period, that might be a sign that China's economy might cool down in the future. That might mean less demand for commodities.
The situation in Crimea, while not enough to put a dent in Western economies, doesn't make for good psychology. And given that Gold stocks have had a good first quarter, it might be a good idea for investors to stay on the sidelines for a while, given (as I said in the beginning) gold is not a long term uptrend.
Longer term I am still positive for gold miners, but from time to time investors need to take their profits and take a vacation with the money. I think this time is now.
Disclosure: I have no positions in any stocks mentioned, and no plans to initiate any positions within the next 72 hours. I wrote this article myself, and it expresses my own opinions. I am not receiving compensation for it (other than from Seeking Alpha). I have no business relationship with any company whose stock is mentioned in this article.