A Brief History of Awilco Drilling
Awilco Drilling PLC (OTCPK:AWLCF), otherwise referred to as Awilco Drilling, is a small offshore drilling company registered in England and Wales and is headquartered in Aberdeen, Scotland. The company currently owns two semi-submersible drilling rigs: the Wilhunter and Wilphoenix. Both rigs were purchased from Transocean (NYSE:RIG) as a contingency placed on Transocean's purchase of GlobalSantaFe by the United Kingdom's Office of Fair Trading or OFT. After the purchase, Awilco Drilling sent the rigs to the Remontowa Shipyard in Gdansk, Poland, for upgrades to make the rigs more competitive in the North Sea drilling market. The rigs left the shipyard in May of 2011 to return to the North Sea and have worked there since. After the initial post-purchase upgrades, Awilco Drilling has been able to secure a number of drilling contracts for the rigs and has been able to capture the rising day rates in the North Sea mid water drilling segment. As of March 1 of this year, Awilco Drilling PLC's largest shareholder was Awilco Drilling AS, owning 48.73% of Awilco Drilling PLC. Awilco Drilling AS is a subsidiary of the Norwegian company Awilhelmsen AS. Currently, the Wilhunter is on contract with Hess and will remain with them until the rig is yarded in December 2015 through January 2016. After leaving the yard, there is a maximum option of another 275 days, which would put potential rig availability in November of 2016. The Wilphoenix is on contract with Premier Oil until early August this year with a potential expansion until November when Apache (NYSE:APA) contracts the rig firmly until the second half of 2017 with 27 additional months of expansion, with the exception of its scheduled yard time in February and March of 2016. It also appears that if Premier Oil does not extend its contract until November, Apache could potentially take the rig early. As company management said on their Q4 2013 conference call, the rigs may be subleased during their contracts. One of the most attractive aspects of Awilco Drilling is the high level of predictability in its financial results due to the length of its rig contracts. The visibility of contract revenues for the company is significant and also insulates the company from short-term fluctuations in day rates. As I will elaborate on later, Awilco Drilling trades for a cheap earnings multiple and also offers investors a significant dividend yield supported by its cash flow.
Below: Awilco Drilling's rig, the Wilhunter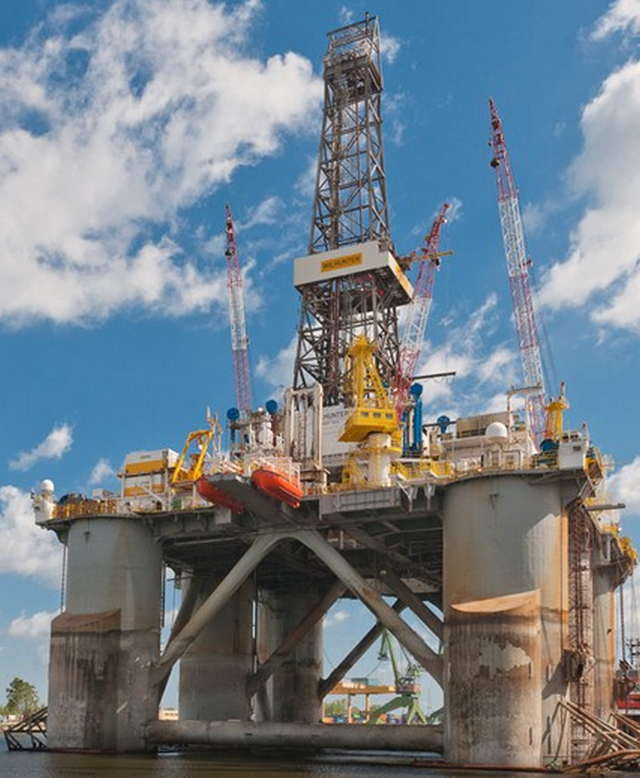 Source: Awilco Drilling
Below: Awilco Drilling's rig, the Wilphoenix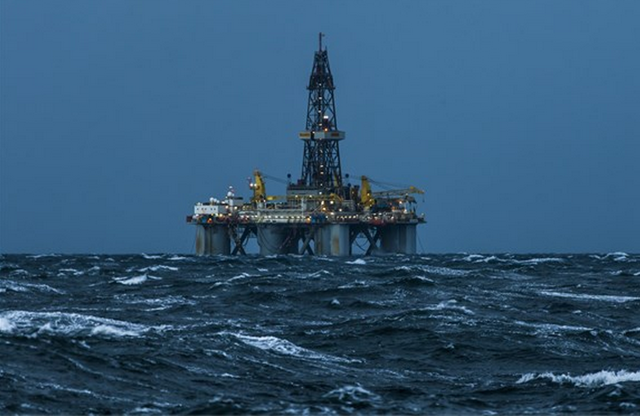 Source: Awilco Drilling
Strong Historic Returns For The Young Company
(Note: Below chart represents the returns for Awilco Drilling in Oslo trading and is priced in Norwegian Kroner.)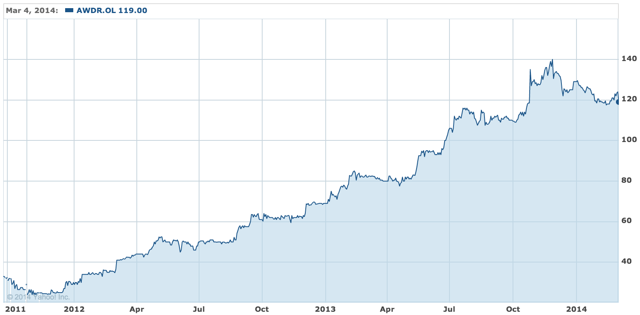 Source: Yahoo Finance
Company and Peer Fundamentals
| | | | | | |
| --- | --- | --- | --- | --- | --- |
| | Awilco Drilling | Seadrill (NYSE:SDRL) | Ensco (NYSE:ESV) | Transocean | Diamond Offshore Drilling (NYSE:DO) |
| TTM P/E | 4.8x | 6.3x | 8.7x | 10.4x | 11.5x |
| 2014 E. P/e | 4.4x | 10.6x | 8.2x | 8.8x | 11.5x |
| Dividend Yield | 21.3% | 11.1% | 5.8% | 5.3% | 1% |
Experienced Management Team
CEO Jon Oliver Bryce
20 years of industry experience
Employed by Odfjell Drilling before taking CEO position at Awilco Drilling
CFO Ian Wilson
25 years of industry experience
Worked for ENSCO before arriving at Awilco Drilling
Awilco Drilling's Strong Commitment to Dividends
In June of last year, Awilco Drilling paid its first dividend of $1 per share. Along with its Q4 2013 earnings release, company management noted the following outlook for dividends in the accompanying presentation:
"Future quarterly dividend payments will be in line with the company's intent of distributing all free cash flow above a robust cash buffer to support operational working capital requirements and planned capital expenditure"
The company recently declared its fourth consecutive dividend representing a payout of $1.1 per share. Once the most recently announced dividend payment is made, the company will have paid dividends of $4.2 per share in four quarters, which is a very significant amount for the young company. As I will highlight, the company will likely have increased future cash flow due to higher day rates and the maturity of a seller's credit from Transocean and will most likely have the capacity to pay an even larger dividend in the future.
Historic Dividend Payments Per Share
Q2 2013: $1.00
Q3 2013: $1.00
Q4 2013: $1.10
Q1 2014: $1.10
The Significance Of Awilco Drilling's 21% Dividend Yield
In the current low interest rate environment, many investors have been drawn to securities with strong dividend yields in order to generate income. Awilco Drilling provides a significant opportunity for these yield-starved investors as the dividend is large and the cash flow supporting the yield is backed by contractual agreements with the lessees of their rigs. There are very few companies that can rival Awilco Drilling's 21% dividend yield in a sustainable way. The company also has the potential to increase its dividend payments in the future as a result of growing cash flow, which I will discuss in the next two sections. Awilco Drilling represents a compelling investment opportunity for investors in search of current income as well as those looking for potentially growing dividend payments over the long term.
Escalations In Drilling Contract Day Rates To Support Future Cash Flow
As the chart below from the Awilco Drilling Q4 2013 earnings presentation illustrates, under the contracts that the company has arranged for the Wilhunter and Wilphoenix day rates are set to rise somewhat significantly for the rigs. For example, beginning in June of this year the Wilhunter will see a jump in its day rate of nearly 7% to $385,000. Additionally, the Wilphoenix will see day rates of $387,500 when it begins its contract with Apache. This is a higher rate than what the Wilphoenix has seen for most of its time with Awilco Drilling, except for the roughly two months near the end of its contract with Premier Oil, and contract escalations for both of these rigs should support the company's cash flow, earnings and dividends in the future.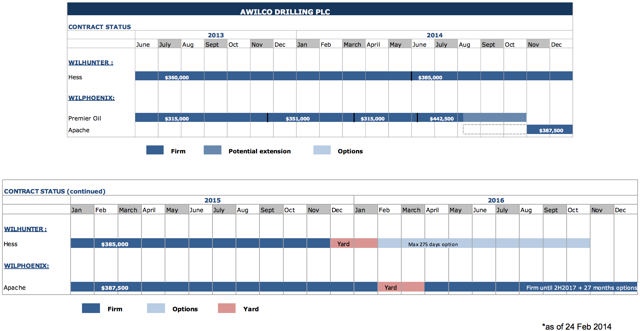 Source: Awilco Drilling's Q4 2013 Earnings Presentation
Maturity Of Seller's Credit in Q1 2015 To Enhance Future Cash Flow
In order to finance the purchase of the Wilhunter and Wilphoenix from Transocean, Awilco Drilling entered into deferred payment deed or seller's credit agreement with Transocean. The agreement was for a five-year term of $165 million at an interest rate of 9% with quarterly payments of $2.8 million with a balloon payment of $87 million at maturity in January 2015. Over the last few quarters, Awilco Drilling has increased its cash position and at the end of Q4 2013, cash and cash equivalents totaled just over $52 million. It is conceivable that the company will continue this cash build so that it will be able to fund the balloon payment from cash on hand. This would limit the need for future debt and would enhance cash flow and give further borrowing capacity for the company should it decide to invest in an additional drilling rig. In 2013, Awilco Drilling paid interest of nearly $9.8 million in addition to repaying $16.5 million of loans. Once these cash flow impediments are eliminated after the maturity of the seller's credit, Awilco Drilling will have significant additional dividend capacity without infringing on its cash buffer of roughly $35 million per year. This represents significant upside for shareholders and given management's history of returning significant amounts of cash to shareholders, I am confident that it will continue this strategy absent of a new and major investment program.
Reasons for Awilco Drilling's Relative Cheapness
One of the most intriguing aspects of Awilco Drilling is its relative low profile and lack of exposure to the wider investment community. For example, there were only two questions on the company's Q4 2013 conference call: one from a private investor and another from an analyst at Arctic Securities. The company has a modest market cap of around $600 million, which could limit some institutional investors from taking a reasonable position. Also, the company's shares are not very liquid: they trade roughly 60,000 shares per day on the OTC Market in the US and roughly 85,000 shares per day on the Oslo Axess market in Norway. This lack of liquidity, partly due to the low float as a result of the significant ownership by Awilhelmsen, can also be an impediment for institutional investors to invest in the company. However, I believe the largest reason that shares of Awilco Drilling remain so undervalued is the simple fact that most investors do not know about the company's existence. Especially in this yield-starved macroeconomic environment, investors would normally find this company significantly undervalued and a good source of income given the cheap earnings multiple, strong dividend and highly predictable cash flow stream.
In addition to liquidity and free float concerns, some investors are also worried about the concentration risk of having only two rigs operating in the same region, thus overexposing the company to weather-related downtime, a change in the tax or regulatory environment, fluctuations in day rates, as well as the amount of economic and reputational damage done to the company in the event of a rig blowout or another similar extraordinary event. While the risk of weather-related downtime, change in the tax or regulatory environment and fluctuations in day rates are realistic concerns for investors in Awilco Drilling, if any one of these becomes over bearing, the rigs could be moved to alternative jurisdictions in the North Sea or to a separate region. However, as the company is based in Aberdeen, Scotland, Awilco Drilling is able to manage these rigs from their headquarters and are able to forge relationships with customers and navigate the regulatory environment more efficiently than if the Wilhunter and Wilphoenix operated in different countries. As for the risk of a catastrophic blowout or other type of significant damage to either rig, it would most certainly spell significant trouble for Awilco Drilling. Of course, a Deepwater Horizon-style blowout is an extremely low probability event and while it is a risk of operating in the industry, in my opinion Awilco Drilling's relative cheapness and strong dividend more than make up for these risk factors.
Additionally, some investors are concerned about the age of the Wilhunter and Wilphoenix and their remaining useful life. The two rigs have approximately 17 years of remaining fatigue life given that the two rigs should be fully depreciated in 2031. Company management has been prudent about taking care of the rigs and performing maintenance and upgrades to make sure that the rigs remain competitive as the market develops. The wasting aspect of drilling rigs may be an issue for some investors, however as the current value of equity in a company is the discounted future cash flows of the business in perpetuity, current investors would receive significant returns on their investment over the remaining life of the rigs based on the cheap share price, even if management does not acquire new rigs in the future. However, I believe that management will exercise its industry expertise and engage in attractive growth opportunities when they see fit. Management acquired the company's two current rigs at very attractive prices and I have no doubt that they will be able to engage in accretive transactions in the future.
Conclusion
Due to the limited exposure of Awilco Drilling to the overall investment community, the company trades for a valuation discount to peer companies while offering an immense dividend. I believe that shares of Awilco Drilling will appreciate significantly and trade in-line with competitor companies on various valuation metrics, which will represent a significant return for current investors in the company.
Disclosure: I am long AWLCF. I wrote this article myself, and it expresses my own opinions. I am not receiving compensation for it (other than from Seeking Alpha). I have no business relationship with any company whose stock is mentioned in this article.