If you're ex-J.C. Penney (NYSE:JCP) CEO Ron Johnson, you know your legacy is tarnished if you type ["Ron Johnson" and "worst CEO"] (without the brackets) into Google and you get back over 46,000 results. Granted, many of the results are duplicates picked up by other news sources or blogs. But if it were I, just 10 results would cause me some heartache. Actually, upon further reflection, even just 1 mention would drive me to drink.
On the one hand, I say to myself, "wow, poor guy". Then my other hand rudely blurts out, "Hey - high risk, high reward!" I guess my other hand (the rude one) is right. When you sign up for a job like that, monumental failure is always a possibility.
But what if I told you (after putting both my hands in my pockets) that despite Johnson's various strategic blunders, at least two very important moves he made might end up playing a major role in solidifying J.C. Penney's nicely developing turnaround? I know, right? Kind of a weird time warp or back from the dead kind of thing. More on that in a moment.
Update on J.C. Penney Stock Action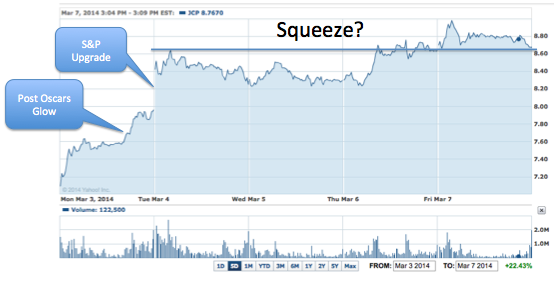 Disclaimer - annotations added
As intriguing as Johnson's missteps or company-saving strategies might be, JCP stock movements are what butters the bread. On a short-term basis, JCP shares got a nice little bump from the company's terrific series of commercials aired during the Oscars. How successful were the ads? Well let's just say the little Tivo alien creature thingy was rocking it out during the ads because 350,000 Tivo users voted the spots the best of the whole broadcast. I can just picture all those JCP shorts angrily switching the channel or throwing things at their flatscreens, kind of like sports fans refusing to watch the replays of the home team getting clobbered in the playoffs.
The S&P upgrade's impact is also clearly seen in the chart, but what I find a bit chin scratching is the apparent "basing action" of the stock in the mid $8 range over the last four trading sessions, despite some gyrations in the Dow. I'm no chartist, but aren't short squeezes usually characterized by a lot more volatility? Unless the shorts have been politely lining up to cover like kids at a matinee with tickets in hand, I'm not sure how much a short squeeze accounts for the most recent price behavior. Indeed, forensics of the afterhours stock action following earnings clearly show evidence of a squeeze. The shorts were handing back their shares in somewhat of a frenzy, pushing the stock from the $5s to the $7s overnight. But other catalysts seem to be in play now.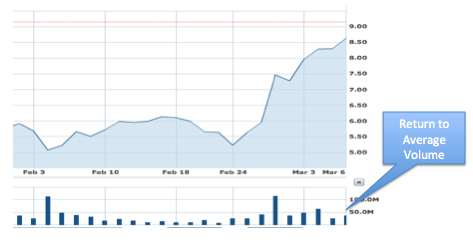 Disclaimer - annotations added
Thanks to Google, whenever I'm writing something about which I lack deep expertise, I usually don't have to go far afield to find someone who does. Seeking Alpha contributor Adam Betancourt, in his article titled How To Play The Short Squeeze And When To Cash Out, suggests that short squeezes typically come to an end when volume returns to normal. On March 5th, JCP trading volume dropped below average and then ticked up just slightly to exactly average on March 6th. Meanwhile, the stock price stayed flat, indicating to me that any squeeze that may have occurred almost two weeks ago (shown on the chart from $5 to $7 with very high volume) has now abated.
So what is the potential for another short squeeze? What's interesting is that the short interest in JCP has dropped significantly, from ~70% of the float a week before earnings to only 53% now. So although JCP stock is still heavily shorted, it looks like many of the bears have hightailed it out of the neighborhood in search of other victims.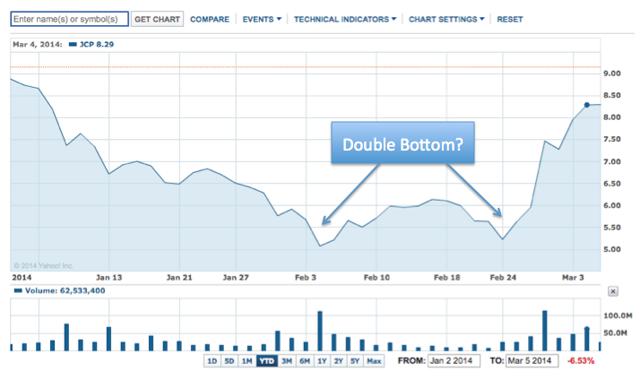 Disclaimer - annotations added
On a more intermediate term, there appears to be a well-formed "double bottom" in the stock chart. Are double bottoms reliably predictive of a rising stock price longer term? I'm not the guy to ask, but I imagine there wouldn't be such a thing as a double bottom if double bottoms weren't somehow well correlated with higher prices.
I'll leave it to the technical analysts and other quantum physicists to comment below whether the above discussion means anything for JCP share price. Hopefully it is good grist for the mill.
J.C. Penney now has a true niche - thanks to Johnson
Okay, so let's get back to the topic at hand - the parts of Johnson's legacy that are potentially salvageable. However many terminable offenses Johnson committed, his decision to update the look and feel of the stores through the introduction of "mini-shops" may turn out to be one of J.C. Penney's saving graces. After all, the shops-within-shops outsold other parts of the stores by 20%, so the idea wasn't inherently bad; the killer was coupling the remodels with the elimination of coupons and sales, and pulling the private brands.
While only around 100 of the mini-shops were ever implemented during Johnson's tenure, current CEO Mike Ullman and his team decided they couldn't just abandon all of the remodel plans, either because the work was in progress or already paid for. While the mini-shops were never completely implemented in their full glory, the stores themselves ended up with a very refreshed and polished look and feel - better fixtures, mood lighting, new signage, shiny floors, and more prominent displays.
Let's all take a little test so I can prove my point: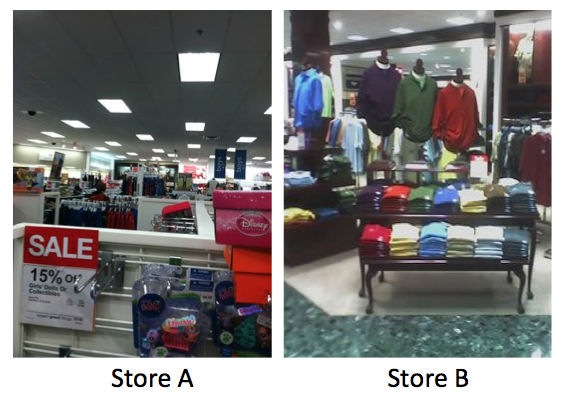 Which of the above stores is a Nordstrom (NYSE:JWN), and which is a J.C. Penney?
That's an easy one, right? Store A is indeed a J.C. Penney and Store B is a Nordstrom. No surprise there.
Except that's not actually true, please forgive me for my little white lie. Store A is a Kohl's (NYSE:KSS) and Store B is a J.C. Penney. Where am I going with this? I'll bet dollars to donuts that J.C. Penney's prices are a lot closer to Kohl's' (do you really use two apostrophes?) than Nordstrom's are to J.C. Penney's. In fact when I visited both chains' websites, I found that Penney's prices on national brands and other merchandise are right in line with Kohl's.
Price being equal, where would you rather shop, Nordstrom-class environs with great prices or the other place? You see, this is quickly becoming J.C. Penney's niche - a great value to be had in a shopping ambiance that actually helps you forget you're bargain hunting! And I'm living proof. I shopped at Nordstrom my entire adult life, and my wallet is a lot thinner because of it. I actually ENJOY strolling through my local JCP, and I've talked with other customers who feel the same way. Granted, I'm probably not J.C. Penney's target customer (tough, they're stuck with me), but middle and lower middle class shoppers are no different in their desire for a premium shopping experience. To put it another way, when people shop at Wal-Mart (NYSE:WMT), I don't imagine they walk out feeling they've finally "arrived".
Net-net is that if it were not for Johnson's vision for a fresher look to the stores, would the JCP interiors have been upgraded nearly as much? Not a chance. Would Store B look a lot more like Store A? Absolutely. Could the $1B that Johnson allocated to the remodels have been better spent or just saved entirely? Perhaps some of it, sure. But without the remodels and refreshes, J.C. Penney would today lack any type of niche in a crowded discount retail market.
Best of all, the upgrade and remodel costs are now behind JCP, while the other discounters will need to invest heavily to come anywhere close. If and when they do bite the bullet, customers will defect to avoid the noise and dust. I'm sure J.C. Penney will welcome them with flowers and kisses.
Ron Johnson saw the future - with Oracle
In my last J.C. Penney article I wrote about how Omnichannel retailing will very likely bring JCP on par with - if not ahead of - its competition in gross margin, cost management, and comparable sales. The thing is, you just can't snap your fingers and do the Omnichannel thing. It takes complex software and lots of computing power.
Luckily for J.C. Penny, Ron Johnson and team decided to do a huge deal with Oracle (NYSE:ORCL) in mid-2012 for bucket loads of Oracle software and hardware to run advanced retail analytics, order management, and many other retail functions. How big of a deal was it? Having been in the business intelligence (BI) and analytics business for much of my career, a deal of that scale could tally well into the 10s of millions of dollars, especially when "wrapping in" 5-years of maintenance, all you can eat database licenses, consulting, and new POS systems.
While a chunk of the investment was completely wasted on a failed RFID initiative, the retail analytics and other Omnichannel-enabling software is now providing J.C. Penney with the tools and technology to bring the company's expense and merchandising models on par with the likes of Macy's (NYSE:M), a long-time practitioner of Omnichannel. With the hiring of Omnichannel devotee Mike Rogers, JCP now has the leadership and vision to take it to the next level.
How do I know J.C. Penney is continuing to aggressively leverage the software to make Omnichannel a reality? I normally like to look at a company's job listings to learn about its business strategies. Tellingly, more than half of all J.C. Penney IT jobs on LinkedIn were related to Oracle, some directly tied to Oracle Retail (RMS).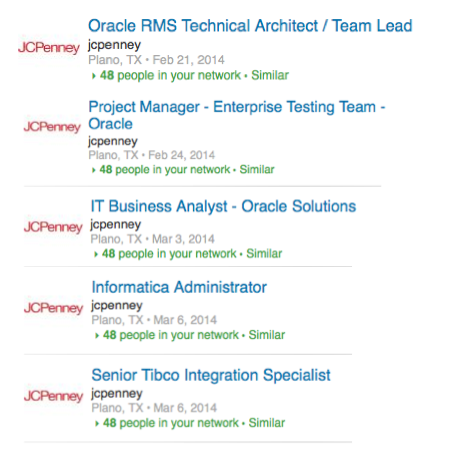 Source: LinkedIn
Mike Rogers is clearly doubling down on Oracle RMS, to the chagrin of the shorts betting against proven technology.
Bottom Line
J.C. Penney is a company on the move. Its stores are gorgeous, its staff is proud and motivated, and its customers are coming back. Risks persist, however. To avoid another equity raise, the company needs to get back to gross margins in the mid-to-high 30s, further streamline its cost structure, and increase sales. Omnichannel can help in all three categories, and store fit and finish will help bring old customers back and new shoppers over from the drab competition.
Will it happen in time? That remains to be seen, but the company will no doubt show better results throughout the year, bringing in more longs, pushing the stock higher, and keeping the shorts scurrying for (and to) cover. So before you order that Ron Johnson piñata for your kid's next birthday, take a walk through your neighborhood JCP and give the guy his due.
Disclosure: I am long JCP. I wrote this article myself, and it expresses my own opinions. I am not receiving compensation for it (other than from Seeking Alpha). I have no business relationship with any company whose stock is mentioned in this article. Do your own due diligence before investing