CareFusion Corporation Company Background
CareFusion Corporation (NYSE:CFN) is a global medical company. The Company has two segments: Medical Systems and Procedural Solutions. The Medical Systems segment includes its equipment businesses, i. e., Infusion Systems, Dispensing Technologies, and Respiratory Technologies. The Procedural Solutions segment is organized around disposable products and reusable surgical instruments. The Procedural Solutions units and their product lines include Infection Prevention, Medical Specialties, and Specialty Disposables. Primary customers include hospitals, ambulatory surgical centers, clinics, long-term care facilities, and U.S. physician offices -- although the company also sells to hospitals in some 130 countries. CareFusion was incorporated in 2009 with headquarters in San Diego, California. (Scottrade and Yahoo.Finance.com).
The Acquisitions and Partnerships
In the last six months CareFusion has made acquisitions and partnerships. These will increase earnings in the next few quarters. As CareFusion moves from a 24.7 P/E to an 18.4 Forward P/E, a rapid rise in stock price is likely. CareFusion's last quarter earnings were 54 cents per share and analysts are predicting earnings of 62 cents per share in the new quarter, ending March 31st. In the quarter after that, ending June 31st, analysts predict earnings of 73 cents per share. These higher earnings should lift CareFusion's price.
The four acquisitions and agreements include Vital Signs acquisition, Vancive Medical Technologies agreement, Caesarea Medical Electronics (CME) share purchase, and the CareFusion, Terumo distribution agreement. These four transactions happened quickly, in just a few months, and now are affecting CareFusion's bottom line.
CareFusion has agreed to Acquire Vital Signs from GE Healthcare -- for $500 million
On November 18th, 2013 CareFusion agreed to buy Vital Signs for $500 million. Vital Signs is a leading manufacturer of single-patient-use consumables for respiratory care and anesthesiology. CareFusion should be able to unlock the growth potential of Vital Signs and lead it to medical leadership, at least in this area. The Vital Signs division of GE Healthcare has annual sales of $250 million and CareFusion believes the merger will result in further growth, possibly to $10-15 million by 2017. According to Kieran Gallahue, chairman and CEO of CareFusion:
"Together, CareFusion and Vital Signs have the R&D, manufacturing and go-to-market resources to drive innovation, invest for growth and better support customers in major geographic markets."

Source: Cf. Article
Vancive Medical Technologies Agreement
On November 19, 2013 CareFusion Corp and Vancive Medical Technologies signed an agreement for Antimicrobial Dressing that will be CareFusion's first vascular access dressings line. Under the agreement, CareFusion will market Vancive's unique transparent antimicrobial adhesive dressings, which are ideally suited for protection of catheter insertion sites. This product received U.S. Food and Drug Administration clearance, 510(k), in September 2012 and it will be co-branded under CareFusion's new ChloraShield brand. Howard Kelly, president and general manager of Vancive Medical Technologies, announced:
"By bringing together the considerable infection prevention expertise at CareFusion and Vancive's cutting-edge technologies, we will provide solutions to the vascular access market."

Source: Cf. Article
CareFusion is to invest $100 million in Caeserea Medical Electronics -
On December 9, 2013 CareFusion announced that it will invest $100 million for a 40% stake in Caeserea Medical Electronic, an Israeli infusion pump maker. CME manufactures and markets infusion and syringe pumps, as well as related accessories for homecare and hospital settings. CME infusion pumps are praised for their compact, portable design. CareFusion may also increase ownership to a majority shareholder. CME will continue to sell its pumps globally through its own networks while CareFusion focuses on the U.S. and Canada. Kieran Gallahue, Chairman and CEO of CareFusion, said:

"This investment creates a strategic, long-term relationship with CME, which has great people and great technology that is very complementary to our infusion portfolio."

Source: Cf. Article
CareFusion and Terumo Sign distribution Agreement
On January 29, 2014 CareFusion and Terumo Corporation announced an exclusive, eight-year agreement for CareFusion to co-brand, market, and distribute Terumo's SurFlash line of safety peripheral IV catheters for the acute care use in the United States. These improve first attempt catheter placement by 20%. The agreement includes both SurFlash and SurFlash Plus Safety IV Catheters. SurFlash lines of Catheters also have a passive safety technology that encapsulates the needle, thereby reducing risk of needle stick injury and exposure to blood borne pathogens. Vivek Jain, President of Procedural Solutions for CareFusion, said:
"This agreement broadens our vascular access portfolio and adds a critical link to enable CareFusion to provide an expanded range of products..."

Source: Cf. Article
This is the end of the section about acquisitions and partnerships and now we move on to discuss the chart and make general conclusions.
CareFusion's Chart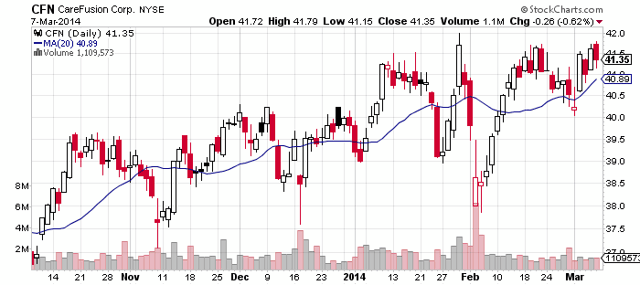 For the last 4-5 months CareFusion Corp has remained in the $39 to $41 price range. However, the chart shows occasional selloffs after which the stock recovers promptly enough. The 20 day moving average has a slight positive angle but basically remains flat. The slope of the 20 day average helps us to anticipate the next rally - currently, the slope looks slightly bullish. CareFusion has made many positive changes and higher earnings may be expected in coming months; nevertheless, the stock has not yet rallied. Once people begin to realize higher earnings are coming, the stock may well surge upward, especially about June, when new takeovers and partnerships emerge.
Conclusions
CareFusion may prove exceptionally profitable in coming months. The Company's P/E ratio should improve to 18.4 from its current 24.7. This would be a 25% improvement in the P/E. I think this supports a rally of 20%, especially if the market continues to new highs. This improvement in earnings is projected to continue into 2016 as acquisitions and agreements take effect. Realize that CareFusion has been stuck in the $39- $41 range for some months, so it may take a while for it to takeoff.
Disclaimer: Please note the author may be wrong with any projections or suggestions in this article. Do your own research before you make any decision.
Disclosure: I have no positions in any stocks mentioned, and no plans to initiate any positions within the next 72 hours. I wrote this article myself, and it expresses my own opinions. I am not receiving compensation for it (other than from Seeking Alpha). I have no business relationship with any company whose stock is mentioned in this article.