(Editors' note: Lancashire Holdings trades on the London Exchange under the ticker LRE.L with over £277M in average daily volume).
Lancashire Holdings (OTCPK:LCSHF) is a London-based niche insurance/reinsurance company with a track record of spectacular financial performance: average ROE of 19%, combined ratio of 60% and dividend yield of 10%.
The company trades at PE=10 (or forward PE=6.9), and the market currently attaches no value to its newly started/acquired businesses, which will increase 2014 earnings by 45%.
I view LRE as a money making machine that has grown its earnings even while paying out almost all of its income to shareholders. Management's track record, well capitalized balance sheet as well as company's leadership in specific insurance sectors will provide similar results to current investors.
Recent decrease in share price (25% during the last year) gives an asymmetric buying opportunity with at least 45% upside within one year and limited downside due to stable company performance and high dividend yield.
Company background
Lancashire is a provider of global specialty insurance and reinsurance products operating in Bermuda and London. Lancashire focuses on short-tail, mostly direct, specialty insurance risks under four general categories: property (50% of GPW), energy (30%), marine (10%) and aviation (7%). It does business globally with most of its clients based in North America. Lancashire is the lead underwriter for some of their favorite niches.
Lancashire was formed in late 2005 and was listed in London AIM exchange at inception (with c. $1bn market cap) and relisted to main market in 2009 under ticker AML. The market did not pay much attention to Lancashire's earning initially and low combined ratios where regarded more as luck in picking the right deals rather than skill of CEO Richard Brindle. This caused company to trade at or below its book value. However, when in 2008 profits started to disappear for almost every company, investors finally noticed excellent returns that Lancashire was generating and its price soared - between Sept. 2008 and Mar 2009 share price has increased 50% whereas all the markets globally tanked by c. 50%. Now it trades at c. 1.5 P/BV (or 1.25 P/BV excluding cash) and is down from 25% from its peak in 2013.
Business model
The company is specializing in insuring against events that have never happened and probably never will happen within a lifetime of a policy. In the areas where Lancashire operates, some insurers / insurance Syndicates might tend to underwrite very high risk business and then reinsure most of it, thus avoiding a huge loss event but also keeping only a small fraction of profit. In contrast, Lancashire chooses business that makes it highly unlikely they will have a claim at all, and they reinsure only minor part of total premiums written.
An example would be writing a terrorism policy for a manufacturer that has guarded and gated plants outside cities, even though the rate would be far less than what they would get by writing terrorism coverage on the Sears tower in Chicago. Company's management has said that they will not write terrorism coverage within a mile of a likely prime target. Another example with cruise ships - Lancashire would be reluctant to offer insurance for older ships even if client is willing to pay a premium. However, if the question is about newest cruise ship that never sails into stormy seas and has state of the art safety precautions, Lancashire may be one of the underwriters for your coverage at an economical rate. (Albeit Lancashire has suffered a $35m loss due to Concordia incident, which was one of the events that is unlikely to ever happen)
The same applies when it comes to reinsurance. Lancashire is focused mainly on the excess loss business. In these cases, claim payments for LRE are triggered only if either the ceding company's loss or overall industry insured loss (depending on the contract type) is above certain trigger. And usually the trigger is chosen at the level where it is highly unlikely that Lancashire losses will materialize at all except for the most extreme events. And even in those extreme event cases, losses would be easily absorbed by current capital and earnings - their probable maximum loss (PML) from a very bad "hundred year storm" that would cause losses 2.5 times as bad as the losses from Katrina is now equal to only about 8 months of earnings in a low loss year.
Lancashire's approach to choosing to insure carefully selected specialized risks that have a high probability of no loss, has worked very well for CEO Brindle and Lancashire investors over the years.
The company operates just across the street from Lloyd's market in London. CEO Brindle and his team know the key brokers and leading underwriters in the syndicates. They are able to participate in the Lloyd's market (especially after purchase of Cathedral) without being caught up in the institutional imperative.
Fantastic historical performance
Strict underwriting criteria, with a focus on underwriting profit, have resulted in an average combined ratio of only 60%, with the highest being 86%. This compares to a combined ratio of c. 90-110% across insurance industry, where most companies make money from investment returns rather than profitable underwriting. Lancashire's low combined ratio resulted in average ROE of 19% and delivered spectacular returns for shareholders:
- Fully diluted book value per share plus accumulated dividends has grown at a compounded annual rate of 19% since inception;
- Total shareholder return of 430% since inception, compared with 65% for S&P 500, 115% for FTSE 250 and 100% for FTSE 350 Insurance Index;
- The company has returned 187% of original share capital raised at inception in either buybacks or dividends;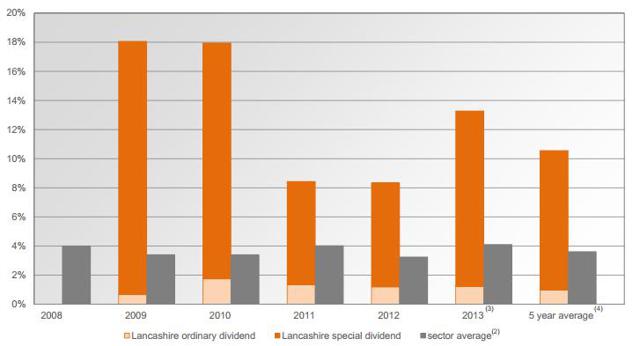 Source: Lancashire 2013 Investor presentation
- Shareholder distributions amount to 90% of cumulative comprehensive income. Thus Lancashire's earnings are owners' earnings in the best sense of that term.
Most importantly, these results were achieved with almost no leverage. - throughout the years debt was only 5%-10% of total assets and equity made up c. 50% of total assets (compare this to equity/assets ratios of 10% at Munich Re and 15% Swiss Re, the largest reinsurers). So the company stayed well capitalized and still managed to produce superior returns on equity.
Key drivers of Lancashire's success since inception
Underwriting profitability is first priority. Company's management continuously focuses on underwriting profitability. Over time combined ratio and growth in fully diluted book value per share correlate strongly and as I have shown above produced superior returns for shareholders. The company carefully considers the probabilities of a loss when they write a policy and prefer to write a policy that will rarely have a loss, even if that means accepting a rate on that policy that may be relatively low compared to other policies that are more exposed to losses.
One reason Lancashire has done so well with less volatile losses is that PMLs for every policy are quickly modeled in a daily underwriting call as their underwriters and actuaries work as part of the same team. Other insurers typically have an adversarial relationship between underwriters and actuaries and concentrate on premium to policy limit, something easier to calculate, but not so good for keeping losses low when there is a big loss event.
Discipline in capital allocation. Lancashire endeavors to match capital to opportunities and not the other way round, leading to a continual use of buybacks and dividends. One could think about Lancashire's capital allocation strategy like this: management could easily raise enough capital to be able to exploit every opportunity that meets their standard for risk adjusted returns; however, as the flow of these opportunities is not constant, during leaner times Lancashire would either have to sit on excess capital (ultimately leading to lower ROE) or go for more high risk business (leading to higher risk profile and more volatile results). Thus, management prefers to keep lower amount of capital and do only the most profitable (risk adjusted) business, and pay earnings out in dividends or share repurchases unless rates are very attractive. This allows management to focus on the most profitable underwriting opportunities as they pop up with very high premiums after major cats. LRE's underwriters are switch hitters, able to drop an entire class of coverage if rates are inadequate and move to a more profitable class. Thus no empire building, just a lean and mean underwriting machine.
Obviously one might question company's ability to assess its capital needs accurately. However I believe Lancashire is very conservative when it comes to loss reserving. The table below indicates how assessment of claims in the initial year compares to actual realized losses and assessment in later years. As you can see, for all the years except 2012 (due to unexpected and very unlikely Concordia loss), actual losses or future expected losses are lower than initially estimated.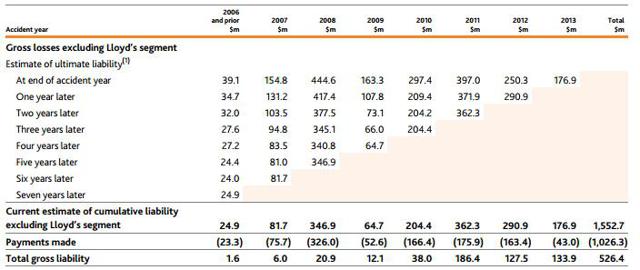 Source: Lancashire 2013 Result release
Solid franchise among clients and brokers. This franchise has been built over time and although 8 years is a rather short period for insurance company to get recognized, prior track record of CEO (20+ years) and other senior underwriters helped a lot. The company aims to be relevant to brokers and clients at all stages of the insurance cycle. After an industry wide shock loss, when other insurers are either unable (due to lack of capital) or unwilling (because they are scared) to underwrite certain risks, Lancashire can respond capably with its well capitalized balance sheet. At the same time, insurance industry cycles produce wide swings in premiums, however, Lancashire aims to increase loyalty of its clients/brokers by offering more price stability - clients are willing to pay extra for Lancashire during soft markets (low premiums, high competition among insurers), as they know that Lancashire will not rip off then when premiums spike after a major shock, even though risk profile of particular client remained unchanged.
Well positioned for all markets. In a soft market, Lancashire exploits pockets of better pricing (within small niche underwriting businesses) and return surplus capital to shareholders. If the market hardens significantly after a major loss shock, Lancashire's strong capital position is a differentiator and its smaller size gives it the ability to respond more rapidly than peers. Its simple operating structure helps to manage risk through a daily underwriting call with all senior management and maintains underwriting discipline as it does not have to write business just to cover a large fixed cost base.
All these characteristics differentiating Lancashire business from other insurance companies have resulted in excess returns for company owners. All of them are still valid today and I believe will continue to drive excess returns for company's shareholders.
Quality management with significant holdings in the company
Lancashire is run by people who excel at capital management as well as underwriting throughout the cycle. CEO Richard Brindle was the long-time deputy underwriter to John Charman at Lloyd's from the mid 1980s to 1999 (his track record in the charts below). You will find that Brindle is not your average insurance executive. In addition to having a great track, he is young, very smart, savvy and tough operator - Lancashire's financial performance so far speaks for itself.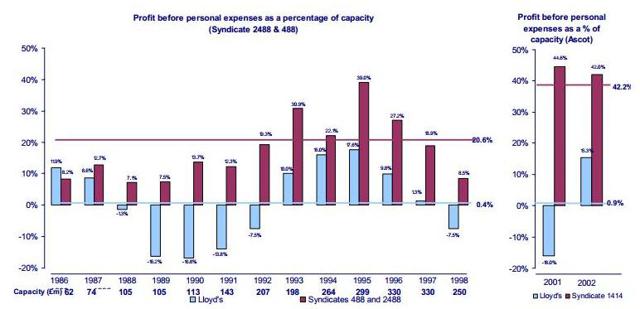 Source: 2006 Investor presentation (Brindle was main underwriter in Syndicates 488, 2488 and 1414)
Brindle owns 858k shares valued at $10m, other management members and directors own another 660k shares (or $7m). At the same time, management has a large holding of warrants, which were awarded back in 2005 with the listing of the company. Warrants have exercise price of $5 and accrue dividends. Richard Brindle owns 6.4m warrants (currently valued c. $50m). Thus his total holding in the company amounts to $60m or 3% of the company. Actually most of Brindle's wealth is in a form of Lancashire's stock, thus interests are very well aligned with common shareholders.
A further 14m of warrants is owned by Capital Z (effectively giving 8% control of Lancashire), a hedge fund controlled by one of the non-executive directors. Capital Z was a founding partner of Lancashire and has stayed with the company since.
Larger shareholders include Invesco Ltd (10%) and Standard Life Investments (9%), other company shareholders are widely distributed among institutional and retail investors.
There has been some recent selling from the management/directors; however, this was mainly caused by exercise and subsequent sale of performance awards and resignation of one of directors. Core holdings of management/directors have actually increased over the last years. Obviously, would be nice to see management buying up additional shares or keeping exercised performance awards, but at least CEO probably already has sufficient stake in the company
New businesses - Kinesis and Cathedral
In H1 2013 Lancashire formed capital management division - Kinesis. The division is focusing on managing third-party capital to be deployed in Lancashire's underwriting of insurance risks. Kinesis has underwritten its first tranche of multi-class reinsurance agreements with combined aggregate limits in excess of $250m in Jan 2014, following a successful fund raising of capital from a number of external investors (Lancashire contributed 10% of this). The company has reported high interest from investors in such services and total funding for the vehicle is expected to be c. $300m to $500m during 2014. I have estimated that Kinesis business is likely to generate fees for Lancashire in the range of $12m-$15m (excluding any profit shares on equity investments) during 2014 and likely to grow further with expansion in assets under management.
In Nov 2013, Lancashire acquired Cathedral Capital, a privately owned Lloyd's insurer, for $425m. This is the first acquisition for Lancashire as so far the company has grown internally. The deal was partly financed by internal cash and partly by issuing 17m common shares (10% of LRE share capital at the time). The acquisition has enabled Lancashire to benefit from direct participation in Lloyd's, the world's leading specialist insurance market as well as expanded its underwriting capacity (c. 40% increase in written premiums is estimated).
There seems to be a very good fit for Cathedral's business within Lancashire as both companies appear to have similar values and strategic goals with a proven historical performance. Cathedral has a great underwriting record (combined ratio of 87%), better than almost all except Lancashire. They generated average ROE of 26% compounded and Cathedral's management has a record that goes back 20+ years. Moreover, Cathedral has long standing client and broker relationships (60% of clients are with a company for 20 years).
Cathedral made profit after tax of $6.4m for 1.6 months it has been part of Lancashire, this translates into c. $50m annualized. However, Cathedral's profit to earned premiums margin is 16%, much lower than Lancashire's 40%. Assuming the margin reaches at least 30%, Cathedral could be generating c. $90m in annual after tax profits.
Valuation
Two new streams of earnings will add to Lancashire's bottom line during 2014:
- Kinesis business could generate in the range of $12m-$15m from fees alone, excluding profit share on equity investments.
- Cathedral business will likely add c. $90m, assuming Cathedral's underwriting reaches the profitability levels of Lancashire (which is very likely due to changed financing structure).
None of the above has been reflected in 2013 results as Kinesis fully launched only in Jan 2014 and Cathedral was acquired in Nov 2013 (only 1.5 month of operation included in 2013 results). Thus significant ($100m or 45%) boost in earnings is likely and total 2014 profit after tax should be c. $325m.
On a forward earnings basis, LRE is currently valued at P/E= 6.9 which is significantly below P/E=10 that the company has been trading over the last few years. Thus even if the market does not revalue the company relative to its earnings but merely keeps it at the same historical level (PE=10) when higher 2014 earnings materialize, share price should see a 45% upside. With higher earnings, Lancashire is very likely to increase dividend payout as company is aiming to return all excess cash for shareholders and does not foresee any further business expansions currently.
Moreover, higher earnings from new businesses are already likely to be reflected in Q1 2014 results, thus investors might realize the upside even sooner than the year end.
There is also a further upside. Company with such stable earnings that are uncorrelated with overall stock market (see positive LRE performance during 2008 crisis), shareholder friendly management with a great track record and a spectacular historical performance should be worth much higher multiple (e.g. least PE=15). The same applies to P/BV - company generating long term ROE=19% should be valued around P/BV=2 excluding cash. These higher multiples would imply Lancashire's equity valuation of c. $4bn-$5bn (vs $2.25m currently) indicating 80%-120% upside. Obviously, this might take longer to materialize than the above mentioned earnings boost from new businesses.
The downside for investors is very limited. Current Lancashire's valuation is already at the lower end of the spectrum and high sustainable earnings/dividend yield (which will increase even more) should stop share price from dropping any further.
Thus Lancashire provides with asymmetric return opportunity, and most importantly even if the upside takes longer to materialize, investors would get paid a generous dividend for their patience.
Why the opportunity exists and thoughts about the bear case
- 2013 results do not yet reflect the earnings potential of Kinesis and Cathedral and thus market price does not recognize any upside from the acquisitions. However, earnings from these new businesses will almost surely boost Lancashire's bottom line by 40-50% in 2014 and provide further growth possibilities in new sectors -Lloyd's insurance market as well as third party capital management in insurance risk. The increase in earnings is likely to be evident already in Q1 2014 results (due in May 2014). Thus significant upside could be realized already in a few months.
- Announced special dividend in 2014 was lower than what market expected and caused share price to drop almost 10% in a day. However, lower special dividend seems normal with a backdrop of Cathedral acquisition, which has consumed significant amount of cash. Thus this lower special dividend announcement has no effect on Lancashire's long-term value and only caused short-term investors to depart creating a buying opportunity.
- Market might be skeptical about successful integration of Lancashire and Cathedral. However, keeping in mind cultural and operational fit between the companies (similar focus on profitable underwriting and growing shareholder value), I do not think there should be any major issues. It might take a bit longer than I project, but ultimately the Cathedral acquisition will be value adding.
- Lancashire had to issue new shares to buy Cathedral (10% of the equity at the time), which market might view as a negative for a long-term investment. However, Cathedral was acquired at P/BV and P/E below those of Lancashire at the time, so in my eyes looks like a fair deal for the original shareholders of Lancashire. Keep in mind that Buffett has also used equity issues to finance BRK acquisitions a number of times (BNSF being the latest).
- And most importantly, Lancashire's massive dividend yield (c. 10%) is hidden from any stock screeners, as ordinary dividend is small (1.2%) and most of the payouts are done in a form of special dividend. Thus, the company might not appear on the radar of investors looking for high yielding companies.
- Due to cyclicality of insurance industry, the pricing of some insurance products where Lancashire operates is under pressure due to increasing competition (see chart below), however, overall pricing for the portfolio declined by only 2% YoY (see renewal index in the table below). This might cause LRE to stop writing new business when the price gets below strict 'profitable underwriting' criteria. However, as with most value stocks that are also good businesses, Lancashire will very likely shine more brightly when the insurance cycle reverses and business conditions are less favorable in general (as we have seen during 2008 crisis and massive insurance industry losses during 2011).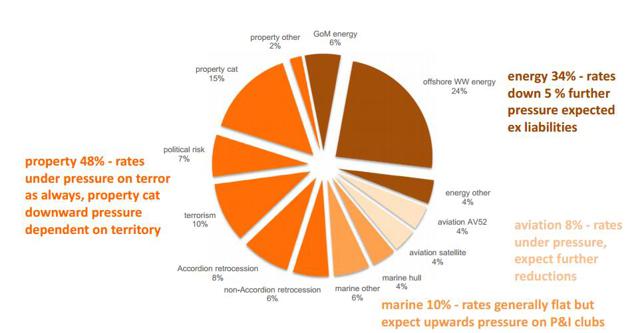 Source: Lancashire 2013 Investor presentation

Source: Lancashire 2013 Result release
- Recent stock sales by management and directors following execution of performance rights have created wrong impression in the market. However, as noted above, overall shareholdings of insiders have actually increased during the year.
Risks
- High catastrophe loss year - a couple of 100 year PML events hit in the same year - causes Lancashire to lose 30%-40% of their capital. That would be a much worse situation than 9/11. Insurance market would harden right away and rates would go through the roof. Some companies will go out of business and the others would have either to contract their underwriting (at the time when expansion would be very profitable) or raise new capital to take advantage of high rates. Lancashire's history indicates that management is able to take advantage of hardening insurance markets. And even if new capital is required, CEO's reputation and track record would go a long way in convincing investors to provide cash. In any case even without additional capital Lancashire could easily withstand even a couple of 250 year PML events in a single year. Thus a real apocalypse would have to land upon us to put Lancashire out of business.
- CEO departure - a lot of what I have discussed in this article relies on Brindle's skills and his ability to successfully run business, so his departure (no indications that it will happen any time soon) might have an adverse effect on long-term prosperity of the company. However, Brindle is still young at 51 (compared to 83 for Buffett) and has gathered a great team in Lancashire, who should continue running business under the same shareholder value creating principles even after an unlikely departure of CEO.
Disclosure: I am long LCSHF. I wrote this article myself, and it expresses my own opinions. I am not receiving compensation for it (other than from Seeking Alpha). I have no business relationship with any company whose stock is mentioned in this article.