Netflix (NASDAQ:NFLX) was a stellar stock last year. Its recent outstanding quarter showed us that the company's potential is still quite large. It all started with the DVD subscription model, which I liked. Netflix has stayed ahead of the tech-curve by pivoting to a streaming model, which I like even more.
Netflix quickly became the number one on-demand Internet streaming platform, and it's also added original content creator to its resume. Even though there have been concerns of rising content costs, the company has worked hard to address those with strategic agreements, like a recent deal with Comcast (NASDAQ:CMCSA).
Some of the biggest potential still lies beyond just last quarter. As the company makes an accelerated shift toward original content, it will help mitigate the concerns over rising content costs and plateauing of subscriber growth.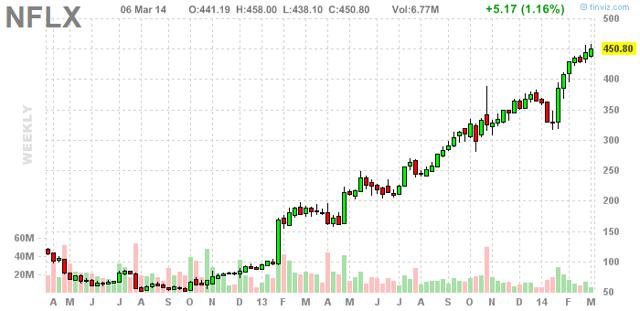 Driving subscriber growth even higher
The Netflix platform and mobile apps work quite nicely. Continued success really lies in providing exceptional and diversified content. Last quarter, Netflix continued to report impressive subscriber growth. Domestic streaming subscribers came in at 3.4 million and International streaming subscribers at 10.93 million, both exceeded the high-end of guidance.
By working simultaneously on domestic, international, and mobile markets, Netflix is ensuring that user growth continues at a similar or better pace next year. Netflix has licensing agreements with several big Hollywood production houses, and it has expanded its original programming portfolio through partnerships with the likes of DreamWorks Animation, AMC and most recently Walt Disney. Meanwhile, on the international front, Netflix is mitigating losses, and has since decided to exacerbate expansion into additional European markets in 2014.
Cutting the cable, really?
Netflix has revolutionized how many consume TV and movies. Kind of like the chicken and the egg question, is Netflix's platform helping consumers realize they don't cable, or are consumers that are tired of paying high fees flocking Netflix because it's the cheaper and better option? Either way, does it really matter?
All I know is that people are tired of paying high bills to cable companies for a lot of channels they don't watch. Netflix offers consumers the ability to watch TV on demand at a tenth the price of cable.
Now, the other interesting aspect is Netflix's move to original content. With original content, especially award winning content like Orange is the New Black and House of Cards, Netflix is basically taking the market share away from cable. Not only does this attract new subscribers, but margins on original content are higher than on licensed content.
The recent deal with Comcast, which gives Netflix guaranteed bandwidth for streaming services, now offered directly through Comcast instead of subsidiaries, should have lasting benefits. The deal is important as it means better quality video. Securing a premium bandwidth means less competition and therefore secured market share. In addition, Netflix will be able to avoid the middleman, in turn decreasing expenses and affording it better margins.
Netflix might not be done rewarding investors
Netflix continues to be an innovator. Myself, Reed Hastings, and other investors have embraced Netflix's ability to embrace change in the entertainment content industry creative solutions. Not everybody agrees with the valuation.
However, based on Netflix's ability to continue getting impressive free cash flow, there is still upside to the stock. Assuming that Netflix can grow free cash flow at a 4% rate over the next five years, and then using a long-term free cash flow rate of 3%, fair value is $540. This assumes a 10% discount rate and accounts for over $3.2 billion in off-balance sheet liabilities.
The company is great at reinventing itself as time passes and the industry changes. "Give people what they want, when they want it, in the form they want it in, at a reasonable price" is the company's strategy summed up by Kevin Spacey of House of Cards. From DVD mail-order subscription service, to Internet streaming media, to original content creator, Netflix knows how to make money, engage customers and stay at the top.
Disclosure: I have no positions in any stocks mentioned, and no plans to initiate any positions within the next 72 hours. I wrote this article myself, and it expresses my own opinions. I am not receiving compensation for it (other than from Seeking Alpha). I have no business relationship with any company whose stock is mentioned in this article.