In the monthly release of traffic data, American Airlines Group (NASDAQ:AAL) reported solid February results despite a brutal winter. In the past, a bad weather would've sent the airline industry into a tailspin, but this isn't your fathers airline industry anymore.
American Airlines Group is a massive airline after merging American Airlines and US Airways back in December. The combination hasn't skipped a beat even in the face of extreme weather that could've disrupted or even crippled operations of a badly operated airline.
Despite the challenging operating environment, American Airlines produced solid numbers for February that even rivaled top operator Delta Air Lines (NYSE:DAL). With the stock at $39, American Airlines has earnings potential of $6 in 2015 suggesting a higher stock price.
Strong Results Despite Weather
During February, the global airline had to cancel 14,000 flights, up an incredible 149% versus February 2013. Even with the massive cancellations, total revenue passenger miles, or RPM, were up 0.5% compared to the prior year. Below were the highlights from the February traffic report:
Total passenger load factor was 78.4% for the month of February, down 0.3 points versus February 2013.
RPMs for February were 15.1 billion, up 0.5% versus the prior year period.
Total capacity was 19.2 billion available seat miles, or ASMs, up 0.8% versus February 2013.
Severe weather impacted hubs in Charlotte, Chicago, Dallas/Fort Worth, New York, Philadelphia, and Washington, D.C.
In February, the company canceled more than 14,000 flights, up 149% versus February 2013. In the first two months of 2014, the company canceled approximately 28,000 flights, a 164% increase over the same period last year.
The company forecasts that Q114 passenger revenue per ASM, or PRASM, to be up approximately 2% to 4% versus Q113.
Not too surprising, but the domestic load factor actually gained 0.7 points due to slightly reduced ASMs during the month. The Atlantic and Latin America load factors took the biggest hits most likely due to passengers' inability to make connecting flights leaving for those destinations. The company predicted that the weather-related cancellations had a large negative impact on unit cost and profitability during the first quarter, but the traffic related numbers powered through the storms.
Comparative Delta Results
While the American Airlines merger is off to a good start, Delta Air Lines continues to be the best of breed of the legacy airlines. The airline forecast February consolidated PRASM of over 4.0% after canceling 8,000 flights during February. It offers slightly less flights than American Airlines so the numbers aren't completely comparable, but it was clearly less impacted by the weather.
Delta Air Lines reported total system RPMs grew 2.4% leading to the load factor reaching 81.2%, up 2.1 points over last year. The load factor of American Airlines continues to trail that of Delta providing potential upside as the integration progresses.
Extremely Attractive Valuation
Even after a substantial gain after the completion of the merger, American Airlines has an attractive valuation. The stock along with the sector continues to trade at stock market low earnings multiples. See the chart below: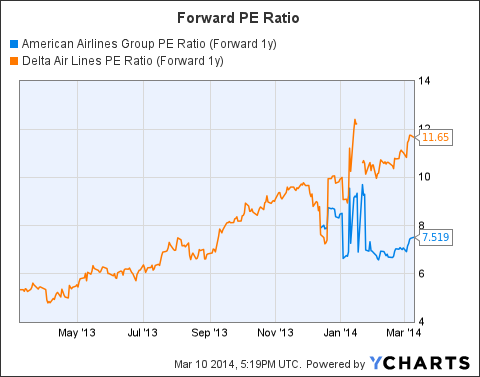 AAL PE Ratio (Forward 1y) data by YCharts
York Capital Management investing icon James Dinan suggested on CNBC that American Airlines could earn $6 in 2015. He suggests using a 10 multiple to value the stock at $60. Investors need to grasp that a 10 multiple would still place the stock and the airlines industry extremely blow stock market multiple averages. It only takes earning $6 in 2015 and a 12 multiple for the stock to nearly double to $72.
Conclusion
The solid February results generated by both American Airlines and Delta Air Lines is another sign that the industry has transformed into businesses investable for the long-term. The weather related issues will definitely hurt first quarter profits, but the ability to survive the polar vortex winter with limited impacts helps set up a very profitable future. Considering the solid results of American Airlines Group in the middle of integrating a major merger, the stock is extremely undervalued along with the sector. The stock has considerable upside if he only reaches a normal earnings multiple based on 2015 earnings approaching $6.
Disclosure: I am long AAL. I wrote this article myself, and it expresses my own opinions. I am not receiving compensation for it (other than from Seeking Alpha). I have no business relationship with any company whose stock is mentioned in this article.
Disclaimer: The information contained herein is for informational purposes only. Nothing in this article should be taken as a solicitation to purchase or sell securities. Before buying or selling any stock you should do your own research and reach your own conclusion or consult a financial advisor. Investing includes risks, including loss of principal.