After publishing my recent article on the RisingRatesBondStrategy, RRBS, I developed a better strategy using the same ETF universe that RRBS employs but with different tactical parameters. Please read the previous article for background information that I will not repeat in this article. This present article will focus on the changes made to the original RRBS and will present backtested results for the modified strategy. I call this modified strategy the RRBS2. I will also introduce a third tactical bond strategy called RRBS3.
The ETF universe for these strategies consists of four bond ETFs:
1) AdvisorShares Peritus High Yield Bond ETF (NYSEARCA:HYLD);
2) PIMCO BofA ML 0-5 Year High Yield ETF (NYSEARCA:HYS);
3) iShares Barclays 7-10 Year Treasury ETF (NYSEARCA:IEF); and
4) ProShares Short 7-10 Year Treasury ETF (NYSEARCA:TBX).
At least one of the ETFs should be profitable in any market condition, but, if not, the fallback cash position is SPDR 1-3 month T-Bill ETF (NYSEARCA:BIL).
Backtesting is used on tactical strategies to test the feasibility of a given strategy. The backtesting of bond ETFs is problematic because of the relatively short timespan of most bond ETFs. HYLD has an inception date of late 2010, and HYS and TBX have inception dates of 2011. In order to get longer backtested results, I have used a proxy for HYS: Vanguard High Yield Bond Mutual Fund (MUTF:VWEHX). It's not a perfect match, but VWEHX is in the same high yield, low duration bond class as HYS. And VWEHX goes back to 1991. I could not find an adequate proxy for HYLD or TBX. IEF has an inception date of 2002, so there was no issue with IEF. Thus, when I backtest to 2004, only VWEHX and IEF are active until 2011, and all four ETFs become active only after 2011. I know many will object to this method and length of backtesting (I don't like it either), but it's the best I can do for now.
Previous development of the RRBS resulted in the following relative strength parameters: six-month relative growth and 20-day relative growth, with a weighting of 40% and 60% respectively to determine a final ranking. One ETF is selected each semi-monthly period. The top-ranked ETF must pass a three-month moving average filter to be selected; if not, then cash is selected (Barclays Low Duration 2-Year Treasury (NYSEARCA:SHY) when backtesting to 2004 and BIL when backtesting to 2012). The modified RRBS, i.e. RRBS2, ended up having an extra relative strength parameter: volatility. The final ranking categories are six-month growth, 20-day growth and 20-day volatility, weighted 25%, 50%, and 25% respectively. That's the only change from RRBS.
Backtested Results
The backtested results (2004-2014) for RRBS using the ETFreplay software are shown below. These results employ VWEHX as a proxy for HYS, so the full suite of ETFs are only used after 2011. I have put RRBS numbers in parentheses. The compounded annual growth rate, CAGR, is 11.7% (12.1%), the volatility (annualized standard deviation of daily returns) is 5.4% (5.4%), the maximum drawdown is 5.4% (5.5%), and the Sharpe Ratio is 1.81 (1.87). So you can see the improved version is essentially the same as the original version.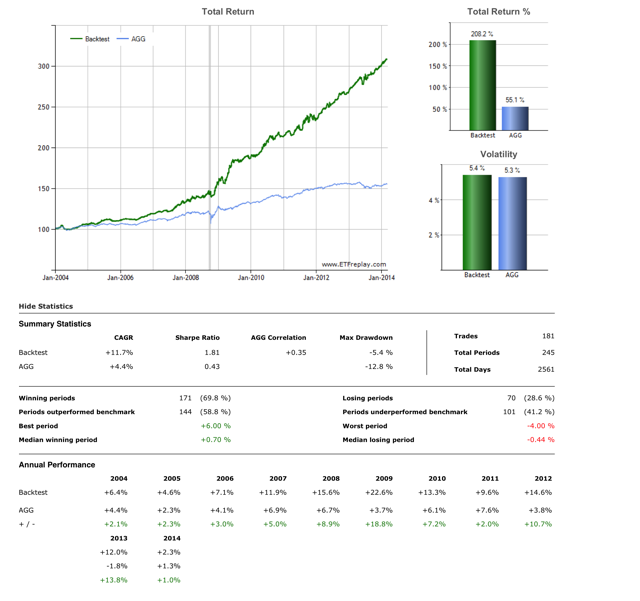 So why am I presenting a new version if the results are essentially identical? I'm glad you asked. It is the results in the 2012-2014 timeframe that are vastly improved with RRBS2. And remember, it is only in this timeframe that all four ETFs are active engaged in the backtesting. For these years, I have replaced VWEHX with HYS. When the RRBS2 is backtested from 2012-2014, the results are as follows (with the RRBS results in parentheses): the CAGR is 15.3% (13.4%), the volatility is 4.4% (4.7%), the maximum drawdown is 4.1% (2.8%) and the Sharpe Ratio is 3.27 (2.74). Thus, we see RRBS2 is better in all categories of performance and risk compared to RRBS except maximum drawdown. But a maximum drawdown of 4.1% is still quite low.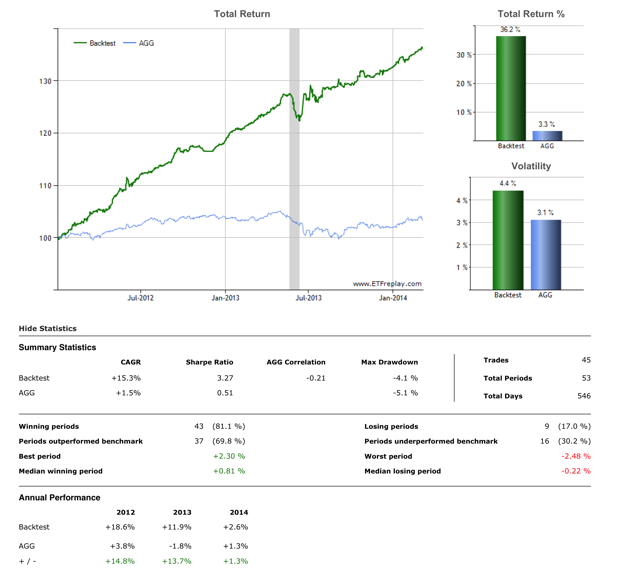 I also looked at one modification to RRBS2. I call this modified strategy RRBS3. Instead of using TBX as my short bond ETF, I employed a longer term short treasury bond ETF: ProShares Short 20+ Year Treasury ETF (NYSEARCA:TBF). Using TBF instead of TBX increases the CAGR of the strategy at the expense of volatility. The backtested results from 2012-2014 using TBF instead of TBX are shown below. Using TBF, the CAGR is 17.2%, the volatility is 6.6%, the maximum drawdown is 3.8%, and the Sharpe Ratio is 2.45. Thus, using TBF instead of TBX increases the CAGR from 15.3% to 17.3%, but the volatility goes from 4.4% to 6.6%.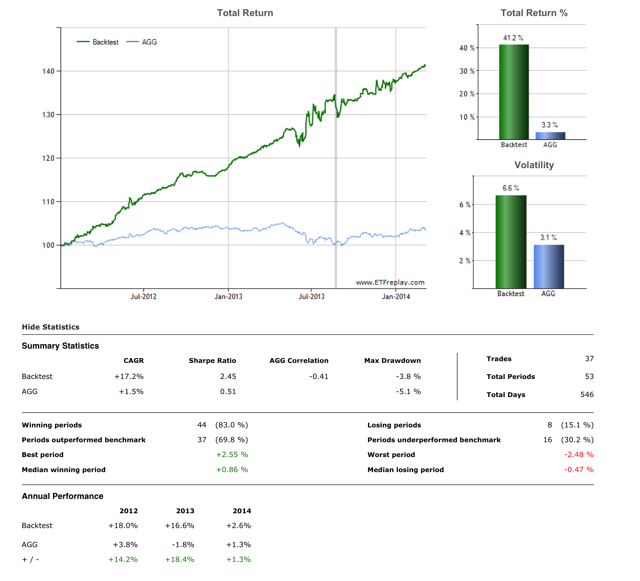 Conclusions
I think RRB2 and RRB3 are better tactical bond strategies than RRBS. I will post the semi-monthly selections of RRBS2 and RRBS3 on my Instablog, along with the recommendations of the other tactical strategies I have developed. The recommendations will be posted the night before the next trading day (on a semi-monthly basis).
Disclosure: I am long HYLD. I wrote this article myself, and it expresses my own opinions. I am not receiving compensation for it. I have no business relationship with any company whose stock is mentioned in this article.