Recent articles on Barron's (ExxonMobil: Stalled Again) and Seeking Alpha (Exxon Mobil Needs A Big Dividend Hike This Year) subjected Exxon Mobil (NYSE:XOM) to harsh critique. Among the grievances were low dividend yield, lagging production growth and potential difficulty with replacement of reserves. While these concerns have validity, there are several silver linings that make Exxon Mobil an attractive investment at this time.
Throughout this article, Exxon Mobil will be compared with other oil and gas super majors in its peer group, namely Chevron (NYSE:CVX), BP plc (NYSE:BP), Royal Dutch Shell (NYSE:RDS.A),(NYSE:RDS.B) and Total (NYSE:TOT).
Exxon Mobil will add more to its already extensive reserves; the company is inexpensive in this context
The company's trailing four year reserve replacement is on par with the best in its peer group. The current total proved reserves exceed 25 billion oil-equivalent barrels. 20 straight years of more than 100% replacement of reserves is an enviable record: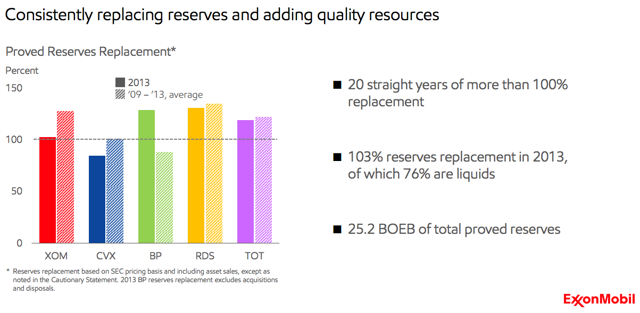 The company operates in a very efficient manner, its recent earnings per barrel of reserves (about $18) exceeding those of every peer group member other than Chevron: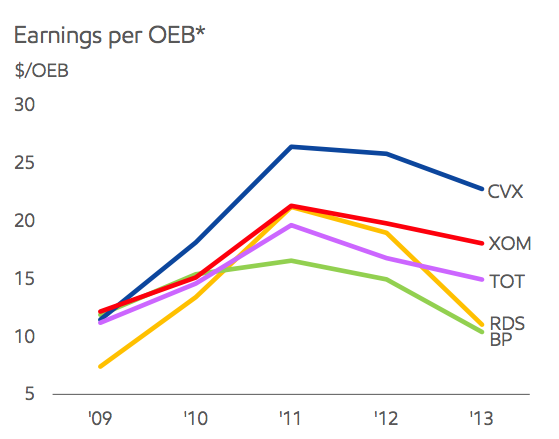 Here is a quick way to value Exxon Mobil: if the company can continue to earn $18 per barrel in the future, and never replaces a single additional barrel of reserves, it can earn $18 * 25 BOEB = $450 billion. The current market cap is $410 billion. If an investor buys Exxon Mobil right now, he or she will receive chemical and downstream businesses for free.
It is quite likely that the company will continue to replace reserves: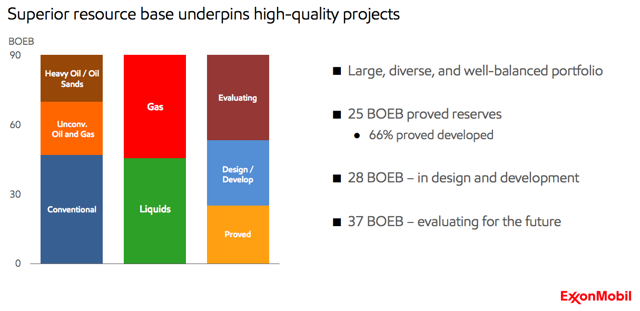 Those who note Exxon Mobil's lagging production growth may wish to look at it another way: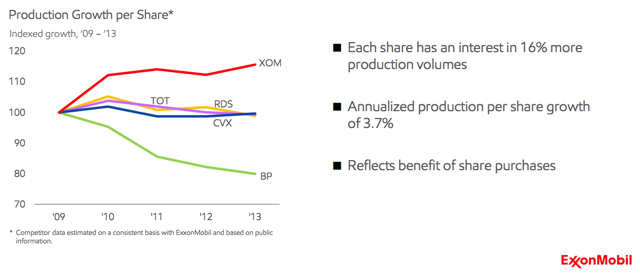 Granted, share buybacks did play a role in growing per-share production, but this is why buybacks are done.
Company's chemical and downstream businesses offer meaningful upside
Chemical and downstream businesses represent a significant portion of Exxon Mobil's total 2013 earnings:
| Segment | 2013 Earnings |
| --- | --- |
| Upstream | $26.8 billion |
| Downstream | $3.4 billion |
| Chemical | $3.8 billion |
| Total* | $32.6 billion |
*The numbers do not exactly add up, unsure why
Combined, downstream and chemical businesses account for just over 22% of total earnings, a fairly significant portion. Should the WTI - Brent spread again widen to levels approaching those of 2012, downstream earnings will increase significantly: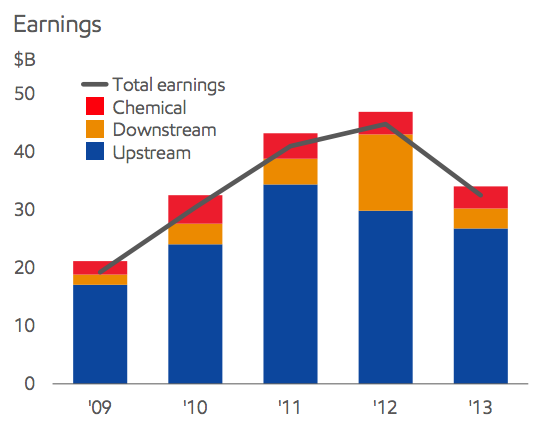 Phillips 66 (NYSE:PSX), for example, often receives credit for making money from the WTI - Brent spread. However, Exxon Mobil with its massive refining capacity is positioned to similarly benefit: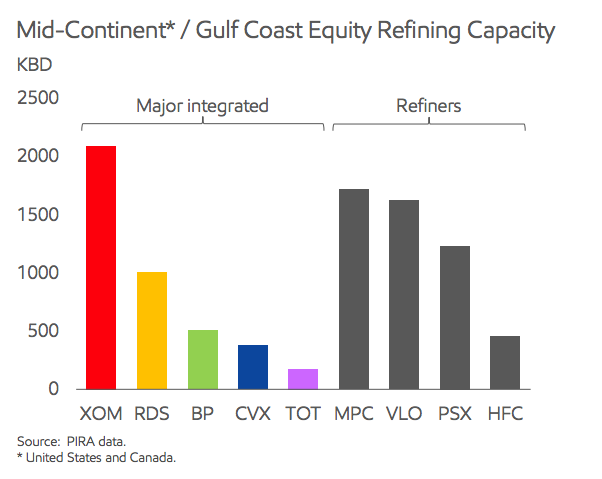 Exxon Mobil is presently working on reducing downstream operating costs and increasing high-value product yield, as well as increasing light and heavy crude processing capacity.
Within the chemicals segment, Exxon Mobil is developing major projects in the United States, Saudi Arabia, and Singapore to increase diesel and lubricant production, as well as production of other specialty chemicals. These projects are demand-driven and should further enhance earnings.
Exxon Mobil's experience and financial strength confer advantages when operating on the global scale
It is revealing to look at the "satellite view" of Exxon's operations. A global presence provides geopolitical diversification and ability to fine-tune asset portfolio as necessary.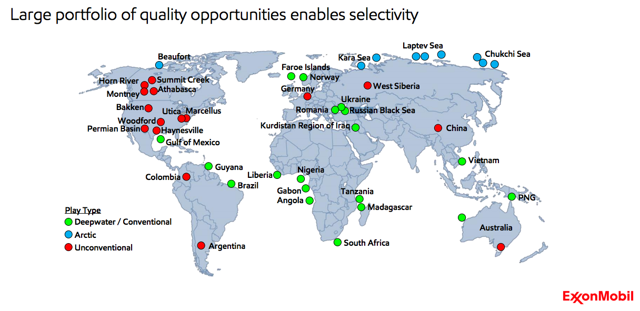 Some countries, such as Russia, have enormous untapped resources but lack the experience and/or capital necessary for their development. Exxon Mobil's unparalleled technical know-how and access to capital are the reasons why the company was chosen to participate in exploration and production of Arctic resources in Laptev, Kara and Chukchi Seas.
With the XTO purchase, Exxon Mobil also acquired extensive expertise in development of unconventional resources. Perhaps this is why it can participate in promising South American (Vaca Muerta, La Luna) and Canadian (Clyden Oil Sands, acquired from Conoco Phillips in August, 2013) unconventional projects.
Company is on track to increase dividend payout
After a streak of meager single-digit dividend increases during the years 2009-2011, Exxon Mobil increased its dividend by 21% in 2012 and by another 10.5% in 2013. Given the trailing dividend payout ratio of approximately 33%, the company can afford to significantly increase its dividend. I fully expect Exxon Mobil to do exactly that in approximately 2 months.
Conclusion: Exxon Mobil has ample reserves, which it is poised to grow and with respect to which it is undervalued. Downstream and chemical businesses also offer significant upside potential. The company's financial strength, extensive experience and global footprint offer unparalleled flexibility. With a likely significant dividend increase in about two months, Exxon Mobil is an attractive investment at this time.
Disclosure: I am long XOM, BP, RDS.A, RDS.B, TOT, PSX. I wrote this article myself, and it expresses my own opinions. I am not receiving compensation for it (other than from Seeking Alpha). I have no business relationship with any company whose stock is mentioned in this article.