This is part 4 in a continuing series of articles discussing building a portfolio of dividend income equities. The strategy seeks to use value investing principles and apply them to stable companies offering reliable dividends. Further safety is sought by diversifying through a wide range of industry segments and often using multiple tickers in each of those segments.
In preparing this installment, I found it will be best to limit each in-depth analysis to one single ticker rather than evaluate 3 tickers per installment. This will avoid excessive length and provide the reader with a digestible serving. The single ticker presentation will help maintain focus and leave investors with time to complete their own research prior to the next installment in the series.
The first screen focuses on individual equities weighted to large cap companies over $10 billion. A simple screen run on Google Finance was used. It identified 87 companies within from the screen criteria for further study as possible portfolio candidates.
The preliminary screening criteria:
Market cap of $10 billion or greater (to focus on strong companies).
P/E ratio between 1 and 35 (to avoid extreme bubble situations and blue sky companies).
A dividend yield of 4% to 12% (avoiding many of the mREITs and value traps).
A price performance history for the past 52 weeks between 200% rise and -50% decline (again removing the largest bubbles and those in a complete death spiral).
Eighty-seven (87) tickers were identified by the initial screen. From these, I filtered out companies I found had overly unstable history of dividends, steep declining price trends, or other characteristics suggesting they did not represent value. I also culled REITs, MLPs, and some companies that represented an over redundant supply of similar companies in the same sector, such as energy or finance. Those tickers not offering options were also eliminated. The list pared down to 16 companies meeting the filter criteria and providing current option opportunities at interesting prices.
The original 87:
(click to enlarge) (source: finance)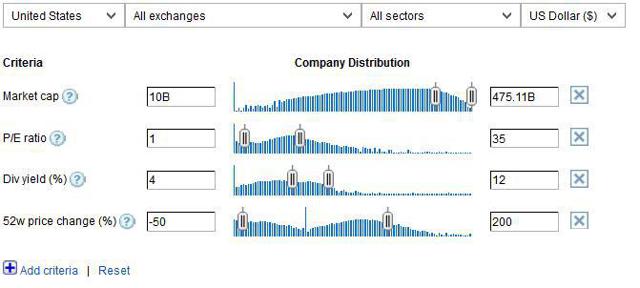 (click to enlarge)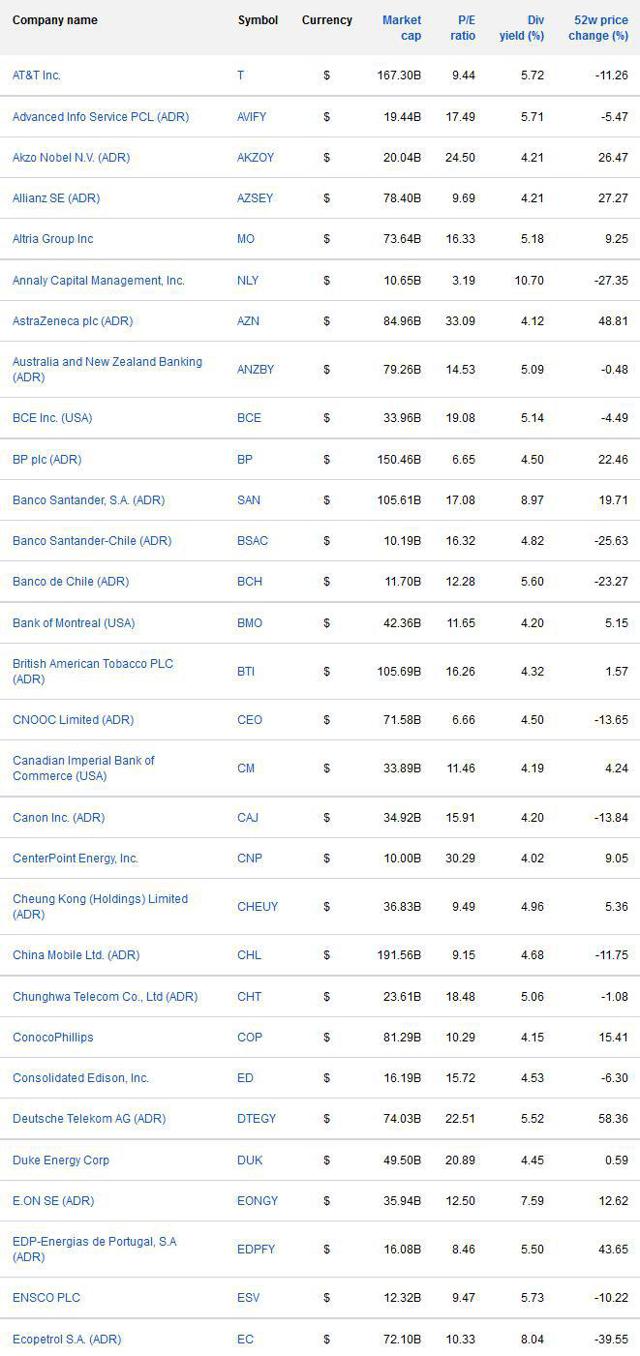 (click to enlarge)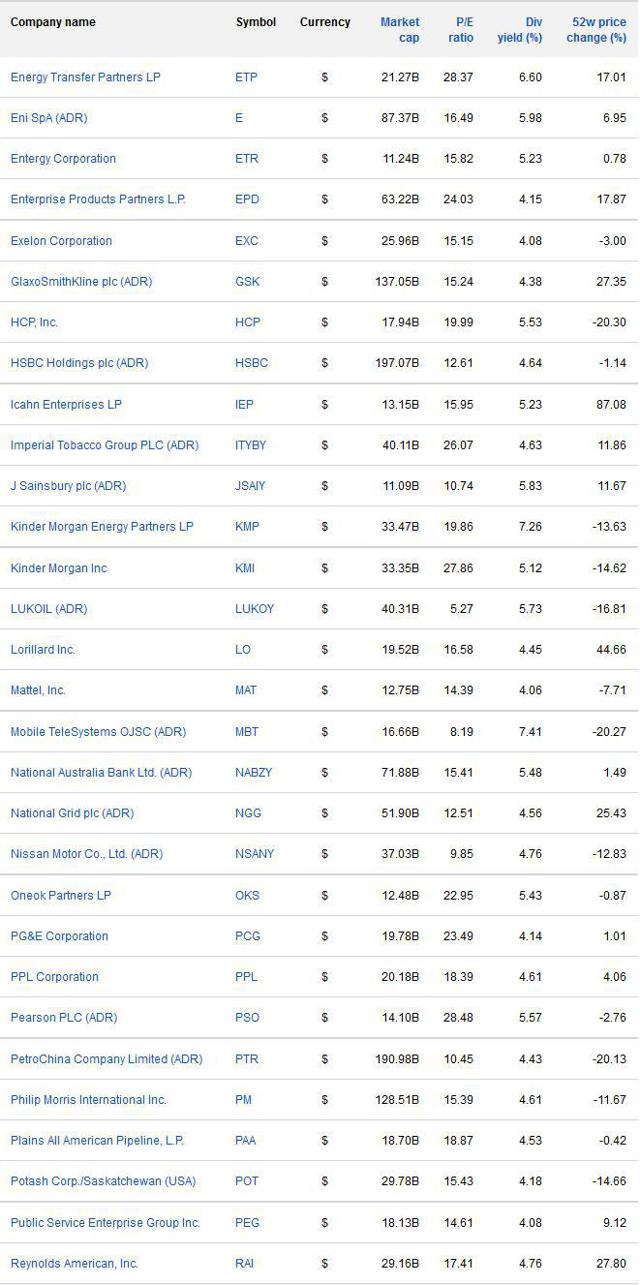 (click to enlarge)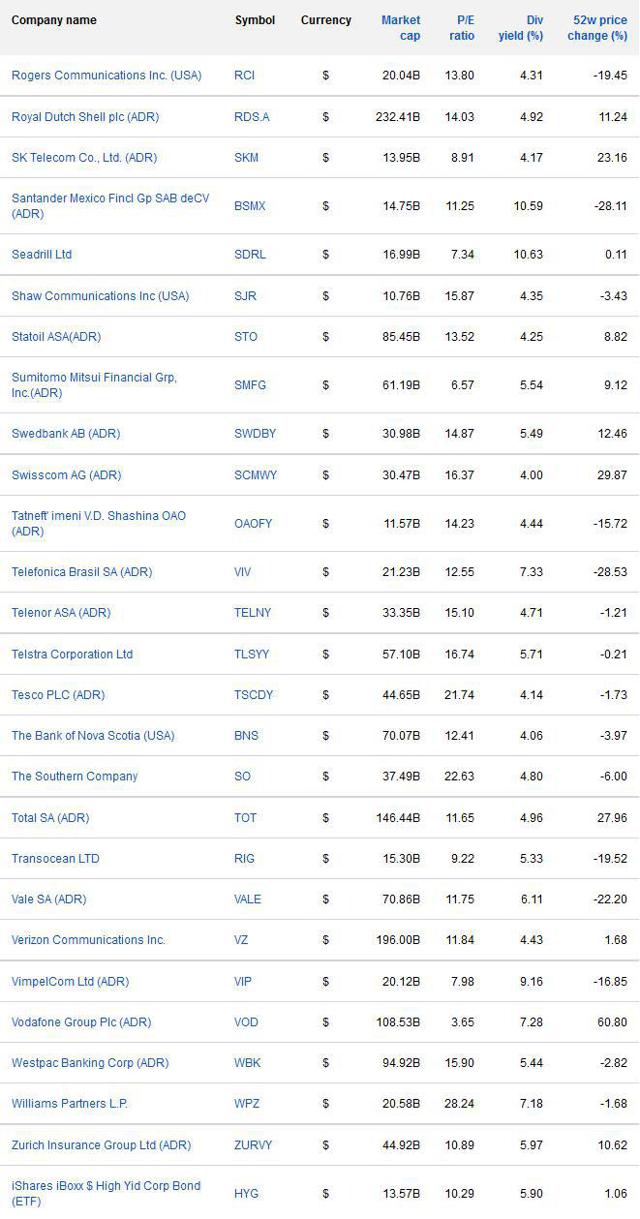 From this preliminary screen, I have selected a list of 16 tickers for further review. My reasons for doing so were discussed in part 3 of this series and are again listed above.
16 Candidates for Further Evaluation:
| | | | |
| --- | --- | --- | --- |
| Company (Ticker) | Recent | Annual | Dividend |
| | Price | Dividend | Yield |
| GlaxoSmithKline (NYSE:GSK) | $ 56.22 | $ 2.47 | 4.43 % |
| Verizon (NYSE:VZ) | $ 48.12 | $ 2.12 | 4.56 % |
| Bank of Nova Scotia (NYSE:BNS) | $ 57.56 | $ 2.33 | 4.06 % |
| Altria (NYSE:MO) | $ 35.53 | $ 1.92 | 5.46 % |
| Philip Morris Intl. (NYSE:PM) | $ 79.71 | $ 3.76 | 4.72 % |
| AT&T (NYSE:T) | $ 33.18 | $ 1.84 | 5.60 % |
| ConocoPhillips (NYSE:COP) | $ 64.92 | $ 2.76 | 4.25 % |
| Reynolds American (NYSE:RAI) | $ 48.51 | $ 2.68 | 5.63 % |
| Entergy (NYSE:ETR) | $ 65.05 | $ 3.32 | 5.10 % |
| Southern Company (NYSE:SO) | $ 42.40 | $ 2.03 | 4.81 % |
| PPL Corp. (NYSE:PPL) | $ 31.79 | $ 1.49 | 4.71 % |
| Lorillard (NYSE:LO) | $ 48.22 | $ 2.46 | 5.10 % |
| Canadian Imperial Bank (NYSE:CM) | $ 81.25 | $ 3.61 | 4.45 % |
| Icahn Enterprises (NYSE:IEP) | $112.37 | $ 5.00 | 4.45 % |
| Blackstone Group (NYSE:BX) | $ 31.70 | $ 1.34 | 4.27 % |
| Potash Corp of Saskatchewan (NYSE:POT) | $ 33.63 | $ 1.40 | 4.17 % |
Today's Evaluation: GSK:
I have chosen GlaxoSmithKline to begin our evaluation because it is a good example of the process.
GlaxoSmithKline
| | | | |
| --- | --- | --- | --- |
| GlaxoSmithKline | $ 56.22 | $ 2.47 | 4.43 % |
GlaxoSmithKline is a pharmaceutical company founded in 1935 and based in the United Kingdom. The company has a long history of share price appreciation and dividend growth, with effective yields ranging from 4.4% to 5.5%. Like most dividend income stocks, share price is driven by effective dividend yield related in the formula Y=D/P (where Y is yield, P is share price and D is dividend distribution).
A study of Glaxo's YPD chart indicates that share price may be running near the high side of the value range since the rapid price run-up that began in March 2013. Yields prior to that time were averaging about 5.25% and price advance outpacing distribution growth has since driven yields down into the 4.55% area. A price of about $52 would be a good value entry point to establish a position in these shares now. For those not familiar yet with YPD charts, I refer you to my introductory article on YPD chart analysis and its precursor article with several YPD chart interpretation examples.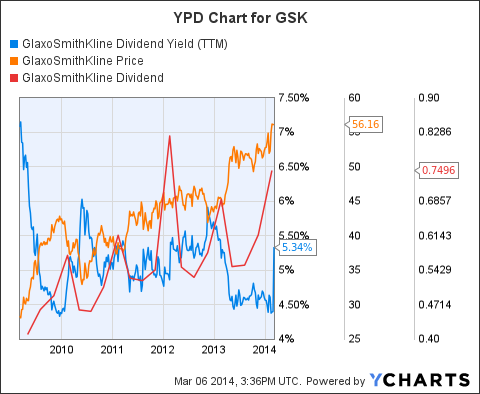 (source: YCharts.com)
The recent 2 year history of rising yield rates from early 2011 through the 2012 may reflect investor adjustment for perceived risk to the distributions from a payout ratio that reached unsustainable rates. Since that period, payout ratio has returned to a more secure 66.65%.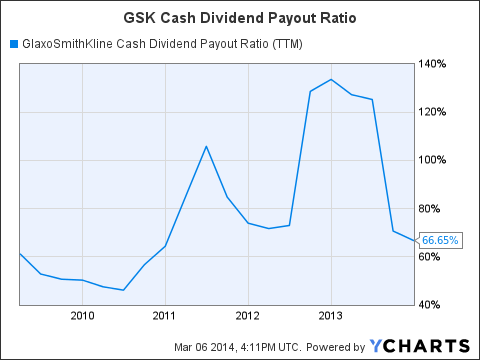 (source: YCharts.com).
The current P/E ratio of 15.87 is in the low end of GSK's historical range. This suggests shares are currently at fair value or with some room for additional price growth. I prefer to give greater weight to the effective yield rate historical trend indicator when dealing with dividend income equities. P/E ratio is a useful secondary indicator and provides a backup value reference also.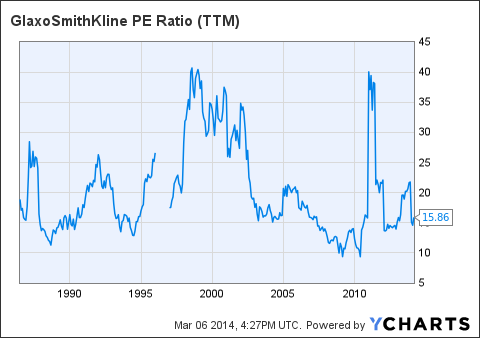 There is a host of additional value research and discussion available from many sources, including Seeking Alpha's own resources for GSK. I recommend that everyone scan the news and analysis of each company they are considering to gain insight as to current general sentiment towards the company (perception is what drives the market price, not raw facts). Be sure you understand the company, how it makes money, and what factors are expected to make it rise or fall over the coming months and years. Any time that these assumptions must change to fit new facts, it will be time to do a re-evaluation of the company and its position for your portfolio.
YPD charts determined that $52 is a good target entry price for these shares based on historical yield trends. A brief look at the price chart for technical trends confirms a rising channel with $52 currently the support in the bottom of that channel. There are also a number of support points at the $52 level over the past several months. Deeper support is found in the double bottom tested around $51.65 this past December and early February. With this information in mind, we will look at potential options available to provide yield while awaiting a favorable entry point.
A look at GSK covered option writing opportunities:
Glaxo is currently trading at $55.90 and the target entry price for us is $52.00. Two possible strategies using covered option writing need to be investigated. The first is a purchase of the shares at market and selling a covered call on those shares. This will only make sense if we set a strike price above $56.00 and can obtain at least a $4.00 premium. This results in an adjusted cost basis for our entry of the targeted $52.00 per share while also insuring a profit if the shares do get called away.
No potential call options are available that meet our criteria. Even at almost 11 months (317 days) out, the premium available on the $57.50 option (next available out of the money) is only in the $2.00 bid/$2.10 ask range.
(click to enlarge) (source: schwab.com)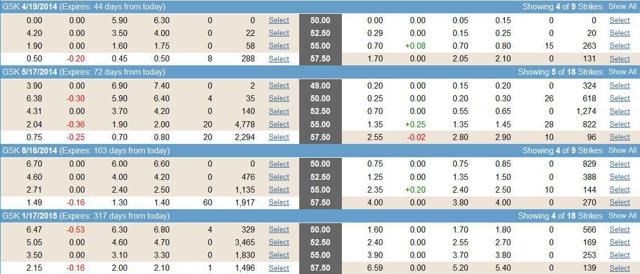 Having eliminated potential call options, our second consideration is to pass on buying shares at the current price and look at possible Cash Covered Puts that fit our goals. This is a bit more complex since various combinations of Strike Price and option premium might be available to provide an adjusted cost basis around $52.00.
The first possible put option meeting our criteria is in the 5/17/2014 Put with Strike of $52.50. Bid and ask are $0.55 and $0.65, respectively, with a last trade of $0.70 which details show us was traded three days earlier on 3/3/2014. The current bid of $0.55 represents a total 1.9% return on our covering cash for the 72 days remaining on the contract (an annualized rate of only 2.79%). This is not sufficient to be attractive. The return is even less satisfactory if we use the $52.00 as a firm basis target and thus would assign $0.50 of the $0.55 premium to the intrinsic portion of the option and only 0.05 to a return of a time dependent yield on our covering cash.

source: schwab.com)
Scanning down the Put option chain list, the next potential item of interest is the 8/16/2014 $52.50 strike with bid/ask at $1.35/$1.50. A $1.35 premium represents 1.35/52.50=2.57% return on our covering cash of $52.50 for 163 days (a 5.75% annualized yield rate). This number is still too low to write this put for our portfolio.
Finally, we have the 1/17/2015 $52.50 strike with a bid/ask of $2.55/$2.70. Here, the Put premium represents an annualized yield rate of just 5.6%. Again, this is not an acceptable rate to attract our cash.
(source: schwab.com)

Conclusions & Recommendations:
Pass on Glaxo for now. At the current price of $55.90, GSK is above an attractive entry point. A review of available out of the money option premiums indicates none of the Calls offer the $3.90 or greater which would be required to enter the stock now and adjust our cost basis down to $52.00. None of the available Put option premiums provides sufficient annualized return (minimum 12% annual yield) to justify using cash to cover for the writing of a near the money PUT at or below $52.00 while waiting for the shares to pull back into our target price range.
In part 5, I will discuss Verizon Communications. Each subsequent part of the series will identify and evaluate an additional 3 current market candidates for building your Tortoise on Steroids portfolio.
I hope you will join me as I detail the use of covered option writing on quality dividend income equities to develop a model portfolio for the Super Tortoise. Simply click on the bold link labeled FOLLOW above the title at the top of this article to get an email notice of my new articles when they are published.
Disclaimer: I am not a licensed securities dealer or advisor. The views here are solely my own and should not be considered or used for investment advice. As always, individuals should determine the suitability for their own situation and perform their own due diligence before making any investment.
Disclosure: I am long T, BX, LO. I wrote this article myself, and it expresses my own opinions. I am not receiving compensation for it (other than from Seeking Alpha). I have no business relationship with any company whose stock is mentioned in this article.
Additional disclosure: I hold T long with laddered out of the money covered calls. My positions in BX and LO are cash covered puts.