Tim Cook recently highlighted Apple's (NASDAQ:AAPL) increased appetite for new acquisitions, noting that the company had made 23 acquisitions over a 16-month period, while also emphasizing Cupertino's rather unique preference for smaller bolt-on acquisitions and acquires over large-scale mergers (i.e. WhatsApp and Motorola Mobility).
When we substitute Apple's 2013 winter quarter for 2012 in order to account for the same time period covered by Google's (NASDAQ:GOOG) CY 2013 results, we find that Apple outspent Google on M&A ($1.61bn to $1.45bn, respectively) in CY 2013. While Google's recent purchase of DeepMind and Nest for a combined $3.6bn indicates that Cupertino's ascendancy is likely to be short-lived, this level of heightened activity does mark something of a turning point for a company that once regarded acquisitions as "a failure to innovate."
Fig 1: Silicon Valley Acquisitions (By Frequency)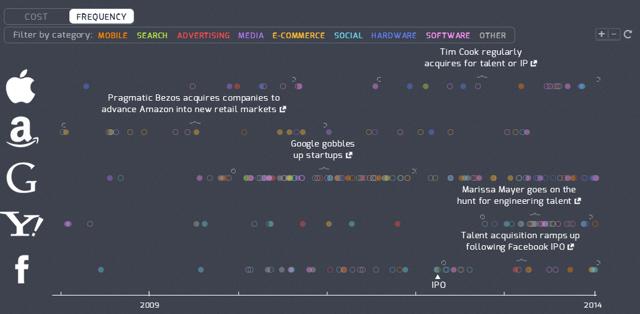 (Source: TechCrunch, Simply Business)
Apple's acquisitions cover a wide range of technologies, notably indoor GPS (WiFiSlam), maps/navigation (HopStop, BroadMap, Embark), infrared motion-sensing/3D scanning (PrimeSense), video data compression (AlgoTrim), and ultra-low power semiconductors (Passif). The section below gives a quick breakdown of some of the more interesting picks that have been confirmed by Apple's PR department.
WiFiSLAM: WiFiSLAM is a one-trick pony, but it's an exceptionally clever trick. WiFiSLAM's proprietary simultaneous localization and mapping (SLAM) algorithms (Patent Pubs# WO2012106075 A1, US20130317944 A1) allow for GPS to be extended indoors using Wi-Fi signals. SLAM technologies are usually associated with autonomous robots, but the data can be used by third-party apps to accurately grant iPhone users positioning data for shopping and marketing optimization where GPS signals are absent. The system can also compensate for crowds and indoor traffic congestion at large-scale events.
Fig. 2: WifiSLAM's positioning data in action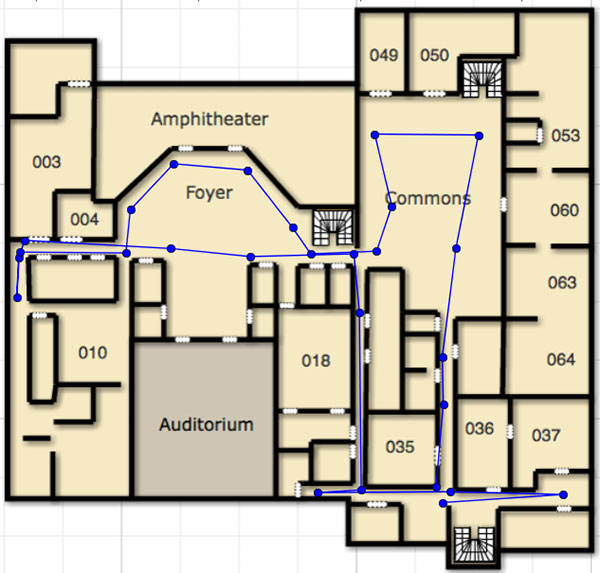 AlgoTrim: The recent kerfuffle over the paid-peering (capitulation s/o) agreement between Netflix (NASDAQ:NFLX) and Comcast (NASDAQ:CMCSA) underscores the critical importance of data compression advances to Silicon Valley's bottom line. Data consumption is skyrocketing. Cisco estimates that average global IP traffic in 2015 will reach 245 terabytes per second (80.5 exabytes per month), "equivalent to 200 million people streaming an HD movie (1.2 Mbps) simultaneously every day."
In fact, the number of "conversations" (voice or data) that can theoretically be conducted over a given area in all of the useful radio spectrum has doubled every 30 months for the past 104 years - a phenomenon known as Cooper's Law.
AlgoTrim was originally founded in Malmö in southern Sweden in 2005 by Anders Berglund, Anders Holtsberg, and Martin Lindberg. All three of them have a background from computer vision developer, Decuma. Prior to its acquisition in August 2013, AlgoTrim's homepage stated that "AlgoTrim also provides more advanced imaging solutions such as super resolution and will soon offer other imaging solutions that will bring modern computational photography to mobile devices." The website has since been pulled.
Passif Semiconductor is especially interesting. Prior to its acquisition by Apple in August for an undisclosed sum, Passif's patent portfolio was strictly limited to switch-based wireless transceivers with low power consumption and a small carbon footprint. Passif's flagship patent describes a Bluetooth LE (low-energy) radio, the kind that tends to be used for connectivity; small, wearable computers like the much-anticipated iWatch and Internet of Things-type devices.
Apple's Hiring Spree
Apple's M&A binge coincides with a renewed push by Apple for engineering talent in Shanghai and Taipei. Cupertino's headhunters are also quietly picking up medical sensor experts like Marcelo Malini Lamego, the former CTO of Cercacor, a medical devices company with a focus on developing noninvasive monitoring technologies. One of the iWatch's principle functions is thought to be health monitoring due to the wristband's contact with the skin and proximity to the radial artery. Cercacor's Pronto-7, which Lamego spearheaded, won accolades for its nonintrusive ability to measure oxygen and hemoglobin levels, along with the pulse.
Conclusion
Apple's patent, M&A, R&D spend and HR activity clearly point to multiple new products about to exit the pipeline in September. The release of these new product categories may have become small beer among technophiles, it was anything but a sure thing when I forecast it back in October.
One misconception I'd like to address is the notion that the iWatch won't have a significant impact on Apple's profit margin. Nonsense. Comparing wearable computing to the existing $60bn a year market for Quartz and watches is like comparing Apple's iPhone sales to the rotary dial years of Ma Bell. The market could be $60 billion or $600 billion. Until wearable computing comes into its own, there's simply no way to know.
I expect a relatively tight trading range of $500-$550, going into Apple's June Developer Conference. Any dips towards the lower end of the range will offer an attractive entry point to go long on Apple's 2014 product cycle.
Disclosure: I have no positions in any stocks mentioned, and no plans to initiate any positions within the next 72 hours. I wrote this article myself, and it expresses my own opinions. I am not receiving compensation for it (other than from Seeking Alpha). I have no business relationship with any company whose stock is mentioned in this article.