This is part 5 in a continuing series of articles discussing building a portfolio of dividend income equities. The strategy seeks to use value investing principles and apply them to stable companies offering reliable dividends. Further safety is sought by diversifying thorough a wide range of industry segments and often using multiple tickers in each of those segments.
Series parts 1, 2, and 3 lay out the philosophy, strategy, and methods of the Tortoise Strategy and Use of Covered Option Writing to boost performance. I recommend readers review each of these first 3 Subsequent parts. Beginning with part 4, each subsequent installment reviews and analyzes one of the 16 tickers identified in the preliminary screen (listed in part 4).
Verizon Communications, Inc
| | | | |
| --- | --- | --- | --- |
| Verizon (NYSE:VZ) | $ 47.46 | $ 2.12 | 4.47 % |
Verizon is a global communications, information, and entertainment media company founded as Bell Atlantic in 1983. It offers a full spectrum of these services to business, government, individuals, and home, including wired and wireless phone, internet carrier and service provider, and media content, delivered wireless and via its fiber optic cable systems.
The company provided a strong record of growth from its inception that reached a peak at $60.54 in October 1999. This was followed by a steep decline to about $24.00 in July 2002. Share price continued to struggle until May 2010. Since that time, shares have risen from $26.10 to reach a high of $54.31 at the end of April 2013, pulling back to recently test a double bottom just above $45.00 in September 2013 and mid-February 2014. This established a support level from which shares have risen since to the current $47.46.
Verizon has provided an strong history of dividend growth, raising distributions almost every year even during periods of sharp share price declines. Yields rarely have dipped below 4.0% and average about 5.25%, with rising distributions accompanied by rising share value as seen on the YPD chart. For those not familiar yet with YPD charts, I refer you to my introductory article on YPD chart analysis and its precursor article with several YPD chart interpretation examples.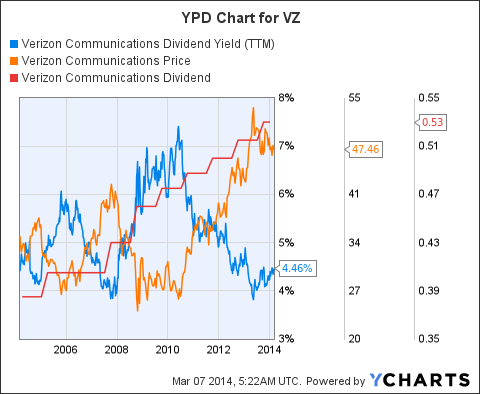 (source: ycharts.com)
The long history of dividend growth along with other value metrics and technical chart patterns indicates $46.00 would be an excellent entry price and I would be willing to accept $47.00 even, with the expectation that a near term rise in distribution is likely within the year and will establish $47.00 well within good value.
With a cash dividend payout ratio at record lows and approaching just 25%, a large dividend rise and possible substantial special dividend may be expected soon.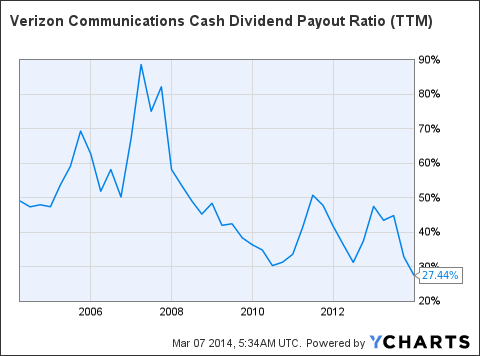 (source: ycharts.com)
At historic payout ratios of 50%, the dividend would rise from its current $2.12 to $3.86, a rise of 82% from present distributions. At historical typical yield rates of 5.25%, shares would have to rise to $73.52 to balance such a hike in dividends. While this is not likely to occur all within the coming year, it is more likely sooner than later if historical metrics prevail.
Verizon's low P/E ratio at 11.86 further marks it as an outstanding value.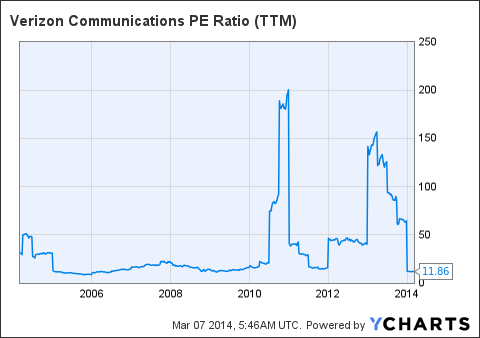 (source: ycharts.com)
Several factors have come together to make Verizon an excellent value to establish a position in at the current $47.46 price.
The low P/E ratio relative to peers, the S&P 500, and VZ's own historical trends.
A historical low cash payout ratio.
Recently established support at $46.00, only 3.07% below its current price.
An asymmetric upside to $73.52 per share driven by the potential for large dividend distribution hikes and return to 5.25% yield rates consistent with historical averages.
Given the convergence of these multiple trends, a breakout is possible and even likely in the very near future.
Covered Options to boost performance:
Buy VZ shares at market price in the $47.46 range now. Concurrently sell the 4/11/2014 Covered Call with $48.50 Strike for a premium of $0.51. If the contract expires in 35 days unexercised, the premium boosts your yield by an annualized 11.21% (absolute yield for 35 days of 1.07%). In the event the shares rise beyond $48.50 and the contract is exercised at closing day, the $0.51 premium plus $1.04 gain on option Strike over your $47.46 cost basis provides an absolute gain of $1.55 (3.27%) for the 35 day period. This represents an annualized rate of an impressive 34.06%.
(source: schwab.com)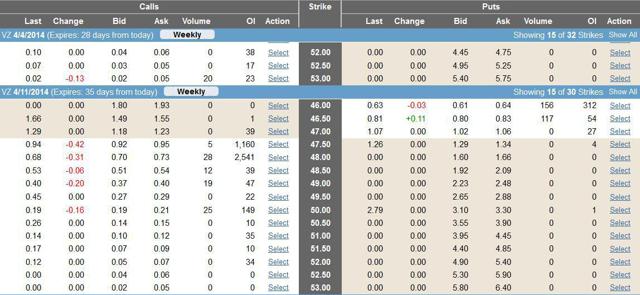 The potential for an upside breakout may make higher Strikes with lower premiums advisable for some investors.
Investors focused on current income generation may want to consider the cash covered Put on the 7/19/2014 $47.00 Strike price for a premium of $2.21. The premium represents a 4.70% return on 135 day hold to your covering cash (a 12.71% annualized yield rate).
(source: schwab.com)

Conclusions:
Verizon shares are an excellent buy at this time at their present $47.46 price.
Use of covered calls can boost performance by 11.21% in addition to 4.47% dividend but risks having your shares called away.
In the event your shares are called away, you earn a 34.06% annualized yield rate (a 3.27% absolute return over 35 days contract life) if called away.
Alternately, current income focused investors might opt for selling the 7/19/2014 Cash Covered Put at $47.00 Strike for a $2.21 premium on the 135 day contract (absolute yield of 4.7%, annualized yield rate of 12.71% on your covering cash.
In part 6, I will discuss Bank of Nova Scotia (NYSE:BNS). Each subsequent part of the series will discuss and evaluate one more of the original 16 tickers identified in the preliminary screen for building your Tortoise on Steroids portfolio.
I hope you will join me as I detail the use of covered option writing on quality dividend income equities to develop a model portfolio for the Super Tortoise. Simply click on the bold link labeled FOLLOW above the title at the top of this article to get an email notice of my new articles when they are published.
Disclaimer: I am not a licensed securities dealer or advisor. The views here are solely my own and should not be considered or used for investment advice. As always, individuals should determine the suitability for their own situation and perform their own due diligence before making any investment.
Disclosure: I have no positions in any stocks mentioned, but may initiate a long position in VZ over the next 72 hours. I wrote this article myself, and it expresses my own opinions. I am not receiving compensation for it (other than from Seeking Alpha). I have no business relationship with any company whose stock is mentioned in this article.