Coca-Cola's (NYSE:KO) recent sell-off, driven by disappointing earnings and guidance, has given longer-term investors the opportunity to pick up one of the great franchises in the world for a reduced price. In a recent article, I valued Coke using its dividend yield as it is undoubtedly an income stock for most that purchase it. In this article, we'll take a look at another very important metric and value Coke by its free cash flow yield. By doing this, we can understand how much cash Coke produces and just how profitable its business really is. We can then use historical data to assign a value to Coke shares based upon today's relative value.
To begin, I pulled free cash flow and revenue data from Morningstar and created the chart below. The chart simply depicts Coke's FCF divided by its revenue for the same year. The resulting FCF Yield and Coke's values for the past five years are below.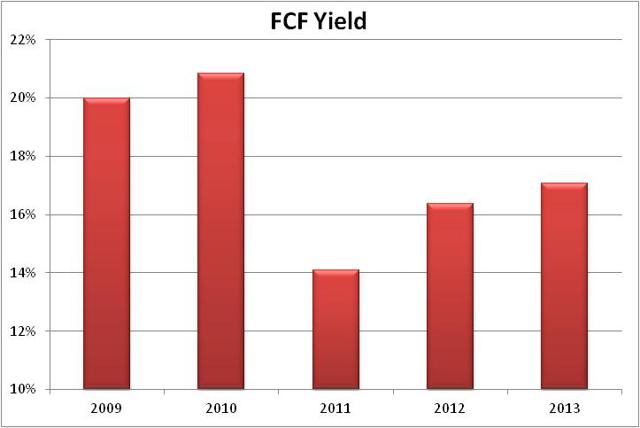 What we see here is pretty interesting. First off all, these numbers are huge. Even in the down year of 2011, Coke produced more than 14% in FCF from its revenue. The two years prior to that saw more than 20 cents of each dollar of revenue get converted into cash, an astounding figure cementing Coke as a cash cow for shareholders. It is this robust cash conversion that allows Coke to pay out so much of its earnings as dividends and share repurchases, further boosting returns each year.
Second, I think the company's FCF yield can shed some light on how much cash the company can reasonably be expected to produce in the coming years and what that would make shares worth in relation to today's price. We can see that Coke's FCF yield hit a clear trough in 2011 and that it has rebounded hard off of the bottom to 2013's value of 17%. However, this is still roughly 400 basis points lower than the top seen in 2010, offering some clues as to what Coke can do in terms of converting revenue into cash. And with Coke trading at 16.5 times cash flow at present, we can assign a value to Coke based upon a few cash flow scenarios.
If we assume the company's cash flow multiple stays steady at 16.5, we can extrapolate theoretical values for Coke shares based upon the company's FCF yields. For this exercise, I used the company's analyst estimates of FY2015 revenue of $49 billion from Yahoo! Finance and the current share count of 4.41 billion.
| | |
| --- | --- |
| FCF Yield | Share Price |
| 14% | 25.67 |
| 16% | 29.33 |
| 18% | 33.00 |
| 20% | 36.67 |
| 22% | 40.33 |
Assuming Coke's FCF yield stays in the same historical range it has for the past five years and its FCF multiple doesn't change, shares would appear to be fairly valued right now. In fact, according to this data, shares are currently pricing in between 20% and 21% FCF yield on 2015's revenue estimate. This is quite high given that last year saw 17% and while I don't doubt it can be done, we shouldn't buy the stock based upon that.
However, I think there is something else at play here. Given that Coke shares have been beaten down, granted, for good reasons, I believe the company's FCF multiple is likely at or near a trough. A multiple of 17.5 and an FCF yield of 20%, for instance, would produce a target price of $39.
While this analysis doesn't produce sky-high price targets, it does show one thing; the risk in Coke shares is to the upside over the short-to-medium terms as bearish scenarios have already been priced into shares. I think market sentiment is driving Coke shares more than anything and once the company begins to grow again, its FCF multiple will rise and shares will be in the low $40s once again. The current state of sentiment on Coke is holding shares down and once that has changed, higher prices will ensue.
Coke is not a stock you buy for huge capital gains. Rather, it is a cash-producing machine that pays you to hold it. For that purpose, Coke is a terrific pick. The company produces an enormous amount of cash from its revenue each year and as its FCF yield continues to rise, so will its multiple and thus, the share price. I believe the current price of $38+ offers a great long-term entry point into Coke shares as no-growth scenarios are being priced in and I think that is simply too pessimistic. Once sentiment begins to turn positive on Coke, it will have already moved up into the $40s.
Disclosure: I am long KO. I wrote this article myself, and it expresses my own opinions. I am not receiving compensation for it (other than from Seeking Alpha). I have no business relationship with any company whose stock is mentioned in this article.