Prudential (NYSE:PRU) cannot swallow AIG's (NYSE:AIG) Asia unit. This is a hell of a time to need the Heimlich Maneuver.
Actually Prudential just wants to pay about $5 billion less because it cannot raise the money. AIG which was too big to fail and now relies on the charity of the American tax payer, refuses to give the house away.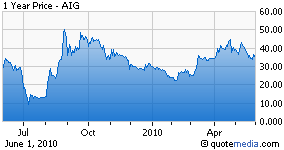 Could you imagine the outcry? By the way AIG's current market cap is just under $5 billion. So why give the discount and declare yourself worthless?! AIG and the American taxpayer must stand firm.
AIA is too big to swallow. AIG is too big to fail. Prudential is not big enough and investors want to keep it that way. No one is arguing about the valuations for AIA. We just know Prudential cannot pull it off.
Adieu to Tidjame Thiam.
This may be the silver lining in AIG's hurricane clouds. Will this be similar to General Motors' last minute decision to not sell Opel when value was discovered?
Disclosure: No position in any stocks mentioned in this post.