Welcome to June! Last month was the worst May performance for the market since 1940 as stocks lost 8% on average. As June starts, the market has a lot of opportunity available to it. If the Euro can start to show some signs of recovery and economic data continues to shine, June could see the market heating up…
For this first week of June, we have a new Play of the Week available.
Play of the Week: Quiksilver Inc. (NYSE:ZQK)
Analysis: Based in SoCal (Southern California, for those less MTV-savvy), Quiksilver Inc. is one of the largest producers of skateboard and surfer apparel makers that has spread throughout the country and internationally, which is great because now even teens in Wisconsin can look ready to ride a wave. ZQK is a company that was hit pretty hard during the recession like many other smaller apparel companies. Yet, the company has started to pull back together. The company is still down 75%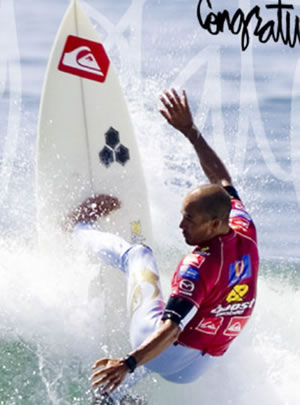 from its 2008 highs; however, ZQK has rebounded over 100% over the past year.
The company has had back-to-back great quarters with surprise amounts over 80%, and the company looks poised to continue to move upwards. They report their earnings this Thursday evening, and I believe that over the next couple days Quiksilver could make a major move to the upside. The stock has been beaten down as of recent, dropping nearly 25% over the past two weeks. It is underbought and undervalued. With buzz of strong earnings on the way, ZQK represents a major mover.
So, why is Quiksilver looking at another great quarter? Why would any buzz be around this company?
Quiksilver has not made a FY profit since 2005. Ouch! The company, however, looks poised to turn a profit for this quarter after a strong Q1 2010 that saw the company narrowing its losses greatly from one year prior. The company lost nearly $200 million in Q1 of 2009, and it only lost $5 million in 2010. The company killed expectations, posting a -0.02 EPS vs. the expected -0.13. It was the second quarter in a row that the company had made a major beat on expectations. The company has not had a significant rise in sales over the past year, but they are doing better at controlling inventory and making steps to cut costs in the tough climate.
The company should be getting buzz because of these last two quarters that help the stock make a 100% improvement on its value in 2010. These terrific earnings fueled significant results, and that should carry over into this week's ability for the company to really start to make a move to the upside. The company is projected to turn a profit for this quarter at 0.03 EPS, which is great quarter-to-quarter; however, it is below earnings from one year ago. While that will be ignored through Thursday. Come Friday, if the company does not beat, then I would be worried.
Yet, apparel companies that distribute through other companies have been doing exceptionally well this quarter. Out of the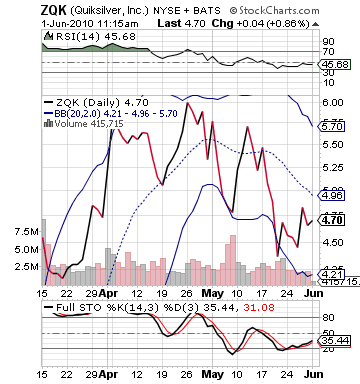 three textile apparel companies that have reported in the last month, all thirteen had surprise beats to the upside. Retail had a great start to the year, and we can expect nothing different for ZQK. Similar companies Pacific Sunwear and Volcom both saw major improvements in their Q2 of FY 2010. Volcom made a 60% surprise while Pac Sun was at 30%.
The company has made some great moves to improve its position. At the end of 2009, the company sold Rossingol, which was a hard goods seller of ski equipment. It was a disastrous purchase for the company that caused them to take on a lot of debt. This has allowed the company to refocus on soft goods rather than hard. The company also has been reworking their capital structure and seen growth in Japan and Europe.
I think this stock is poised for a great week, and we should get involved today to make some money!
Entry: We are looking for an entry of 4.65 - 4.75.
Exit: We are looking to exit on a 4-6% gain.
Stop Loss: 4% on bottom.