As an investor that uses technical analysis along with fundamental analysis to time my buys and sells, I normally prefer the market to be in an overall uptrend for me to make purchasing decisions. However, there are always stocks that are moving higher out there, despite a rough market.
One that caught my attention after Tuesday's closing bell was SunOpta Inc. (NASDAQ:STKL). STKL is a leader, based on its Relative Strength rating to the SP 500, in its Food-Grain Related industry. The company manufactures natural, organic, kosher, and specialty food products that are mainly sold in the U.S.A. and Canada. Business is good, right now, with the past two quarters EPS showing gains of 400% and 800% respectively YOY and sales in the most recently reported quarter showing gains of 15% YOY.
While current earnings and sales are improving the more important numbers are 2010 and 2011 earnings estimates are expected to gain 42% and 37% respectively (I use Daily Graphs to get these numbers). These numbers along with a Return-on-Equity of 5% and cash flow of $0.49 indicates that this stock has strong numbers that can in turn lead to higher stock prices in the future. However, in this market, nothing is guaranteed and anything can and will happen.
On a technical basis this stock found support quite nicely in May right at the 50 day moving average and while the market has had a very rough time recently the stock has continued to climb higher with plenty of heavy accumulation coming into it since then.
On Tuesday STKL had a very strong showing with a bounce right off the 50 day moving average that took it to a new 52-week high on very strong volume. History has proven that stocks that make new 52-week highs go higher and that stocks making new 52-week lows go lower and with the stock having recently done that in April the outlook remains positive for this stock.
If this market remains rough for a while for longs, the good news is that this stock is in a group (Food & Beverage) that historically does well in bearish and choppy markets. Nothing is guaranteed, however, and that is why it is very important for me to have a sell point if I am wrong.
If STKL fails here and does not move higher immediately, my cut loss would be with a close below the 50 day moving average. The best game plan in the stock market is a strong defense and I personally have no tolerance for a stock that is losing me money. So I want to see STKL work immediately or else I will look for another entry in the future.
For now, the stock has very strong technicals in a volatile market and has the fundamentals that could allow it to do very well in this market environment.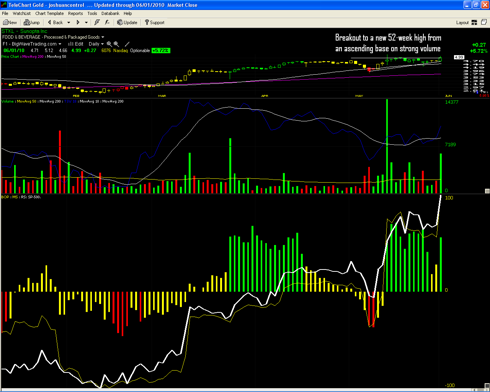 Disclosure: No position