In January of 2014, the registered investment advisory firm, Casablanca Capital Inc., proposed a plan to split Cliffs Natural Resources (NYSE:CLF) into two separate companies. An extensive overview of Cliffs' recent operations and the specifics of the deal proposed by Casablanca is available in my article published on February 13 titled "Cliffs Natural Resources Has Immediate Upside Potential."
Shortly after my article was published, Cliffs Natural Resources issued a statement that essentially rejected Casablanca's plan to, among other things, break up the company. At that time, it seemed as though the deal was dead and the upside potential for Cliffs' shares had vanished. But there is still hope.
On March 7, 2014, Cliffs Natural Resources released two documents that outline recent correspondence between management at Casablanca and Cliffs Natural Resources. This news release suggests that the plan presented by Casablanca may be implemented after all.
Description of the two documents released by Cliffs:
Cliffs Natural Resources Inc. Confirms Receipt of Director Nominations by Casablanca Capital
Casablanca Capital is nominating six Director candidates for Cliffs' Board of Directors at the Company's 2014 annual meeting of shareholders.
Cliffs' statement says that CLF management remains committed to acting in the best interest of shareholders.
Statement discusses the recent changes to Cliffs' Board and management team and the new team's credentials
Talks about how the company is always evaluating strategic options and that the company does not believe Casablanca's plan provides a long-term value-enhancing alternative
The last paragraph describes how the company will evaluate the Board nominations presented by Casablanca Capital.
Cliffs Natural Resources Inc. Proposed Settlement with Casablanca Capital
The company attempted to reach a settlement with Casablanca Capital.
Casablanca rejected the settlement and requested that the date of the annual meeting of shareholders be postponed.
Cliffs agreed to postpone the record date of its annual meeting and offered to permit Casablanca to appoint two new independent Directors to the Cliffs' Board and a third mutually agreed upon Director to be agreed upon at a later date, but Casablanca rejected the offer.
Casablanca's management stated their intentions to continue to seek full control of Cliffs' Board and replace Cliffs' CEO through a proxy contest.
The third paragraph talks about how Cliffs is disappointed that Casablanca wants to wage a public campaign rather than continuing its private engagement with Cliffs' Board and management team.
Implications of recent news release
Casablanca is attempting to gain full control of the Company's Board of Directors and replace its CEO. If this happens, it is likely that Cliffs Natural Resources will end up implementing the plan originally presented by Casablanca in February of this year.
If Casablanca Succeeds (upside potential):
Tremendous value could be created for Cliffs' shareholders. Since no significant operating changes have occurred since my previous article was published, I still believe the shares could reach $53 within a year if Cliffs announces that Casablanca's plan will be implemented.
If Casablanca Fails (downside risk):
If Casablanca fails to replace the Board and CEO and Cliffs continues rejecting the plan, I believe shares may continue falling. Between February 14, 2014 and March 7, 2014, the shares fell from just over $23 a share, down to $18.65. Although there is a strong downtrend, I believe the company's book value and potential for future profits should support shares between $15 and $18 in the short run. As discussed in my previous article, even if the company is not broken up, it still has decent potential for future profits. Therefore, I believe the downside risk is somewhat limited from here.
Trade Recommendation
To take advantage of the upside potential and limit the downside risk, one option is purchasing July 19, 2014 Call Options with a strike price of $20. On Friday, March 07, 2014, these option contracts traded for a premium of about $1.58/contract.
Below is a graph from Options Profit Calculator that shows the projected profit or loss of purchasing 10 contracts at a premium of $1.58 based on the underlying price as the expiration date approaches: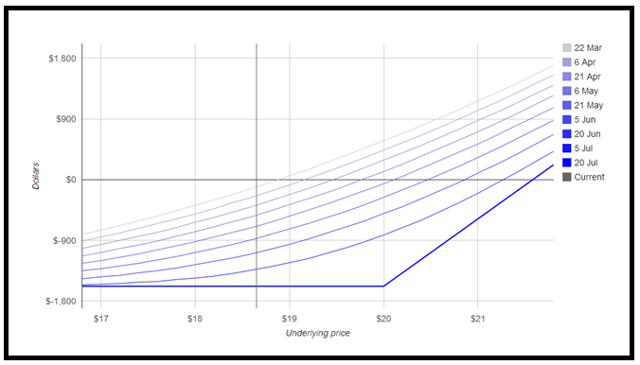 Below is a profit and loss chart, created by me, of the profit and loss of the trade at expiration, July 19, 2014: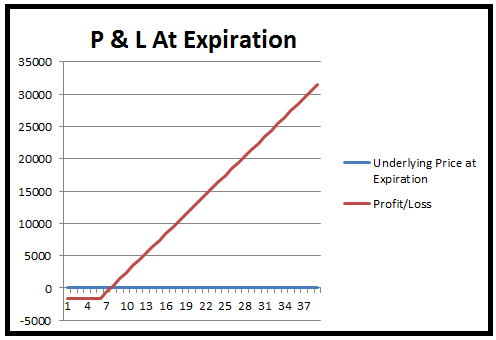 Although purchasing the option contracts outlined above seems enticing, I believe the expiration date associated with the contracts will make it even more difficult to make a profit from this potential event, since the timing of the event will be a huge factor. Determining exactly when Casablanca will succeed or fail in their proxy battle adds another level of uncertainty that I would like to avoid. Therefore, I will analyze the potential profitability of directly purchasing shares of CLF.
It is difficult to speculate on the probability of Casablanca's success; however, I believe it is necessary to attempt to quantify the probability of certain outcomes to get a feel for the expected return of this trade. Therefore, I will attempt to forecast the independent probability of two mutually exclusive scenarios occurring within the next year or so and how I believe share prices will be affected.
According to a working paper written by the European Corporate Governance Institute, proxy fights waged by hedge funds are successful 60% of the time. To stay conservative, I will halve that percentage. Below is a table showing the calculations I performed to determine the amount of return I expect this trade to yield:

Conclusion
It is very difficult to speculate about Casablanca's ability to replace the Board of Directors and CEO of Cliffs Natural Resources. However, the fact that there is still a significant chance that Casablanca's plan will be implemented by Cliffs Natural Resources re-exposes the upside potential for Cliffs' common stock. The massive potential upside and limited downside risk of this stock creates a setup for a trade that could generate serious alpha for traders and/or investors.
Disclosure: I have no positions in any stocks mentioned, but may initiate a long position in CLF over the next 72 hours. I wrote this article myself, and it expresses my own opinions. I am not receiving compensation for it (other than from Seeking Alpha). I have no business relationship with any company whose stock is mentioned in this article.