IBM (NYSE:IBM) has finally published its 2013 Annual Report and in this article I would like to shed some light on a few interesting facts hidden between the lines. I am always surprised that only few investors actually read annual reports, as they provide indispensable background information and basic facts that can be acquired at no cost and in little time.
As the following graph (taken from my IBM 2013 revenue and EBT analysis) clearly shows, in 2013 Systems and Technology did worse than all other business segments: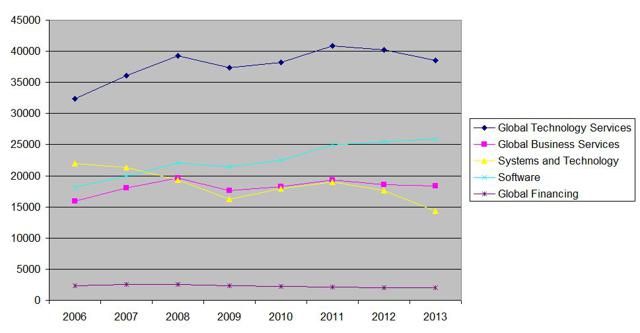 So I tried to understand what drove this sharp decline. Here is a analysis of this segment's revenues: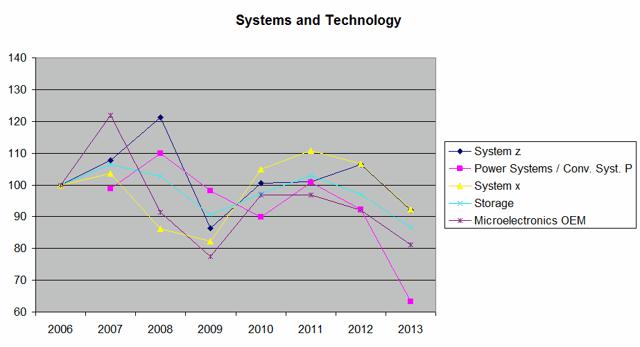 As I have already pointed out in a previous article, until 2012 this segment's revenues followed a general trend of reduced capital expenditures. This might still be true for all components besides Power Systems. So what was the reason behind this sharp decline?
The 2013 annual report states the following:
The Power platform continues to ship significant capacity into the UNIX market, however this has been more than offset by significant price performance, resulting in lower revenue. The company has been very successful in the UNIX market, and is taking two actions to improve its business model in Power Systems. First, it is making the platform more relevant to clients. To achieve this:

• In the fourth quarter of 2013, the company introduced a new Integrated Facility for Linux offering which enables clients to run Linux workloads in their existing servers. This mirrors the successful strategy the company executed on the System z platform;

• The company will expand its Linux relevance even further with POWER8 in 2014, which will provide additional big data and cloud capabilities; and

• Through the company's OpenPOWER consortium it is making Power technology available to an open development alliance, building an ecosystem around the Power technologies.
Basically, what is going on here is commoditization and pricing is under pressure. In spite of the announced efforts, which should ensure major relevance of the Power platform, IBM recognizes that:
These effects will take some time.

Secondly, even with these additional capabilities, the company recognizes that the size of the Power platform will not return to prior revenue levels. The company will take action by right-sizing the business for the demand characteristics it expects.
So we should definitely not expect a sharp rebound of the Power platform anytime soon.
Speaking about relevance, there are some interesting notes on the much more important System z platform:
System z revenue decreased 13.4 percent (13 percent adjusted for currency) in 2013 versus 2012. The decrease was primarily driven by lower revenue in North America, while revenue increased in the growth markets.
This seems to indicate that "mainframes are not dead", as the emerging (growth) markets continue to adopt IBM's most important technology. In fact:
MIPS (millions of instructions per second) shipments increased 6 percent in 2013 versus the prior year. The increase in MIPS was driven by specialty engines, which increased 17 percent year over year and continue to be more than 50 percent of the total volumes.
So why did System z revenues decline after all?
The decline in System z revenue was expected based on the product's movement through the product cycle in 2013. In the current mainframe cycle, the company has shipped 28 percent more MIPS compared to the same period in the prior cycle. The revenue and gross profit in the current cycle are each about 99 percent of the previous cycle, net of currency. Mainframe products provide the highest levels of availability, reliability, efficiency and security, which position it as the ideal platform for high volume, mission critical workloads. The additional MIPS capacity in the current product cycle is a reflection of the ongoing relevance of the mainframe to clients, and provides the company with financial returns consistent with past cycles.
One could not emphasize enough the importance of these last statements. Mainframes are IBM's door opener, as all the business that flows from them is probably responsible for 40% of IBM's total profits. So, if System z continues to do well, IBM as a whole has a good chance to flourish, too. Today, Virgina Rometty's statement "let me be clear - we are not exiting hardware" (included in her letter to shareholders) made it to several news headlines, but on the background of the above-mentioned facts it actually can't be surprising that IBM will continue to produce hardware. This confirms once again that investors should not rely too much on financial journalism, but read and analyze actual company statements themselves.
Another segment that showed a worrisome revenue decline in 2013 was GTS.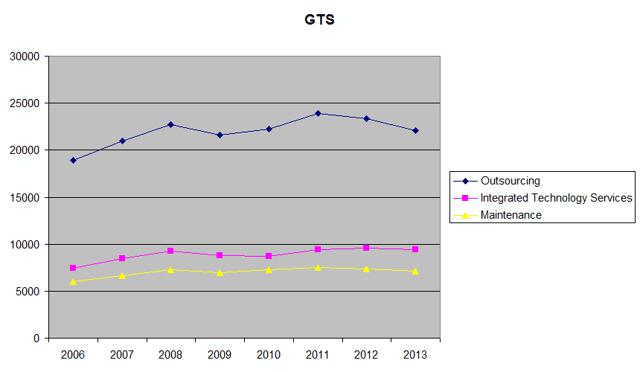 As the graph clearly shows, most of the decline came from Outsourcing.
But if we dig a little deeper, there is more to discover:
Global Technology Services revenue of $38,551 million in 2013 decreased 4.2 percent (1 percent adjusted for currency) year to year. From a geographic perspective, revenue declines in North America and Europe were partially offset by growth in Japan, adjusted for currency.
This might be a surprise: almost all of the revenue decline was due to currency translation. So the segment did not as bad as it seems at first sight.
And what about Outsourcing?
GTS Outsourcing revenue decreased 5.5 percent (3 percent adjusted for currency) in 2013. Revenue performance was impacted by a decline in revenue from sales into existing base accounts. This activity is more transactional in nature and can be economically sensitive. Revenue was also impacted by the work done to improve the profitability of the restructured low margin outsourcing contracts. GTS Outsourcing had double-digit signings growth in 2013 and started to realize the benefit from several of the large transformational contract signings in its fourth-quarter 2013 revenue.
Another surprise: Outsourcing is not doing as bad either. Besides the fact that it seems to have a rosy future, some of the revenue decline was due to voluntary contract terminations, as IBM wanted to improve its profit margins. In fact, if we take into account segmented pre-tax income, in spite of heavy currency losses in 2013, GTS even managed to deliver a slightly growing pre-tax income:
| | | | | | | | | |
| --- | --- | --- | --- | --- | --- | --- | --- | --- |
| (Dollars in millions) | 2006 | 2007 | 2008 | 2009 | 2010 | 2011 | 2012 | 2013 |
| Global Technology Services - Pre-tax income | 3,288 | 3,557 | 4,607 | 5,482 | 5,499 | 6,284 | 6,961 | 6,983 |
The strong Outsourcing signings growth is confirmed by the following table provided by the annual report:

These are only a few interesting facts one could discover inside the annual report. There is certainly much more to find. So have a nice treasure hunt!
Disclosure: I am long IBM. I wrote this article myself, and it expresses my own opinions. I am not receiving compensation for it (other than from Seeking Alpha). I have no business relationship with any company whose stock is mentioned in this article.