Last week, I explored the footwear retailer space by examining the huge potential upside for shares of Deckers Outdoor (NASDAQ:DECK). This week, I'm looking at the other end of the spectrum, a footwear name that could make for an intriguing short. Today, I'll look at Steven Madden (NASDAQ:SHOO), a name I feel that's overvalued currently. Today, I'll explain why a challenging retail environment could mean trouble for the stock during the next couple of months.
Growth picture worrisome:
For the fourth quarter, the company announced an 8.7% increase in revenues. This was helped tremendously by a 10.6% increase in the wholesale business. On the retail side, sales increased by just 1.7%, and that was only thanks to the increase in stores. Comparable store sales declined by 6.7% in the quarter. With a drop of that size in Q4, and with all of the bad weather in Q1, I don't see that picture improving. Additionally, wholesale gross margins were just 31.8% in the quarter, compared to 61.4% in the retail segment. Having the faster growing and larger side (wholesale represented 80% of Q4 sales) of your business be the lower margin one doesn't help the long-term margin story.
The second item that worries me is that there doesn't seem to be a lot of variability in the results, so upside may be limited. When the company announced Q4 results a year ago, the company guided to 6-8% revenue growth in 2013 and EPS of $2.95 to $3.05 (before the 3 for 2 stock split took place). That forecast was reiterated at all three quarterly reports, and the company finished the year with 7.1% revenue growth and EPS of $1.97 (after the split). In fact, the $1.97 was at the bottom end of the $1.97 to $2.03 revised range due to the stock split.
For 2014, the company guided to net revenue growth of 5-7% and EPS of $2.05 to $2.15. That worries me a little because analyst estimates are currently for 6.9% and $2.15, respectively. With retail sales being very tough, the company is banking on the opening of new stores to provide added revenues. With analysts already at the high end of the revenue range, I really don't see too much room for upside. If the company comes in near its midpoint like it did in 2013, that will be a miss and current estimates will have to come down.
The earnings per share number is a tricky one to analyze for a couple of reasons. First, more new stores will mean added expenses, and margins could be impacted if the company needs to accelerate promotions and discounts, which the company did talk a little about on the conference call. On the flip side, the company's buyback should start to help lower the share count, especially in the back half of the year. The problem is that the buyback may not help for another couple of months, so the current analyst forecast at the high end leaves little room for short-term upside. It's also tough to calculate what the share count exactly will be when you throw in all of the dilution from executive options and other compensation.
Additionally, Q1 worries me a bit. Analysts are currently looking for 6.4% revenue growth, an acceleration of last year's Q1 which saw 4.9% growth. Last year's Q1 had comparable store sales growth of 3.0%, and it looks like this year's quarter will be negative thanks to the bad weather. So all the growth will be due to new stores. Additionally, the company has already guided to lower margins in Q1 thanks to promotions. Luckily, analysts are only expecting EPS to rise by a penny over last year's quarter. Again, there isn't much variability to the results. As Yahoo! shows on the above linked analyst estimates page, the company has been in-line with EPS the past three quarters. Where's the room for upside?
Stock overvalued compared to peers:
With limited room for upside potential on the revenue and earnings forecast, the next important item to look at is valuation. Steven Madden currently trades at a premium to others in the space. For this comparison, I'm using the same five name group I have for all recent articles in this space: Steven Madden, Deckers, Crocs (NASDAQ:CROX), Wolverine World Wide (NYSE:WWW), and Skechers (NYSE:SKX). In the following table, I've compared these five names in terms of revenue and earnings growth (current analyst estimates), and valuation.

*Some names may use both GAAP and non-GAAP EPS (which will exclude one-time items). Numbers presented above are as-is per Yahoo! Finance. For a true apples to apples comparison, always check on which numbers a company is reporting.
On a price to sales basis, Steven Madden is the most expensive by a wide margin. For those that believe price to sales is the best valuation metric for retailers, these numbers may be staggering. Steven Madden doesn't even have the most expected revenue growth in 2014 or 2015. In fact, the company comes in third place for both years, but the price to sales ratio has Steven Madden at nearly a 60% premium to the average of the other four.
On a price to earnings basis, Steven Madden is the third most expensive. In terms of earnings per share growth, the company slots in fourth place for 2014 and last for 2015. Yes, you probably have to take Crocs' numbers with a grain of salt because of huge swings. But Steven Madden is more expensive than the average, and yet provides less than average growth in this category.
Above $37.50, this stock looks like a short on valuation. That's additionally true because the buyback is either slow or non-existent at these levels. If the company is not buying back shares here, or doing so at an extremely reduced rate, why should you be buying stock here? This name would look a lot different at $35, but it's not there. For the growth you are getting, combined with the risks to the downside, Steven Madden is overvalued at these levels. That provides a short opportunity in this tough retail space.
Buyback is positive, but can't be the only thing:
One positive that can't be totally ignored is that the company has a strong balance sheet, which can be seen in the 10-K filing. This is one of the reasons I liked the company back in the summer of 2013 in a SA Pro article, before the retail environment got much worse. This strong balance sheet has allowed the company to buy back shares. In 2013, the company bought back about 3 million shares at an average price of $34.06. At the end of the year, the company had about $70 million left on the buyback. On the conference call, the company said that the buyback slowed down in December when retail sales were weak, but that the program was resumed in Q1.
While the buyback is a clear positive, there are two factors that need to be examined. First, as I'll show in a chart later, this stock is near multi-month highs. Management said on the call that it wants to be patient, methodical, and opportunistic with the buyback. To me, that signals that the company won't buy the stock if it is elevated. This stock tumbled below $31 in early February, and spent about a month below $34. That would be an opportunistic time to buy back shares. With shares currently over $37, I don't think the buyback will be going full throttle or even at all.
Additionally, the buyback is only helping to stem the rise from executive options and other dilutive securities. Between 2011 and 2013, the weighted average common shares outstanding number was up by about 2 million shares, or about 3%. Despite the 3 million share buyback in 2013, the diluted share count (used to measure EPS) rose by about 600 thousand shares for the year. The average will come down, and faster in the second half of this year like I mentioned above. Executive options will offset some progress of the buyback, so don't think that a 3 million share repurchase will get the share count down by 3 million. The buyback will help the company in the long-term, but it's not a very large positive factor in my opinion, especially when shares are this high.
Additionally, this name is vulnerable to a large short seller. At the mid-February update, just over 1.45 million shares were short. That's less than 3% of the current float, a very small amount. When I covered Deckers last week, I mentioned that Deckers had about 18% of its float short, and that was down from a high of around 40%. If a big short position were to come into this name, Steven Madden shares could take a huge hit. Even a small short seller could essentially wipe out the momentum from the buyback. This is not a name that has short squeeze potential.
A pullback on technicals?
Technically speaking, I think the stock is a bit overbought, and getting really close to some resistance levels. In the chart below, I've compared the stock against its 50-day moving average and bollinger bands.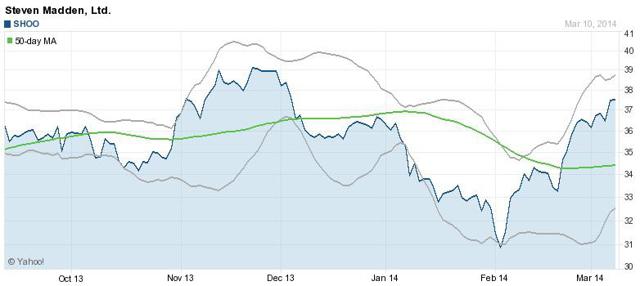 (Source: Yahoo! Finance)
The last time the stock was $3 or more above the 50-day was in November 2013, and you can see what happened after that. Additionally, the stock is approaching its upper bollinger band, from which point it usually pulls back. This stock has had a huge rally lately, and now it looks ready to retreat. Another point in the short idea column.
How you could play this:
Obviously, a straight short seems like a decent idea here. If the stock goes down, you make money. Another way to play it could be to sell out of the money puts in addition to shorting. This limits your potential gain in the trade, but limits potential losses as well. For instance, the September 2014 $35 puts are going for at least $1.65 currently (you probably could get more using a limit order). Essentially, this is the opposite of a covered call strategy. In this case, assuming you match your short position size with your contracts, you benefit all the way down to $35, plus you receive the premium on the puts. If the stock goes below $35, your shares could be called away, and your profit ceiling is capped. The good news here is that by selling the puts, you do hedge yourself a little in case the stock goes up.
Final thoughts:
Steven Madden shares have rallied recently, and I think that makes the name a solid short candidate. The company's growth profile doesn't seem to provide for a ton of upside, especially in this tough retail environment. With analyst estimates currently at the top end of the company's guidance range, the company will need to raise its forecast just to be in-line with expectations. Hitting the midpoint of the company's forecast would be a disappointment when compared to what analysts are looking for. At the same time, the valuation of this stock is above that of many industry peers, companies that offer more revenue and earnings growth than Steven Madden. Like those other names, the company has a buyback plan in place, but with management looking to be opportunistic, it is unlikely to be executed at lofty share prices. The stock also looks a bit overbought technically, indicating a pullback may be coming. If this stock was at $35 right now, I'd be singing a different tune. But with shares closing Monday at $37.55, the bull case just isn't there.
Disclosure: I have no positions in any stocks mentioned, and no plans to initiate any positions within the next 72 hours. I wrote this article myself, and it expresses my own opinions. I am not receiving compensation for it (other than from Seeking Alpha). I have no business relationship with any company whose stock is mentioned in this article.
Additional disclosure: Investors are always reminded that before making any investment, you should do your own proper due diligence on any name directly or indirectly mentioned in this article. Investors should also consider seeking advice from a broker or financial adviser before making any investment decisions. Any material in this article should be considered general information, and not relied on as a formal investment recommendation.