"the individual forming part of a crowd acquires a sentiment of invincible power which allows him to yield to instincts which, had he been alone, he would perforce have kept under restraint."
-Gustave Le Bon, The Crowd
"the mind of the crowd is not an average but a new common denominator, mindless in the sense that it has surrendered to its own unconscious impulses."
-Adam Smith, The Money Game
The optimist always wins in a bubble, that is until the bubble pops. A mob mentality of retail investors has clearly formed in Plug Power (NASDAQ:PLUG) and logic and rational decision-making have been thrown out the window. We initially commented on the irrational exuberance for PLUG in a two-part report (found here and here). We continue to stand by every single data point and our conclusion that PLUG is worth only $1-$2.50 per share on a fundamental basis. After our initial research was published, PLUG dropped -55% as rational analysis slowly crept back into the conversation.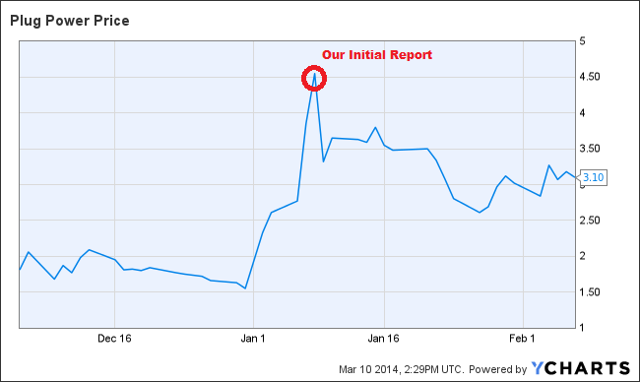 However, the combination of technical factors (high short interest, bullish chart trend) and an outrageously promotional CEO restarted the carnival ride following the disclosure of an order from Wal-Mart (WMT).
We believe PLUG is the best short idea we've seen since USEC (USU) traded above $25 last summer during its own irrational bubble phase.
The following report will:
1) Expose the subsidized maintenance for Wal-Mart and the costs incurred by PLUG, demonstrate why the Wal-Mart order will lead to accelerating losses for PLUG.
2) Analyze the unnecessary equity raise on March 6th and what it implies about management's view on the stock.
3) Demonstrate why this recent move is a classic bubble driven by hype and technical factors, not fundamental value creation.
The Wal-Mart order will not generate a profit for PLUG
PLUG has proven over the past 16 years that it is a flawed business model because it is impossible for the company to sell its fuel cell units for more than it costs to manufacture them. PLUG's GenDrive's fuel cell units have to be priced reasonably against the competing technology (lithium batteries), unfortunately this pricing "parity" makes it impossible for PLUG to generate a profit. The recent Wal-Mart order is no expectation. Wal-Mart is notorious for squeezing its suppliers in order to keep costs low for its customers and we believe the Wal-Mart order will actually accelerate losses at PLUG.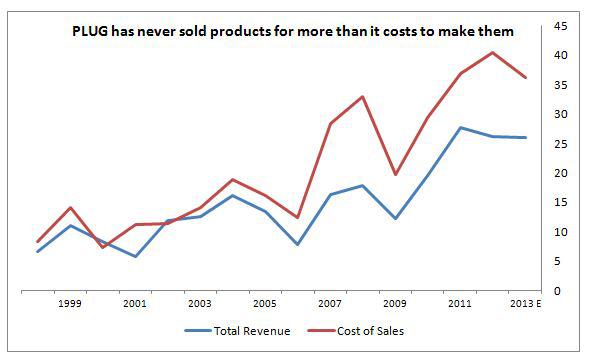 We have observed some PLUG bulls reading into the Wal-Mart order as a vote of confidence in PLUG's fuel cell technology. Our conversations with people close to the situation indicate that WMT placed this order because of the maintenance services that PLUG includes for free, not because of any technological superiority of fuel cells over lithium batteries. There is no doubt that fuel cells work, but a business model predicated on selling them for a profit does not work.
We stand by our prior research that concluded several PLUG customers believe the performance of PLUG units under-deliver relative to the promises made by the company. Our research on Wal-Mart indicates that Wal-Mart sees the fuel cell vs. lithium batteries as neutral, however, Wal-Mart is attracted to the fact that PLUG takes care of all of the maintenance issues for free.
Our research has learned that PLUG has a dedicated PLUG employee working full-time in Wal-Mart's distribution center at no cost to Wal-Mart. We believe the recent orders for six other distribution centers include similar subsidized maintenance. PLUG bears all of the costs for these maintenance employees which will exacerbate the losses incurred by PLUG.
Our research has also learned that Wal-Mart's hydrogen is supplied by Linde (LNAGF), a giant $28 billion German chemical supplier. We see zero chance that PLUG will ever displace Linde as a supplier (remember, PLUG doesn't produce hydrogen) and think the "hydrogen supply" narrative coming from PLUG is pure fantasy.
The bottom line is that Wal-Mart is taking advantage of PLUG's desperation. This is a far cry from Wal-Mart backstopping some sort of green revolution.
If you have the option to buy two cars that cost the same amount and perform basically the same except for one car comes with free maintenance, which one would you choose?
It wouldn't matter to you at all that the company offering free maintenance was actually operating at a loss.
The ironic thing about the recent stock price surge is that PLUG shareholders will only benefit if the company can generate sustainable operating cash flow. There is a big difference between a company announcing an order and a company generating a profit. The inclusion of the subsidized maintenance virtually guarantees that PLUG will never see any profits from this Wal-Mart order. In fact, increased volume with negative gross margins will actually accelerate losses. There is no prize for ownership of a company that loses money on every dollar of revenue.
Investors/traders have interpreted this order from Wal-Mart completely wrong and eventually the market will wake up to the grim reality of the PLUG business model.
Equity issuance on March 6th was completely unnecessary, proves management sees the stock being overvalued.
PLUG raised ~$44m on January 10th (24 hours after our published research predicted it) from an equity and warrant offering (company issued stock at less than $3 per share, warrants issued with $4 strike price). PLUG currently burns ~$7m of cash per quarter so the $44m raised in January was enough to cover 1.5 years of operating losses. Amazingly, two months later (last week) PLUG issued another 3.9m shares at an average price of $5.74 per share.
Why would PLUG sell almost 4 million shares when it was already sitting on over a year worth of cash?
The answer is that management knows the stock has no business trading at $5.74 per share. There is no other explanation for this unnecessary capital raise. The fact that the stock has almost doubled over the past week following this unnecessary equity offering makes this whole episode even more preposterous.
If the earnings report this week is going to be great, why did PLUG rush to sell 3.9m shares in front of it?
We think the equity offering signals that PLUG has no more rabbits to pull out of the hat.
We think the majority of PLUG investors do not understand the company's share count and what it means for the overall intrinsic value of the business. A stock price is meaningless without the context of the number of shares outstanding. PLUG now has 155m total shares outstanding which means it is currently trading at a market cap of $1.6 billion!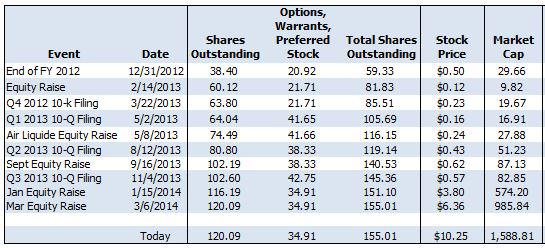 Yahoo finance, Y-charts, and Cowen & Co. are not using an accurate share count. The real market value of PLUG is even more ridiculous than most think.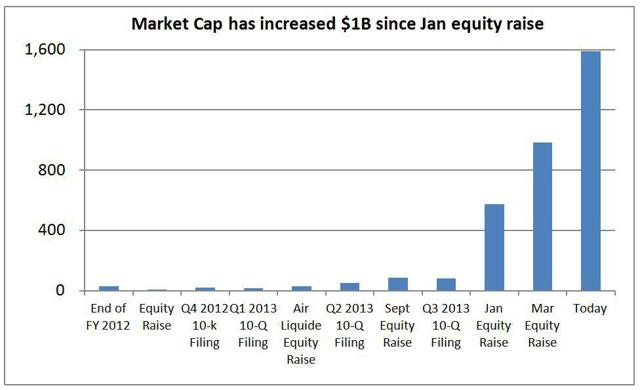 In the past year, management has issued equity at $0.12, $0.24, $0.62, $3.00, $4.00, and $5.74 per share.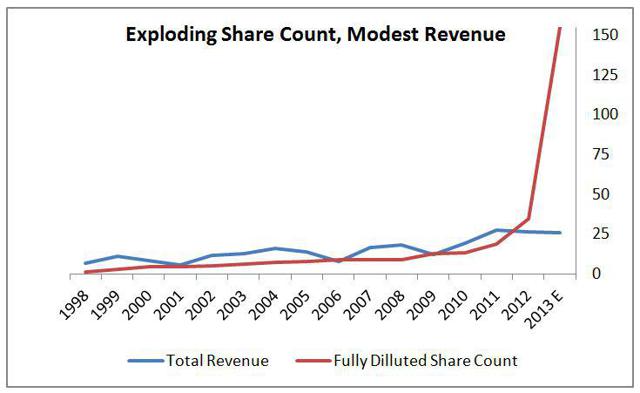 Price action has all the signs of a classic bubble driven by hype and technical factors
After our initial research was published, PLUG dropped -55% as rational analysis slowly crept back into the conversation.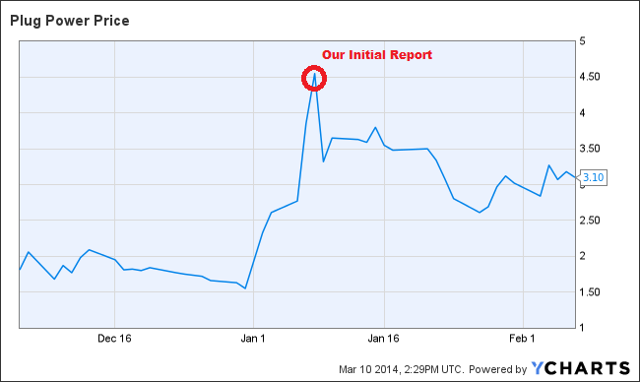 However, the combination of technical factors (high short interest, bullish chart trend) and an outrageously promotional CEO restarted the carnival ride following the disclosure of an order from Wal-Mart. Investors should keep in mind that Wal-Mart has been a PLUG customer for over three years and during this time PLUG's annual revenue has never topped $30m.
The order being hyped is for 1,738 fuel cell units; the size of this order is actually not that large relative to volume in prior years. In 2012, PLUG shipped 1,391 units. That year the company generated $26m in revenue and -$34m in operating losses. In other words, this order from Wal-Mart will not equal "step function" growth for PLUG nor will it equate to positive operating income.
We think it is instructive to look at the chronological history of the past 30 days to see if this price surge passes the "smell test." The initial Wal-Mart order was announced in early February when the stock was trading just over $3 per share. The news was re-announced with a few more details several weeks later and the stock remained in the $4.50 range. It wasn't until the Wall Street hype machine kicked into high gear that the price action went parabolic. We'd argue the move from $3 to $4.50 was fundamental buying based on investors re-rating the company's growth prospects for 2014. The move from $5 to $10 has been pure vapor driven by Wall Street hype combined with a short squeeze.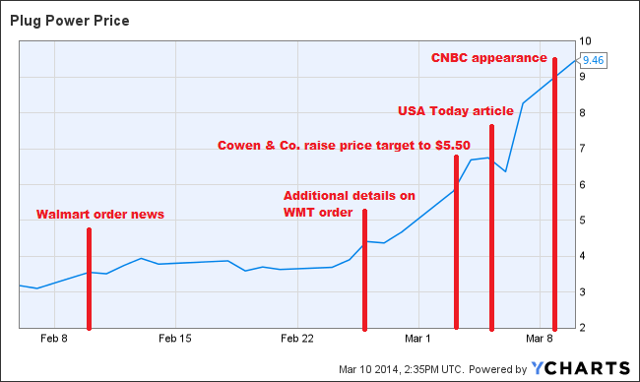 The hype orgy has been enabled by the usual suspects: Wall Street investment bank, CNBC, and even USA Today (#1 authority on equity investing). In an act that can only be described as audacious, analyst Rob Stone at Cowen & Co. issued a research report with bullish comments and raised his price target for PLUG on March 3rd to $5.50. Three days later, the same Cowen & Co. acted as the sole underwriter for PLUG equity offering of 3.9m shares. Three days! Cowen shamelessly juiced the stock and then helped PLUG dump 3.9m shares onto the public. Most respectable investment banks have a restricted list where research is suspended for companies actively working with the investment bank. We plan to encourage the SEC to investigate this activity.
USA Today then ran a story on PLUG the following day, further driving the mania. The article included comments from analyst Rob Stone in which he told the world "what's really cool" about PLUG. Three days later, PLUG CEO, Andy Marsh, went on CNBC to pump the stock further from $7 to $11…..only in America.
Regarding the CNBC interview, we strongly disagree with Mr. Marsh's definition of the word "recurring." We've seen in multiple press releases and interviews were PLUG touts "recurring revenue." His definition of recurring revenue is multiple orders from the same customer. Our definition of "recurring revenue" is revenue that is contractually guaranteed such as a subscription or membership.
I've bought my last two cars from same car dealership; does this mean that the car dealer has "recurring revenue"?
We find it amazing that Mr. Marsh would appear on CNBC less than a week before earnings are announced. Most reputable companies have blackout periods prior to earnings where communication is very limited. Mr. Marsh's activity could be construed as bordering on a violation of securities law. Sadly, this wouldn't be the first time Mr. Marsh's promotional tactics ventured out of bounds.
Disclosed in the most recent 424(b)(5) filing with the SEC:
We may have rescission liability from our offering in February 2013, in connection with the articles published in the Business Review on January 11, 2013 and January 16, 2013.
The statements made by our Chief Executive Officer in articles appearing in the Business Review were published within close proximity to the time that our registration statement on Form S-1 was filed on January 15, 2013. It may be determined that such statements constituted an offer to purchase our securities in violation of Section 5 of the Securities Act of 1933, or the Securities Act. As a result, we may be subject to contingent rescission liabilities from those investors who purchased shares in our offering in February 2013 and subsequently make a claim under Sect 12 (A)(1) of the Securities Act alleging that we violated Section 5. If an investor was to successfully win such a claim, we may have an obligation to make a rescission offer to those investors.
The other Marsh quote from the CNBC interview that caught our attention (and will likely prove to be an outright lie) was, "in 2014 we will make money." We can prove with a high degree of certainty that PLUG will not generate net income in 2014. We look forward to the Class Action lawsuits after Q4 2014 results come out.
Discerning investors should be able to see the clear correlation between the various "hype" events and the stock price. The fundamental buying following the Wal-Mart news took place from $3 to $4.50; the rest has been pure hype-driven momentum trading. The stock traded over 2x its entire float today. Think about that for one second, every share of PLUG traded hands twice today. This is not a sign of healthy fundamental buying. The stock has traded over 1x the entire float in 3 of the past 5 days. This is clearest example of a market mania since USEC went from $5 to $30 last summer. The two stories are incredibly similar. Both have technology that few retail investors actually understand, both have ultimately doomed business plans, and both have high short interest. USU has spent the past six months crashing back to Earth and just recently announced that it has filed for bankruptcy.
Does USU have anything to do with PLUG?
Absolutely not, but the moral of the story is that crazy things happen in the market all of the time; don't mistake price action for intrinsic value creation.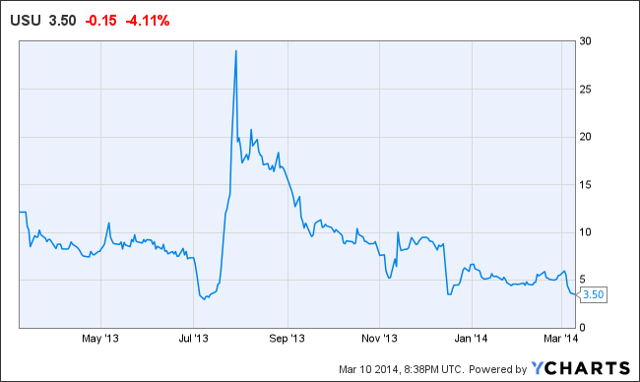 We encourage any investors interested in analyzing the true fundamentals of PLUG to review our initial report. The comments section has been defaced by PLUG cult followers but we believe our report is the most in-depth fundamental research that has been published to date (including Cowen & Co.).
We continue to believe that PLUG is ultimately a failed business model and that shares will likely revert back to $1 - $2.50 per share within the next 12 months. A share price of $2.50 still equates to a market cap of $390m, which would be a price/sales ratio of 10x....still not cheap!
Disclosure: I have no positions in any stocks mentioned, and no plans to initiate any positions within the next 72 hours. I wrote this article myself, and it expresses my own opinions. I am not receiving compensation for it. I have no business relationship with any company whose stock is mentioned in this article.
Additional disclosure: The author and/or employer may buy or sell shares in any company mentioned, at any time, without notice. The information contained herein is believed to be accurate as of the posting date. Readers should conduct their own verification of any information or analyses contained in this report. The author undertakes no obligation to update this report based on any future events or information. This article represents best efforts to convey a fact-based opinion. Our conclusions may be incorrect. This is not a recommendation to buy or sell any securities. This document does not in any way constitute an offer or solicitation of an offer to buy or sell any investment, security, or commodity discussed herein or of any of the affiliates of the Author.
Editor's Note: This article covers one or more microcap stocks. Please be aware of the risks associated with these stocks.