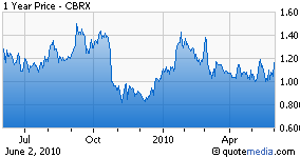 Today, Columbia Laboratories (CBRX) announced that the Company entered into a $15 million "loan" agreement with Watson (WPI). According to the 8-K, this loan is structured as a forgivable term loan promissory note. Basically, if the deal between Watson and CBRX closes prior to December 31, 2011, the loan and all accrued interest is forgiven. If, however, CBRX engages in a similar transaction (with another entity) or there is a change in control (i.e CBRX is acquired), the loan and all accrued amounts are due and payable. In addition, under this scenario, there would be a $2 million pre-payment fee. The headline details are located in the Company's just released 8-K.
According to a Company press release, CBRX was approached by another "global pharmaceutical company" to acquire the "assets and shares" of CBRX subject to the deal with Watson. Watson obviously countered with the "forgivable" loan. I basically see this as a combination of a sweetened deal with CBRX (i.e. here is $15 million, please deal only with us) and a small poison pill to add a little extra pain to a potential buyer of the Company ($2 million extra). The fact that Watson is willing to pony up an additional $15 million (thus enhancing the total cash deal value by 16%) demonstrates quite directly the confidence in the product potential. The fact that an outside global pharmaceutical is attempting to get involved further supports this confidence.
A few weeks back I wrote about CBRX being an interesting trade: today's announcement, in conjunction with the share price still trading close to $1, makes it even more interesting. Obviously the risks are high, but this deal just got better.
Read the previous article here.
Disclosure: Author long CBRX