As of the end of 2013, Microsoft (NASDAQ:MSFT) had sold 3.9 million Xbox One consoles and Sony (NYSE:SNE) had sold 4.2 million PlayStation 4s. While analysts and writers debate the merits of one console or the other and which is successful or not, the true winner is AMD, which sells the semi-custom chips that power both. AMD has demonstrated that selling semi-custom processors is a viable business model, and in so doing, has restored itself to profitability. Now the question for investors is, can AMD keep up its momentum?
The Console Wins Were Huge
At the beginning of the holiday season, when no one really knew how well the consoles would do, many argued that consoles were passe, that mobile gaming was taking over the low and middle portions of the gaming market, leaving the high-end to PCs. They argued that consoles couldn't possibly compete with PCs.
An analyst for Robert W. Baird and Company, Colin Sebastian predicted each company would sell about 3 million units by the end of the year. This prediction was typical in underestimating the level of demand. Both companies did considerably better. By the way, it was widely reported that Microsoft had sold 3 million consoles as of the end of the year, but in its earnings report on January 23, Microsoft stated the number as 3.9 million.
Based on an article by Lee Clemmer in Forbes, Sony sold PS4s at about 73,000/day, while Microsoft, which started a week later, sold Xbox Ones at about 76,000/day, not counting first-day sales of a million consoles each, and correcting for the under-reporting of Xbox One sales.
Where did the demand come from? I suspect from some of the 80 million Xbox 360 owners and 80 million PS3 owners looking to upgrade. That's how many of each console had been sold as of last fall. This means that the combined sales for the quarter of 8.1 million only went to 5% of the potential upgrade market.
PC gaming aficionados argue that the consoles are inferior to even a mid-range PC gaming rig. They're absolutely right, but they're also falling into the trap of evaluating market potential on the basis of technical performance alone. Consoles are all about cost-effectiveness and convenience. Typically, a preconfigured gaming PC will cost more and require the care and feeding of Windows, which not all of us love. A quick check of Newegg.com showed that the lowest-price AMD-based gaming rig cost $479, well above the base price for a PS4 of $399.
To see the impact of the custom SOC console sales, I've prepared this chart, which shows the changes in revenue in AMD's Computing Solutions and Graphics Solutions groups, and also compares these to overall sales in the PC industry according to IDC, and to Intel's (NASDAQ:INTC) PC Client Group sales. The graph is in percent change from the 2010 Q4 baseline, which was:
PC Unit Shipments: 92.861 million
Intel PCCG Revenue: $8.03 billion
AMD Computing Solutions Revenue: $1.22 billion
AMD Graphics Solutions Revenue: $0.424 billion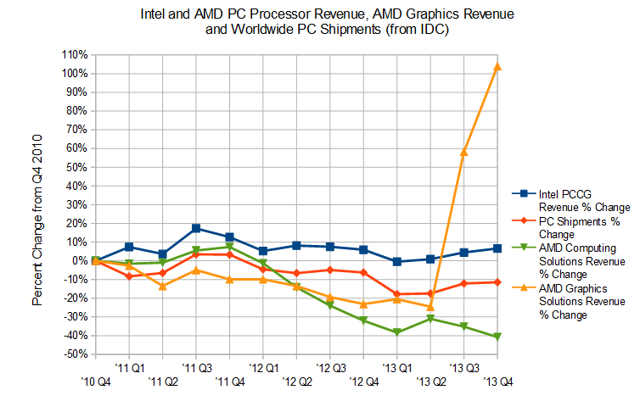 Starting in 2013 Q2, AMD decided to book the revenue from the console chip sales under the Graphics Solutions unit, but the impact isn't noticeable until Q3. Revenue jumped sequentially from $320 million to $671 million for the Graphics Solutions unit. Most of the jump was in console SOC sales. AMD would have had to deliver the SOCs that would eventually be sold in consoles in Q4. At an ASP of $40 for 8.1 million SOCs, that's $324 million, or about half of the quarter's revenues. Deconvolving the sales for Q4 involves a little more guesswork. Probably console SOC sales were about 10 million for $400 million in sales, with the balance of the graphics revenue of $865 million for the quarter made up in sales of AMD's R9 series graphics cards, which were in very high demand for digital currency mining.
PC Doldrums
As the chart above shows, Computing Solutions Group sales continued in the doldrums, even as the larger PC market was beginning to recover. Intel has been clobbering AMD for some time with superior performing and more cost-effective processors. AMD CEO, Rory Read talked about repositioning the processor business for commercial users in his recent CNBC interview. Read admitted that AMD got pretty beat up in the low-cost notebook market last year, and since AMD doesn't seem to be able to make much headway against the Intel juggernaut in the consumer space, a move to commercial may make sense. AMD has a small but significant win with the placement of an Opteron SOC in HP's "Moonshot" rack mount server system.
The shift in direction is good as a holding action, but I don't see any real reversal of AMD's PC fortunes as long as it's process node-disadvantaged. This may change later this year. Global Foundries, AMD's principal fab partner, has announced that it'll be in production on its 14 nm FinFET process by mid-2014. OK, I'll believe it when I see it too, but it's got to happen eventually. I've been assuming more like the end of the year.
The new process will bring a whole new level of performance to its line of SOCs, including the ones for gaming consoles, as well as its personal/mobile computing offerings. Until and unless the new process arrives, AMD is going to continue to be non-competitive with Intel in x86-based processors.
Embracing the Paradigm Shift
I recently came across an article by Anand Lal Shimpi from September 2013, where he talked about AMD's business strategy, based on a meeting he had with Read. The article made me realize how AMD's custom SOC strategy dovetails with one of the themes I've been developing: the paradigm shift from commodity processor dominance of computing to the emergence of the custom SOC. In mobile computing, I've argued that companies such as Apple (NASDAQ:AAPL) and Samsung (OTC:SSNLF) that can originate their own custom SOCs have a competitive advantage, and this competitive advantage has translated into market share dominance in tablets and phones compared to other manufacturers, regardless of mobile OS.
Although the process is still only underway in mobile computing, I expect it to eventually swallow up the whole of personal computing. The shift to SOCs is already well underway, with most PC processors containing on-board graphics controllers.
If the integrated device makers were to become preeminent in this new digital order, what was to become of the mainstream processor maker? One answer is to become a custom SOC house for hire, as AMD is becoming. Even Intel is doing custom work now. Shimpi points out that AMD can serve as a custom SOC source for smaller device makers that don't have the resources to emulate Apple or Samsung.
One could argue that AMD was only forced into this out of dire necessity, and that's true. But I think it will turn out to have been a blessing in disguise for AMD. AMD is adapting to and embracing this new role well ahead of most of the industry.
Future Opportunities
When I evaluate a company like AMD for investment, I don't just look at financial performance, but how it fits into the larger industry and the changes occurring in that industry. Rather than fighting the future, AMD is moving towards it. But there's still a concern among investors about AMD's future prospects, especially in things like consoles, which is serving to keep a lid on its stock price.
Console sales: Even though demand will slow, I still expect a steady stream of sales to the tune of about 5 million per quarter. The SOC architecture affords a very straightforward upgrade path for the console makers, which minimizes their expense. I expect annual SOC upgrades to drive the console upgrade market as more and more of the 160 million previous-gen consoles get replaced.
Nintendo Wii sold about 1.95 million units in Q4 2013, a 36% decrease y/y. After getting beat up in the marketplace this year by Sony and Microsoft, I don't think Nintendo has any choice but to discard its ancient PowerPC processor and join the AMD SOC club. Rory Read keeps talking about future custom SOC design wins, and I think this will be one of them. In the year since its release, Wii U had sold 5.86 million units, so the addition of 1 million unit shipments due to new Nintendo console sales seems very doable.
Seattle: On January 28, AMD announced a sampling of its 64-bit ARM V8 server chip. Moving away from x86 to ARM is another way that AMD can mitigate Intel's process advantage in the near term. Combined with other commercial wins, this should at least stop the bleeding for AMD's computing segment.
All of these are just holding actions for the real opportunities that will present themselves once 14 nm becomes available. The new process will open up new possibilities currently closed to AMD, such as actual market share gains in x86 against Intel, as well as the ability to offer competitive ARM processor chips for mobile and stationary uses.
It's very likely that in the near term (2nd and 3rd quarters), AMD's revenues will subside a bit, but AMD is now positioned to weather this minor financial storm as it looks forward to the 14 nm future. I'll have more specifically to say about AMD's near-term prospects as we move into earnings season.
Disclosure: I am long AMD. I wrote this article myself, and it expresses my own opinions. I am not receiving compensation for it (other than from Seeking Alpha). I have no business relationship with any company whose stock is mentioned in this article.