International Business Machines (NYSE:IBM) needs no introduction. But the stock could use some friends now, as it has remained flat in 2014. This article presents a few reasons why IBM is worth a look, especially for income and value investors. Let us get into the details.
Five-Year High Yield: IBM's yield is currently at 2%. As the chart below shows, the last time the yield breached the 2% level was almost five years ago. And before you scoff at the 2% yield or think there are better dividend-paying technology stocks, please read the next section.

(Source: YCharts.com)
Upcoming Dividend Increase: IBM is one of the few technology stocks that have a long history of dividend growth. IBM has increased dividends for 18 consecutive years, and increase number 19 is likely on its way next month.
The table below shows the last 5 dividend increases, and the average rate has been almost 14%. An astonishingly low payout ratio of 25% should give investors plenty of hope for further increases. In spite of paying dividends for a much longer period of time, IBM has a lower payout ratio than Microsoft Corporation (MSFT), Intel Corporation (INTC) or Cisco Systems (CSCO). If the company sticks to its five-year average, the new quarterly dividend will be around $1.10. That should push the yield on cost to 2.3%, a level not seen in the last five years.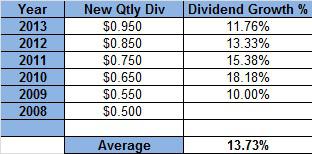 (Source: Quarterly dividends data from Yahoo Finance.)
Valuation: Ask some investors to name some fallen technology angels that are trading at low valuations and also have heavy clouds hanging over their heads. You are likely to hear the names Microsoft, Intel Corporation or Cisco Systems. But the fact is IBM is trading at a lower trailing (12.5) as well as forward multiple (10.5) than each of the stocks mentioned above.
The King of Buybacks: IBM is perhaps the uncrowned king of buybacks in the technology space. The company has consistently bought shares back over the years, and this is the main reason for increasing earnings even during tough times. The outstanding share count has gone down 20% in the last 5 years, as the chart below shows.
IBM's buyback program is so legendary that it has even made it to Warren Buffett's annual letter, though as an example. In that letter, Buffett explains the importance of price when buying back shares, and IBM can be trusted to act upon if the price goes way below where it is right now.

(Source: YCharts.com)
Price Targets and Forward Estimates: Yahoo Finance shows a price target of $192, which is just about 3% from here. But Trefis.com has a price target of $230. This wonderful article on SA suggests that IBM's fair value is around $300. Here is another that calls for a huge upside as well.
IBM's earnings per share is expected to grow organically at about 9% per year for the next five years. The CEO recently sketched out the company's strategy and vision, with a focus on cognitive computing (Watson) and cloud computing. Breakthroughs in these divisions are critical as the company tries to replace weakening hardware and software sales. With its deep pockets and brand name, the bet should be on IBM cracking these.
Conclusion: So, what are your thoughts on this tech giant? Are you a buyer here with a dividend increase looming and price targets representing a bargain? To conclude the article, here is an optimistic quote from the CEO: "Every generation of IBMers has the opportunity - and, I believe, the responsibility - to invent a new IBM. This is our time. We are working to make this not just a successful business, but an essential institution for our clients and the world in a new era."
Disclosure: I have no positions in any stocks mentioned, and no plans to initiate any positions within the next 72 hours. I wrote this article myself, and it expresses my own opinions. I am not receiving compensation for it (other than from Seeking Alpha). I have no business relationship with any company whose stock is mentioned in this article.