Alcatel-Lucent:
Alcatel-Lucent (ALU) is an innovator in global communications providing products in IP and cloud networking as well as ultra-broadband fixed and wireless access. ALU is at the front of next generation communication and have been recognized as a "Top 100 Global Innovator" and "Technology Hardware & Equipment Industry Group Leader" by Tomson Reuters and The Dow Jones Sustainability Indices Review respectively. With a lot of recognition and hype, ALU's stock has skyrocketed over 177% in the past year and many believe the growth story is just beginning. Lets take a further look and see where the company and stock are headed.
Financials:
Note: Reported in EUR translated below to USD at a ratio of 1.38:1
Income Statement:
ALU had total revenues of $10.54B and a gross margin of 32%, which is a decent margin and represents an increase in gross margin over the past several quarters. This is important to note because even though revenues were down in 2013 compared to 2012, cost of sales are trending lower providing for higher returns in the future. However, this is only good news coupled with larger sales growth; so in order to provide positive returns for investors, ALU has to start generating more sales. Another key trend to note is the decline in SG&A as a percent of total revenues. ALU also spent the same on R&D as a percent of revenues in 2013 but as they rely more on legacy equipment these costs should go down in the future. This means that costs of doing business are becoming more efficient and ALU continues to pump money into R&D to develop more innovative ways to corner the market.
Restructuring, Impairment and other financial costs of more than $1.64B resulted in a net loss from operations of $1.05B. These costs will continue to decline in the future and provide for a current tax benefit. The only item that could be worrisome is the increase in finance costs this year. When looking at the statement of cash flows, ALU increased its long term debt by $2.96B in 2013 and therefore, ALU's debt to equity ratio is 4.98 which is pretty high. However, ALU did pay off $1.5B in long term debt during 2013 and most of its newly issued debt is convertible into common stock. In all, it is important to keep an eye on ALU's debt to equity in relation to liquidity.
Statement of Cash Flows:
It is important to analyze the statement of cash flows as it shows the actually effect of operations, investing and financing activities. After adjustments for items mentioned above, ALU had an increase of $60M from operating activities, mainly attributed to higher margins in 2013, a decrease of $71M from investing activities, mainly attributed to higher losses on marketable securities, and an increase of $1.7B from financing activities, mainly attributed to issuance of long term debt. Net increase of cash in 2013 was $504M.
Balance Sheet:
As mentioned, due to the high debt to equity ratio, ALU needs a strong balance sheet. Working capital is $2.51B which represents a 1.42 current ratio. Having such a high debt to equity ratio compared to its current ratio raises some flags and increases the risk of insolvency; however, this same fact can provide equity investors with higher returns from leverage and tax benefits. This along with recent hype has driven the stock higher in the past year.
Fundamentals prove that this is a high risk speculative stock to invest in. It has paid off over the years for those with a higher risk appetite but understandably keeps those more risk averse away from the stock. With good or even decent news, this stock could make large gains but will do the exact opposite with poor news.
Despite the risks embedded in ALU's financial statements, the company has done a great job reducing margins and increasing its return for investors. They are also on the forefront of future global communication, data management, cloud computing and ultra-broadband. ALU's recent contracts with Intel (NASDAQ:INTC) and Verizon (NYSE:VZ) will drive up sales and increase sales significantly in 2014 and beyond. With new innovation ALU will have more agreements in the coming years cornering the market with other large network companies. Contracts with other tech-giants like Apple (NASDAQ:AAPL), Google (NASDAQ:GOOG), Netfix (NASDAQ:NFLX) and more could also be in the foreseeable future.
Earnings per share have been a struggle for Alcatel-Lucent, but as extraordinary items decrease and large contracts emerge from new innovative products and services, ALU will continue to move in the right direction and post positive EPS consistently by 2015. The chart below shows how EPS will grow as revenues and margins increase while extraordinary items decrease. As of 12/31/2013 extraordinary items were 10% of total revenues; by 2017 these expenses will only be 1%.
Chart: EPS Future Growth:
Note: Revenues are in Billions and converted to USD and future values are derived from the 12/31/2013 exchange rate of 1.38:1.
1) Sales increase by 25% 2) Gross Margin increases by 3% 3) SG&A and R&D continue to decrease by 10% 4) Extraordinary items decrease by 30%
| | | | | | |
| --- | --- | --- | --- | --- | --- |
| Income Statement Items | 2013 | 2014 | 2015 | 2016 | 2017 |
| Revenues | $10.5 | $13.13 | $16.41 | $20.51 | $25.63 |
| Gross Margin | 32.16% | 33.12% | 34.12% | 35.14% | 36.20% |
| SG&A and R&D % of Revenues | 30.75% | 27.68% | 24.91% | 22.42% | 20.18% |
| Earnings Per Share | ($0.41) | ($0.02) | $0.43 | $0.99 | $1.69 |
Although the risks are clear, especially in the short term, I will be keeping an eye out for buying opportunities. The estimates above predict triple digit growth rates in EPS over the next few years. I am long ALU but understand there will be short term swings as the company continues to grow.
Even though I am long, I will add and reduce my position considering the nature of this stock and its history of short term volatility; I intend to hold long overall. Next entry level is the 30 day MA and will add more to my position if it gets to $3.78. The chance ALU breaches $3.55 I may enter a short position in the short term based on momentum and volume.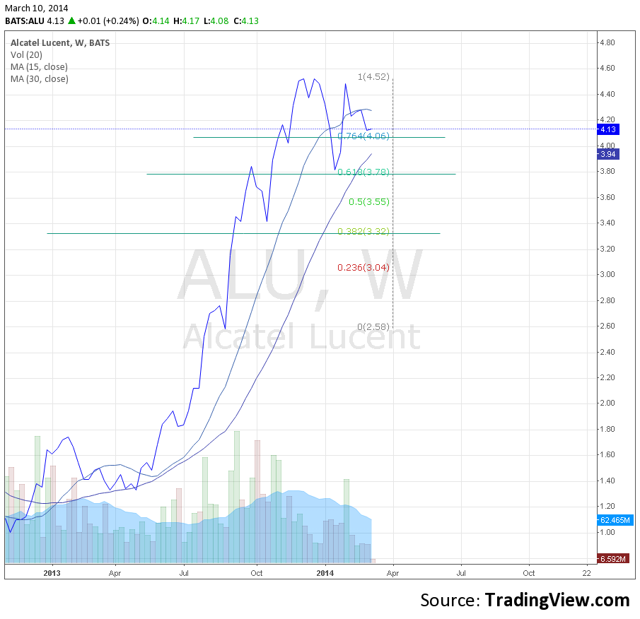 Disclosure: I have no positions in any stocks mentioned, and no plans to initiate any positions within the next 72 hours. I wrote this article myself, and it expresses my own opinions. I am not receiving compensation for it (other than from Seeking Alpha). I have no business relationship with any company whose stock is mentioned in this article.