This article will be the 4th of a 6 part dividend analysis aimed at identifying the top dividend stock in each of the following sectors:
1. Big Oil
3. Technology
4. Consumer Staples
5. Big Tobacco
6. Dividend Cornerstones
Consumer Staple stocks are companies that produce common everyday items that people rely on during a daily basis. This sector is popular with dividend income investors because it provides capital protection during down markets while maintaining strong dividends. For this analysis, I've selected Procter & Gamble (NYSE:PG), Coca-Cola (NYSE:KO), PepsiCo (NYSE:PEP), Kimberly-Clark Corp. (NYSE:KMB), Kellogg Company (NYSE:K) and Johnson & Johnson (NYSE:JNJ). These are all large cap stocks with wide varieties of household products.
Major Product List sample
Procter & Gamble: Bounty, Puffs, Always, Charmin, Tampax, Pampers, Pantene, Olay, Head & Shoulders, Dawn, Bounce, Tide, Cascade, Febreeze, Duracell, Gillette, Crest
Kimberly-Clark: Kotex, Kleenex, Cottonelle, Scott, Huggies, Pull-Ups, Little Swimmers
Coca-Cola: Coca-Cola, Dannon, Evian, FUZE, Minute Maid, Monster, Powerade, Sprite, Fanta, Dasani
PepsiCo: Pepsi, 7-Up, Tostitos, Tropicana, Quaker Oats, Lays, Mountain Dew, Doritos, Gatorade, Aquafina, Ruffles, Lipton, Brisk
Kellogg: Frosted Flakes, Raisin Bran, Froot Loops, Eggo, Special K, Pop Tarts, Cinnabon, Smart Start, Nutri-Gran
Johnson & Johnson: Aveeno, Acuvue, Listerine, Neutrogena, Splenda, Tylenol
| | | | | | |
| --- | --- | --- | --- | --- | --- |
| | Market Cap. | P/E (TTM) | Fwd. P/E | Dividend Yield | Beta |
| Procter & Gamble | $ 212.2 | 21.1 | 17.2 | 3.1% | 0.41 |
| Kimberly-Clark Corp. | $ 41.3 | 19.8 | 16.6 | 3.1% | 0.04 |
| Coca-Cola Company | $ 169.8 | 20.2 | 17.1 | 3.2% | 0.34 |
| PepsiCo | $ 124.0 | 18.9 | 16.7 | 2.8% | 0.35 |
| Kellogg Company | $ 22.2 | 12.5 | 14.5 | 3.0% | 0.57 |
| Johnson & Johnson | $ 263.4 | 19.3 | 14.8 | 2.8% | 0.58 |
Source: Yahoo Financials
Beta
Beta is the measure of volatility (or systematic risk) of a stock in comparison to the market as a whole. A beta of 1 means the stock price will move in line with the market. A beta of less than 1 means the stock is less volatile than the market and a beta above 1 generally means the stock price is more volatile than the market. Since customers rely on many of these companies' products on a daily basis, the stocks tend to have very low betas and therefore low risk. This provides downside protection during bear markets. Kimberly-Clark has a beta of almost zero, meaning it has nearly no correlation to market movements and very little systemic risk.
Dividends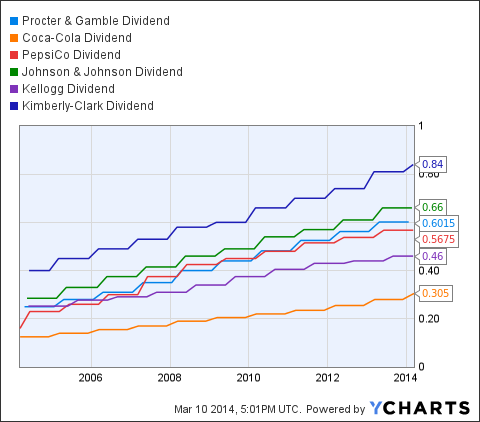 This is where consumer staple stocks set themselves apart from other commonly held dividend stocks. Every one of these stocks has raised dividends every single year for the past 10 years. Even during the market crash in 2008 and during the slow market recovery dividends were increased. No sector in my analysis has had as consistent dividend increases as consumer staples. Since every stock increased on a yearly basis, no stock separates itself in this category.
Dividend Yield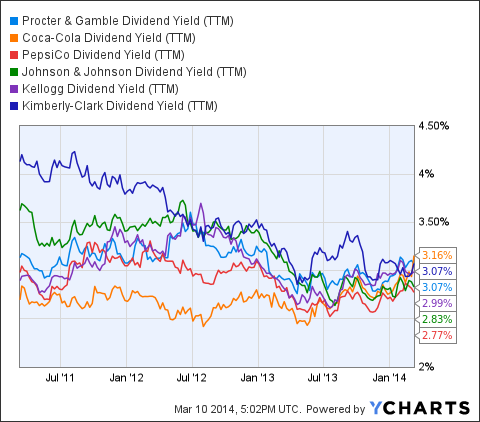 Because of low betas and consistent dividend increases, the majority of these stocks tend to fluctuate in a tight yield window of 2.5%-3.5%. These yields are typically lower than utility and oil yields, but their ability to sustain and increase dividends during extremely bad market times makes this sector a must add to any dividend income portfolio. Kimberly-Clark has been historically the highest yielding stock and Procter & Gamble has had one of the steadiest yields tending to stay over 3.0%. However, all the stocks in this analysis are great examples of consistency.
Payout Ratio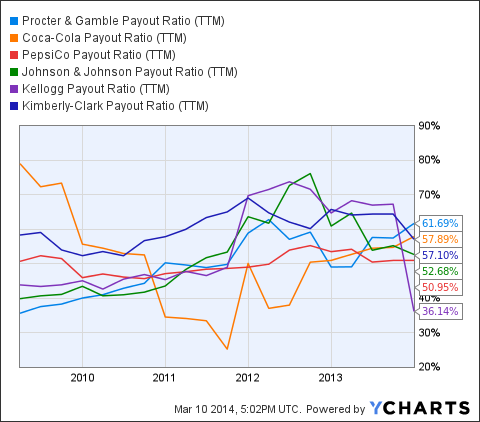 The payout ratio is fairly low for the stocks in this analysis. The majority of stocks tend to trend between 40-60%. Consumer Staple stocks tend to focus less on R&D and capital investments than a technology or an oil company would so they can focus on returning value to shareholders through dividends. This is why these stocks are able to continually raise dividends during rough market times. PepsiCo is the stand out in this group with the payout ratio rarely straying from 50%. As proof from historical dividend increases, none of the payout ratios here are worrisome. All companies have a solid core business that sustains itself during good times and bad.
Conclusion
Consumer Staple stocks should be a cornerstone in your dividend income portfolio. They don't have the biggest dividend yields, but their track record of raising dividends on a yearly basis is unbeatable. Most investors have no idea that virtually every product in a convenience or grocery store is made by one of the above companies. This gives consumer staple companies outstanding protection during bear markets and epitomizes everything that a dividend stock should be.
It's hard to identify a real winner in this analysis since they all have outstanding dividend track records and similar dividend yields. However, Procter & Gamble and Johnson & Johnson are my favorite picks due to their size and product diversification. Johnson & Johnson is heavily weighted to the healthcare sector, which I believe will see significant growth over the next decade. This gives Johnson & Johnson a leg up since it may have the greatest potential for capital appreciation as well as downside protection.
While I don't think Coca-Cola or Pepsi are in any risk of cutting dividends or losing meaningful market share, it is of concern that their core business of soda is under fire from health and government officials for making unhealthy products. These two companies are well diversified outside of soda, but declining soda sales keeps these companies from being my top pick.
For the conservative investor, Kimberly-Clark is a great pick that offers the least risk. The lowest beta of the group means it has the least systemic risk in the analysis. It isn't an exciting stock, but it will provide excellent protection and a consistent dividend payment.
Disclosure: I have no positions in any stocks mentioned, and no plans to initiate any positions within the next 72 hours. I wrote this article myself, and it expresses my own opinions. I am not receiving compensation for it (other than from Seeking Alpha). I have no business relationship with any company whose stock is mentioned in this article.