Over the past year, IBM (NYSE:IBM) has gone from market darling to market dog as investors have responded to weaker than expected results. However, the recent market drop is a buying opportunity for long-term investors.
Typically, technology companies are not considered good long-term investments, especially value tech stocks. The reason for this is the constant evolution of technology that makes it difficult for even the strongest companies to maintain a competitive advantage. The list of recent examples of once dominant tech companies that have stumbled include Hewlett Packard (NYSE:HPQ), Cisco (NASDAQ:CSCO), Microsoft (NASDAQ:MSFT), and Intel (NASDAQ:INTC). While I have already outlined my bullish thesis for some of these companies, I believe IBM is the best investment of the large cap tech stocks.
Why IBM Outperforms
As shown by the chart below, IBM has outperformed other large cap value tech names by a significant margin. While all of these companies face similar challenges such as large size, changing industry dynamics, and increasing competition IBM has proved capable of adapting to the times while companies such as Intel and Cisco have struggled to keep up with changing industry dynamics.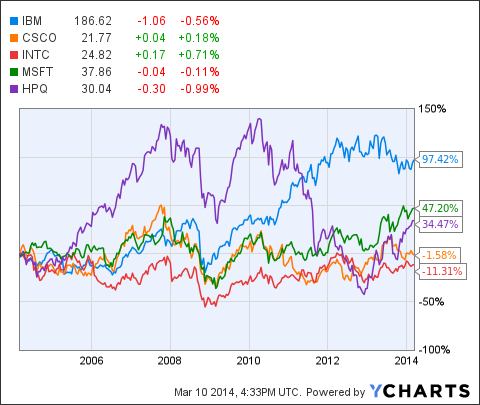 IBM data by YCharts
IBM History
One important difference between IBM and other large cap value tech stocks is history. IBM can trace its roots back to 1911. Throughout its history, IBM has constantly employed a dynamic strategy of adaptation which has included innovation and divestiture of mature businesses. IBM's peers have not been able to adapt to changing environments as quickly as IBM because it is not entrenched in corporate history. In 1914, IBM was focused on the producing and selling basic accounting machines. By the 1940's, IBM developed the Automatic Sequence Controlled Computer which was the company's first step towards computing. In the 1950's IBM began producing large computers such as the IBM 701. During the 1960's IBM changed the way it sold its products going from bundled only offerings to unbundled offerings. This change laid the group for IBM to become a major services player as the company was best positioned to help customers whatever their needs may be. In this case, IBM was embracing growing competition by finding new ways to do business with clients other that selling its own products. The 1980's marked a new time for IBM as the company began selling the first IBM Personal Computer. For the first time, IBM contracted production of components to outside companies such as Intel. In the 1990's amid increasing competition, IBM reported significant loses and moved its focus towards services, a trend that continues through today. In 2004, IBM sold its computing division to Lenovo (OTCPK:LNVGF).
The reason why I have discussed IBM's history is that I believe the company is adroit at adaptation. IBM has been forced many times to change its business mix as a result of changing conditions. I am confident that the company will be able to once again make the necessary changes needed to compete in a changing environment.
IBM Bear Case
The IBM bear case is well known. One high profile investor who is short IBM is former hedge fund manager Stanley Druckenmiller. Druckenmiller argues that the company is not well positioned for the cloud revolution. The IBM bear thesis states that cloud competitors such as Amazon significantly hurt IBM. In addition to this argument, bears often cite IBM's large stock buyback program as an indication that the company sees limited opportunity for investment in its future. Finally, another part of the bear case is that IBM's earnings have been of low quality. In particular, the company has benefited from a reduced tax rate and capitalization of recent acquisitions.
Why I Don't Buy The Bear Case
Yes, it's true; IBM is currently facing significant headwinds. However, the company has responded aggressively by bolstering its cloud offerings and divesting some of its legacy hardware businesses. Furthermore, I think it's a good think IBM has not announced a major acquisition. Large takeovers have not proven an effective way of dealing with changing industry dynamics. Look no further than HP's disastrous $10.2 billion acquisition of Autonomy. This brings me to why I disagree with bears regarding IBM's large buyback (a topic I will later discuss in more detail). Simply put, there are not enough places for IBM to invest its earnings with a high probability of success. Comparably, buybacks have proved a reliable way of increasing shareholder value over time. I would rather see IBM buying back its own shares at a cheap valuation than spending recklessly on a large acquisition such as 3-D printing company 3D Systems. Finally, in regard to the quality of IBM earnings I concede the company has benefit from some special one time circumstances. However, it should be noted that IBM trades at 10 times forward earnings. In other words, the market has priced in a lot of weakness into IBM shares at current levels. Moreover, I am not all that concerned about a quarter or two of slightly inflated earnings because IBM is a long-term investment story, not a short-term trade.
Buyback
IBM's aggressive buyback has been the topic of much debate. Over the past 20 years, IBM has reduced its share count by about 1% each quarter. If IBM continues at its current pace, there will be no more shares outstanding by 2034. Perhaps the best example of how powerful a strong buyback can be is department store Dillard's (NYSE:DDS). As I recently discussed, the effect of the company's buyback along with a reduction in expenses helped the send Dillard's shares up 2,400% over the past five years. Like Dillard's, IBM faces a difficult business environment. I believe that if IBM is able to achieve even mediocre results over the next ten years, the stock price will be significantly higher due to the company's buyback. IBM is often criticized because the company lacks revenue growth. However, I do not believe the company needs to show revenue growth to send shares sharply higher in the coming years.
Watson
IBM recently announced that it was investing another $1 billion into R&D for its latest supercomputer, Watson. Though Watson has only generated about $100 million in sales, I believe that the future could be very bright for Watson. Additionally, I believe expectations are quite low right now for Watson which means that the division could be a catalyst for significant upside surprises in coming years. That said, if Watson does not live up to its potential I do not believe IBM shares will suffer.
Valuation
As shown by the chart below, IBM trades at just 10 times forward earnings. In the recent past, IBM has traded at 14 times earnings. If investor sentiment changes, IBM shares could easily move back up to 14 times earnings. Contrastingly, even if the outlook for IBM remains weak the stock does not have much downside based on valuation. In 2009, during the great recession, IBM only traded down to 9 times forward earnings. In short, I believe based on valuation, IBM offers asymmetrical risk reward in favor of the upside.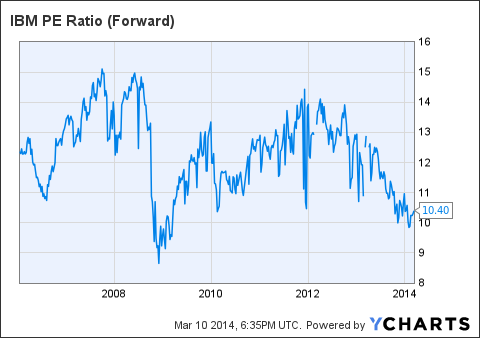 Warren Buffett
This article would be incomplete if not for a brief mention of Warren Buffett's more than $10 billion stake in IBM. One of the hallmarks of Buffett's investing career has been his avoidance of technology stocks. However, despite this, Buffett has made IBM one of his largest holdings. Following high profile investors is not always a good idea as investors only find out about a sale well after it has taken place. That being said, Buffett is one of the few investors I believe can be followed. This is due in part to Buffett's long-term holding period, and, of course, his phenomenal investing career.
Conclusion
Long-term investors should buy IBM while it is currently unloved by the market. IBM's strong history of adapting to changing environments means that the company is likely to succeed even if its current technology becomes obsolete. Furthermore, the company's aggressive buyback program is a major positive as it means the stock can move higher without significant revenue growth. Finally, Warren Buffett's seal of approval as well as IBM's current valuations are additional factors that make IBM a strong buy.
Disclosure: I have no positions in any stocks mentioned, but may initiate a long position in IBM over the next 72 hours. I wrote this article myself, and it expresses my own opinions. I am not receiving compensation for it (other than from Seeking Alpha). I have no business relationship with any company whose stock is mentioned in this article.