The price action of the US dollar (DXY index here) is running against monetary policy expectations worldwide. As can be seen below, the DXY is heading south while rate spreads would clearly suggest otherwise.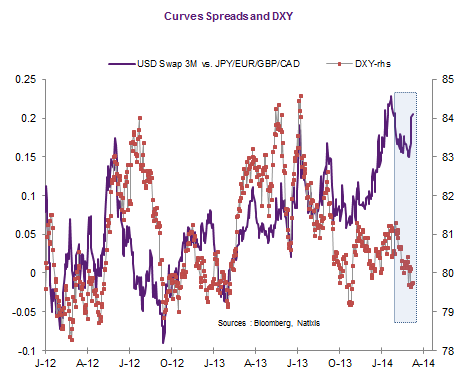 The rise in the DXY has been hampered by the recent news flow (surprise index here) as can be seen below, although the link between the index and the economic trends of the US economy has not always been robust.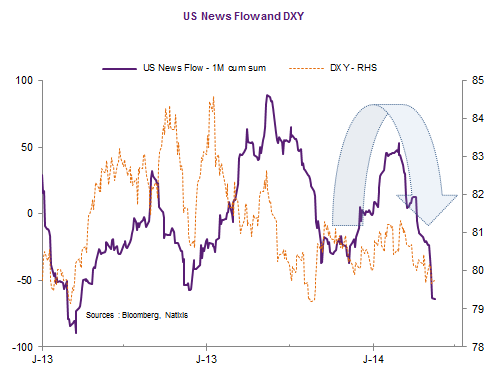 Interestingly enough, the fall in the US news flow was not followed by a sharp adjustment in the Eurodollar curve. Monetary expectations came out unscathed after the recent weather related decline in economic data. The fall was not deemed "significant" enough for the Fed to change its view on tapering and alter speeches on the ongoing recovery. The same disconnect between US Treasury yields and the US news flow has been observed over the last few weeks.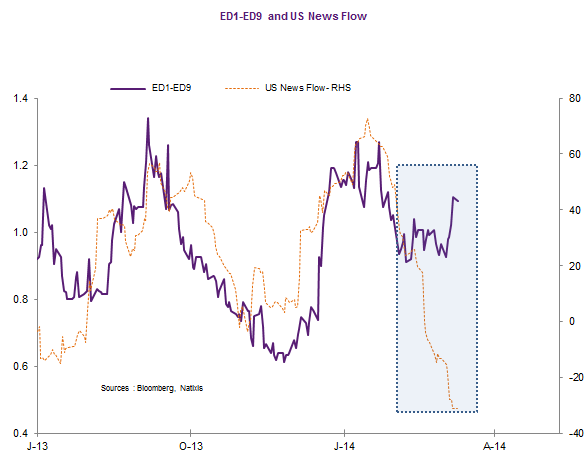 The DXY has followed growth (or perceived growth risk) but not the Fed, as can be seen in the chart below.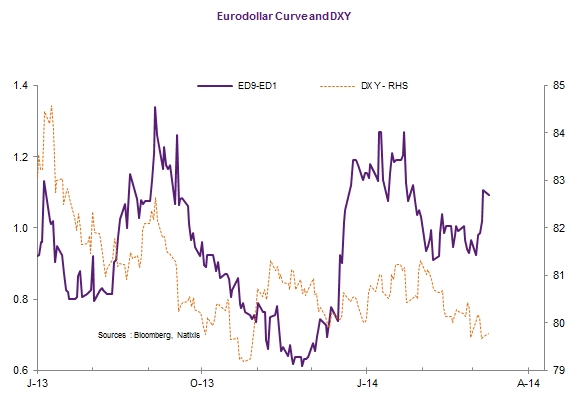 Perhaps the most striking feature of the last few days is the reversal in the correlation between the USD and US 10-year sovereign yields. It might be a temporary blip, but the regime switch recorded in mid-2013 was clearly at the core of many FI and risky asset strategies: higher US yields and stronger dollars while other central banks (except the BOE) would lag behind.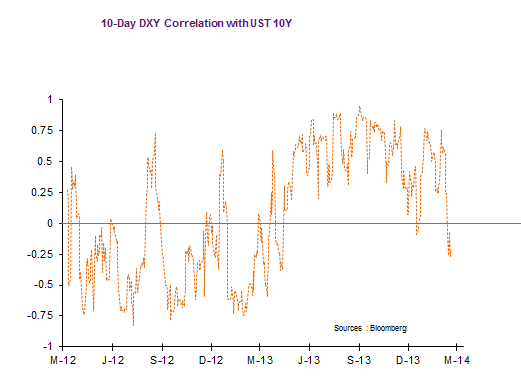 Add to this the inversion in the "natural relationship" between the T-note-Bund spread and the EUR/USD (higher UST/Bund spread would call for lower EUR/USD) and there is even more confusion. The fact that the T-note-Bund spread reached its highest level since 2005 has not been enough to drive the EUR/USD lower.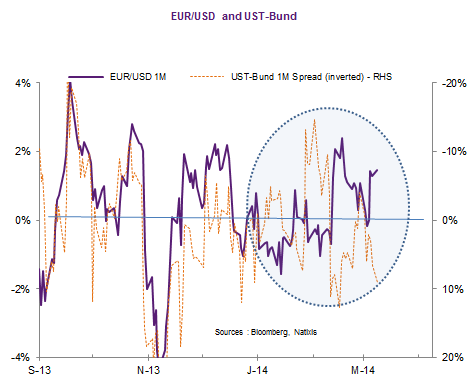 Bottom Line: The lack of responsiveness of the DXY appears to be much more news flow-related than driven by yields spreads or levels. Hence, given my macro forecast for the US economy (accelerating growth in H2 2014), I would consider that the recent relation/correlation breaks will not last and that the pre-2014 relationship should prevail: higher US long-term yields, higher US stocks, and a stronger USD (DXY). Don't sell the USD.
Disclosure: I have no positions in any stocks mentioned, and no plans to initiate any positions within the next 72 hours. I wrote this article myself, and it expresses my own opinions. I am not receiving compensation for it (other than from Seeking Alpha). I have no business relationship with any company whose stock is mentioned in this article.