Shares of Plug Power (NASDAQ:PLUG) have surged on an acidic mix of historic bullishness, the halo of Tesla's (NASDAQ:TSLA) success, and a seeming lift in commercial interest toward the company's proton exchange membrane fuel cells used primarily in fork lifts. Shares have risen as much as 636% YTD and 7507% from lows 0f $0.15/share notched in April of 2013.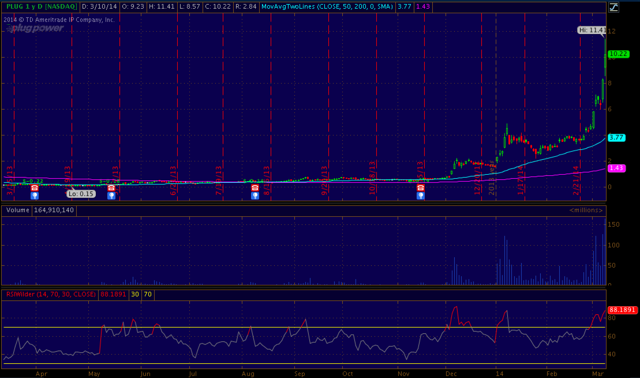 Plug Power's recent hyperbolic rise is reminiscent of its dot-com bubble rise and plunge (which peaked on March 10, 2000). The stock ultimately went on to lose 99.9% of its value, shedding 90.1% of its price in 1-year's time. This most recent rise embodies much of the same exuberance that is endemic to green energy plays, and the parabolic move leaves virtually no valuation support - with the stock trading over 100M shares in 3 of the last 5 days (and 210M shares exchanging hands today, or more than twice the float and ~$2.2B in value), the reason for the vast majority of the move is imminently obvious. Momentum and short covering are hardly the foundations upon which long-term value is created or manifested. And, Plug Power has garnered minimal interest from institutional investors - even with its recent heftily discounted private placement. Its ownership by such funds stands at ~10.4% (assuming 14.4M shares held by institutions as of January 17th and 138.2M fully diluted shares outstanding). The shareholder base is composed of retail investors and traders.
Two simple logic tests are all that is necessary to demonstrate the absurdity of Plug Power's current price. They follow.
Valuation Above the Total Addressable Market in 2030
Plug Power's total diluted shares outstanding is understated by most financial data providers.

Source: Plug Power Prospectus Supplement dated March 6, 2014
Basic shares outstanding as of December 31, 2013, stood at 106.2M. 4M shares were sold in the offering, bringing total basic shares outstanding to 110.2M. However, using basic shares outstanding would be a significant understatement of the inevitable future dilution today's shareholder will face. 11M shares will almost certainly be issued due to series C preferred shares outstanding with an exercise price of $0.24/share, 13M shares due to warrants with an exercise price of $0.73/share, and 4M shares due to the warrants from the January follow-on. Fully diluted shares outstanding thus stands at 138.2M shares. This is most likely a conservative approach, given the exclusion of 4.7M shares represented by stock options with an average weighted exercise price of $3.26/share, 1.1M shares reserved for equity incentive plans, and 0.7M shares in RSUs. And, the company just announced another $22.4M offering on March 6th.
At $11.41/share, Plug Power reached a market capitalization of $1.58B.
Plug Power, in its own description;
"Is a leading provider of alternative energy technology and is involved in the design, development, commercialization and manufacture of fuel cell systems for the industrial off-road (forklift or material handling) market."
Given the history of Plug Power's forklift deals, the fact that the company's 5 largest customers represented 80.6% of the Accounts Receivable balance in Q3 2013, and the company's own admission that;
"We concentrate our efforts on developing, manufacturing and selling our hydrogen-fueled PEM GenDrive products on commercial terms for industrial off-road (forklift or material handling applications."
It is fair to say that the fuel cell forklift market is the Total Addressable Market of Plug Power for the foreseeable future. (The company had a previous failed stint in back-up power generation products, ultimately pulled from the market.)
Plug Power has ~4.5K systems deployed as of the end of 2013. The recently received 1.7K order from Walmart (NYSE:WMT), which will be rolled out over 2 years, would bring that total to 6.2K.
The current market for forklift fuel cell systems is fledgling at best. And even at a gargantuan projected growth rate, it is projected to reach ~$1B by 2030, according to independent market analysis firm Lux Research.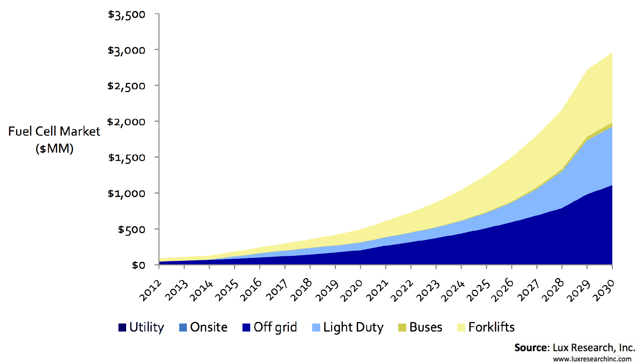 Plug Power also currently holds what will most likely be an unsustainable 80%+ share of the fuel cell forklift, pallet truck, tow tractor, and counterbalance truck market according to the Department of Energy. The almost inevitable decline in forklift market share is more than enough to offset any market expansion opportunities the company's management claims in Transportation Refrigeration, Ground Support Equipment, and Range Extenders. Even if we ludicrously grant Plug Power the notion that it will retain a near monopoly as industry behemoths like Toyota (NYSE:TM) enter the fuel cell forklift market, Plug Power's total sales in 2030 would stand at ~$800M under the rosiest scenario. On the basis of analyst expectations of 2013 revenue of $26.1M, this best-case scenario implies Plug Power somehow manages to grow at a CAGR of 22.3% for the next 17 years. Lofty indeed, especially in light of this year's slowdown. All of this said, Plug Power's current valuation represents a Price/TAM ratio of 1.58x, with Total Addressable Market of the company's product being for the year 2030. This is unfathomable for any company, let alone one that has never turned a profit. Put another, albeit simplistic way, if Plug Power managed to take the entire projected market in 2030, it would have to deliver 36.9K systems that year (extrapolating the $27.1K in revenue generated from each system in Q3 2013). The company managed to deliver 639 systems in the first 9 months of 2013, declining from 873 systems in the comparable period of 2012.
Plug Power is Valued More Richly than Tesla
In addition to having a market capitalization above its total addressable market in 2030, Plug Power now sports a richer valuation than Tesla. Tesla's stock is an open question, but whether Plug Power should be valued at better multiples than Tesla is not.

(Sources: Consensus analyst estimates, Tesla and Plug Power SEC Filings)
Some call Tesla's valuation a bubble. Yet Tesla delivers a revolutionary product that has won accolades from industry critics, is led by a visionary leader, and has demonstrated the ability to increase margins and print black on the bottom line. Can any of those things be said about Plug Power? And if they cannot, then why is Plug Power trading at nearly 6x the 2013 P/S ratio of Tesla with what is probably less than 1/6th the demonstrated track record and viability?
The difference in valuation is especially egregious when contextualized in light of Plug Power's notorious dilution - basic shares outstanding ballooned from 13.1M in 2010, to 18.8M in 2011, to 34.4M in 2012, all the way to 106.2M in 2013. Basic shares outstanding now temporarily rest at 110.2M, with fully diluted shares outstanding at 138.2M shares. At current levels, short-term downside risk may be in the range of 50%-75%.
Conclusion
The stock market almost always comes full circle. Plug Power will be no exception, especially when,
1) The market has bid shares up to a valuation beyond the Total Addressable Market the company may potentially have a piece of in 2030, and
2) Plug Power now carries multiples that make Tesla shares look like a value investment.
Plug Power has gone a long way from near-bankruptcy and a NASDAQ delisting notice to its rabid valuation today. In the near-term, additional dilution through discounted follow-ons and forthcoming earnings will most likely insert sense back into the equation. Investors have been on this ride before, and exuberance that runs rough-shod over fundamentals has a way of making bagholders out of many.
Disclosure: I am short PLUG. I wrote this article myself, and it expresses my own opinions. I am not receiving compensation for it (other than from Seeking Alpha). I have no business relationship with any company whose stock is mentioned in this article.